Introduction
Welsh Terriers have a strong personality all their own, and their unique personalities make them wonderful companions. The medium-sized dogs have two coats: a softer, shorter undercoat covered by a wiry overcoat that's always tan and black. No one is exactly sure when these independent dogs were first bred, but they're thought to be one of the first terriers. Their popularity in the United States began in the early 20th century and continues to this day. Though sometimes difficult to train, Welsh Terriers love running around in fenced-in yards and are fine with being left alone — although this doesn't mean they won't love when you're around! Choosing a name for this independent pup is a fun task, especially given each dog's personality!
Welsh Terrier Dog Names in Pop Culture
Featured Famous Welsh Terrier Dog
Charlie
Despite his known allergy to pet hair of all sorts, John F. Kennedy encouraged his children to have pets to play with. Perhaps the best-known pet of the Kennedy household was Charlie, the family's loveable Welsh Terrier. The Welsh Terrier was a perfect choice for the Kennedy household; the breed barely sheds, making it great for a household where some of the family members have allergies. 
Charlie was the family's first dog — given to John by his wife, Jackie, as a gift — and JFK spoke about the Welsh Terrier as a member of the family. The Kennedys later adopted more pets as well, but none of them bonded with JFK as much as Charlie did. Charlie was also incredibly protective of his owner, and is remembered to have often growled when any other dogs came near JFK.

Charlie loved running and exercising, as many Welsh Terriers do; he even used to swim laps in the White House pool with JFK! Charlie only had one habit that the former president did not enjoy, and that was his fascination with sticks. He loved fetching balls and sticks, but this also extended past play time. The White House's dog handler at the time, Traphes Bryant, remembers that Charlie would run and grab a stick at any time, often dropping it in JFK's lap at often inopportune moments. According to Bryant, JFK once described this behavior as "aggravating."

Bryant also remembers that John and Jackie would sneak off at night to walk Charlie in the dark streets of DC, unknown even to those around them. He remembers the three of them always looking happy together on these walks, more carefree than usual. 

Charlie loved his family and would always wait on the White House lawn to welcome them home when they returned. JFK was never too tired to pet Charlie when he came home, even after a long day. 

The Welsh Terrier has been a favorite among other royalty, too — Britain's former prime minister, Clement Attlee, was a known lover of the dogs, and he even incorporated a Welsh Terrier into his family's coat of arms. Edward VIII, former Prince of Wales, owned a Welsh Terrier named Gwen, who he was also known to have loved very much.

Welsh Terrier Dog Name Considerations
When naming your Welsh Terrier, it's important to consider their unique and strong personality. Keep in mind their independent mindset and their supreme loyalty to their families. Your Welsh Terrier is energetic and loves to play, though, so try not to edge too far into anything serious. Their expressive faces might also make you lean toward a more human name — something emotional.
Your dog's name is important to how you think of them, so it might be wise to take some time to get to know your pet before naming them definitively. Understanding your Welsh Terrier's fiercely independent and completely unique personality is the most important part of naming them, so don't rush it!

All Welsh Terriers have coats of tan and black, so you may want to think of names that are homey and down-to-earth. For example, Terra could be a great name for a female Welsh Terrier who likes to play in the mud, as the name means "earth" in Latin!

Male Welsh Terrier Dog Names
Votes
Name
Vote
4

Teddy

Nickname for a stuffed bear

3

Bentley

Means "from the wandering meadow"

3

Bear

A wild animal; often brown in color

3

Tango

A quick dance

2

Bandit

A thief

1

Dusty

Coloring similar to that of a Terrier

1

Charlie

After JFK's Terrier

1

Espresso

A type of coffee bean

1

Benji

A human name; fun to call

1

Chip

In reference to chocolate chips

0

Craig

A rocky outpost

-1

Terran

"The earth" in Latin

-1

Ash

A type of tree

-1

Atlas

Greek mythological figure who held up the earth

-1

Slate

A metamorphic rock

-1

Chestnut

A nut-bearing tree

-1

Scout

A searcher

-1

Acton

"Oak town"

-1

Alder

A tree; German origins

-1

Bay

A reddish-brown color

-1

Marron

"Brown" in French

-1

Snickers

A candy bar

-1

Molasses

A brown sugar syrup

-1

Scooter

A small vehicle use to move quickly

-1

Maestro

A conductor or leader

-3

Tor

A Gaelic name meaning "rock"

-3

Aidan

"Little fire" in Gaelic

-3

Alex

"Defending men" in Greek

-3

Berg

Mountain; German origins

-3

Russett

A brownish color
Female Welsh Terrier Dog Names
Votes
Name
Vote
2

Cedar

A tree

2

Brooke

Riff on the word for a small river

2

Cinnamon

An earthy spice

2

Ginger

An earthy spice

2

Taffy

A stretchy candy

2

Molly

A human name

1

Alena

Gaelic for "rock"

0

Ela

An Indian name meaning "Earth"

0

Willow

A type of tree

0

Aspen

A mountainous area of Colorado

0

Breeze

Referencing a small wind

0

Adelaide

Germanic word for "noble one"

0

Autumn

The season between summer and winter

0

Java

Another name for coffee

0

Fawn

A young deer

0

Sesame

A light brown seed

0

Sandy

Referencing sand, such as that on a beach

0

Bella

Means "beautiful"

-2

Terra

Female version of "earth" in Latin

-2

Sierra

"From the mountains" in Latin

-2

Adara

"Fire" in Hebrew

-2

Sienna

An earthy color

-2

Holly

A bush

-2

Bhoomi

Hindu for "Earth"

-2

Cocoa

A bean with a brownish color

-2

Kobicha

A color traditionally used in kimonos

-2

Maple

A tree; often associated with syrup

-2

Cookie

A sugary baked good
Community Dogs with Welsh Terrier Names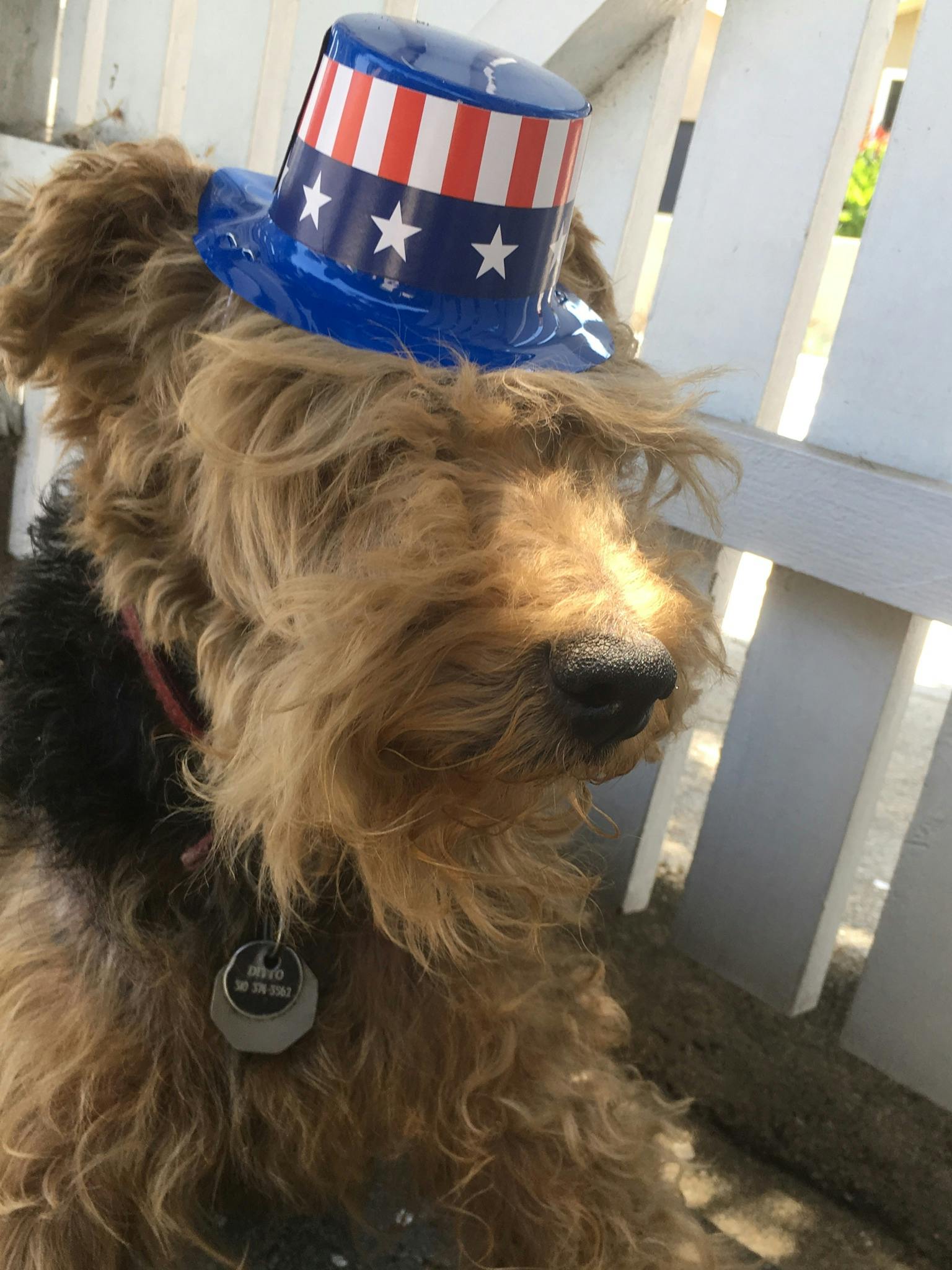 Pooky
Female
Welsh Terrier
Redondo Beach, CA
We named Pooky after Garfield the Cat's teddy bear, because when she sits on my husband's lap, she looks like an animated teddy bear. My mom used to always bring over the Garfield comics cut from the newspaper and she passed not long before we got Pooky, so it was partly a tribute to her, too!
Terrets
Female
Poodle
New York Mills, NY