Introduction
The FIFA world cup is something soccer fans look forward to for years. This mega soccer championship is held every four years and boasts teams from dozens of different countries who compete for the prestigious title. Teams compete for three years just to qualify for the month-long tournament. 
The first-ever World Cup was held in Uruguay in 1930 and was the brainchild of Jules Rimet. Originally, the World Cup trophy was named the Jules Rimmet trophy and renamed in 1946. Initially, only 15 countries participated in the tournament but over the years, more countries joined. An estimated 48 countries will be in the 2022 World Cup. 
A whopping 26.29 billion sports fans tuned in to watch the 2006 World Cup, viewership topping even the Rio Olympics. To put that number in perspective, one-ninth of all the people on earth watched this tournament. 
With a fanbase of this size, it's no wonder you've found yourself scouring the internet for World-Cup inspired dog names. We've compiled a list of some award-winning athlete names that we think would be a score for any pup! Grab a pen and paper. You're gonna want to jot these down. 
Best World Cup-Inspired Dog Name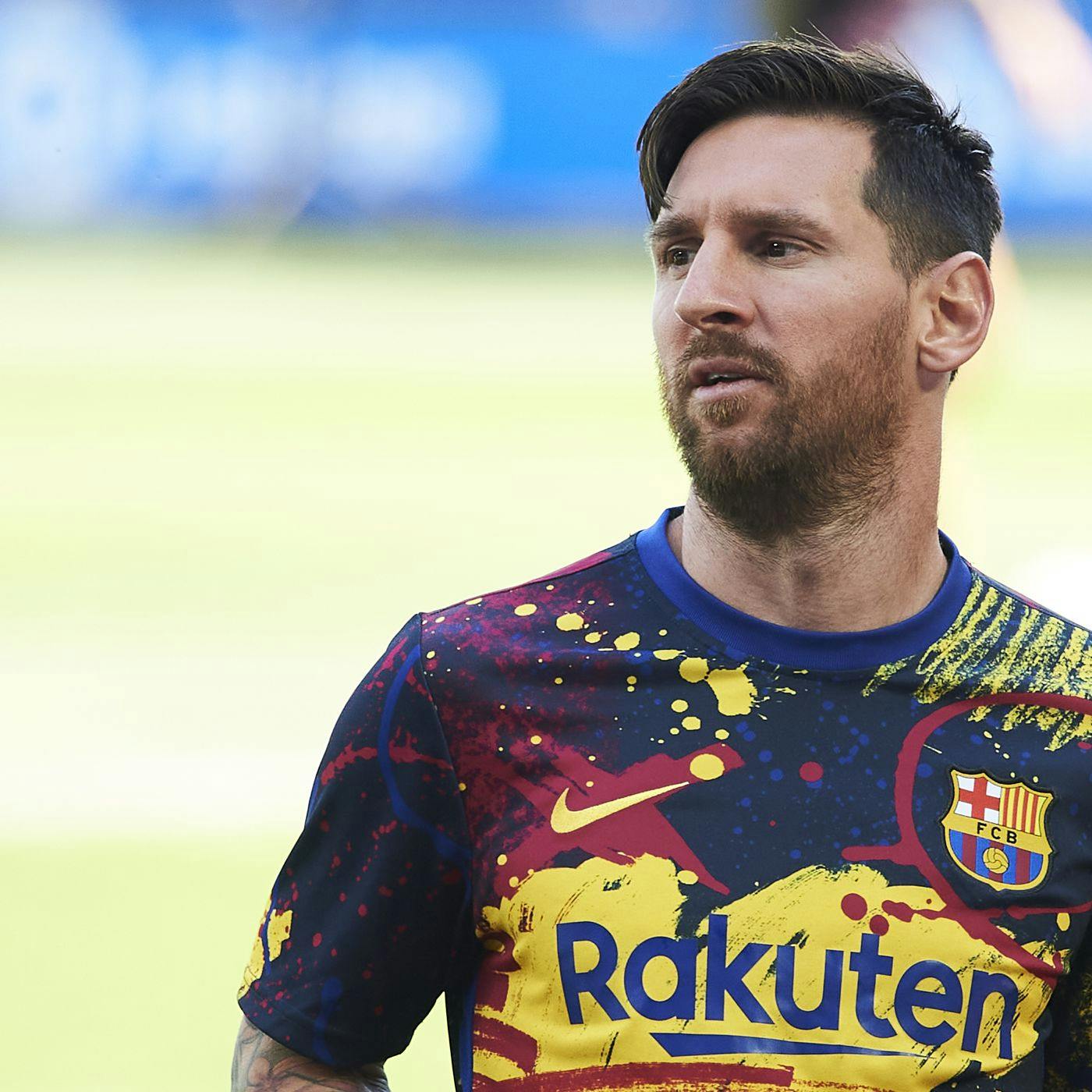 Many soccer fans consider Lionel Messi one of the best soccer players of all time. This Olympic winner and world cup finalist has managed over 700 goals, more than anyone else in Barcelona's history. Messi started his soccer career at the age of 13 and began competing at 17. At just 22, this soccer great won the Ballon d'Or, an honor designated by a team of sports reporters from all over the world to recognize the best international soccer player.  
When this soccer superstar isn't working on his A-game, he's chilling with his pet family. Messi is the proud pet parent of three dogs, Hulk, a French mastiff, a boxer named Facha, and his toy breed, Tony. His social media feeds showcase feel-good content of his gentle giants. Messi loves to share his proud pet parent moments, like with videos of his pets hiking, playing soccer, and snuggling kittens. 
What better way to commemorate the achievements of this soccer great than by naming your dog after him? Lionel is an adorable dog name for any dog, but especially a blonde, long-haired dog. Lionel means "lion" in Latin and is well-suited for a brave pupper. 
World Cup-Inspired Dog Name Considerations
Your furry ball-player needs a champion name—that's why we've listed some of the top players in the World Cup history. There are many considerations you need to take when picking a World-Cup inspired name for your pooch. Surely you'll want to pick a player's name from your favorite team, but deciding which player is the challenging part.
Consider a name that is fitting for the breed's origins. For instance, if you have a Chihuahua, you may want to choose a player name from team Mexico, like Rafael Márquez. Both the first and last name would make a fitting name for a tiny but mighty Chi. 
Enrique might be the right name for your fluffy Bichon Frise. The Bichon Frise—which contrary to paw-pular belief—originates from Spain, as does Luis Enrique, head coach of the team Spain. 
You may also want to think about the nicknames for teams when deciding a title for your pooch. "Los Toros" or "Toro" for short, is a suitable name for a block-headed pit bull or bull mastiff since it means "bull" in Spanish. 
Trainers suggest a one or two-syllable name since longer names can be confusing for dogs. If you like a longer name, consider shortening it to a nickname like "Mo" for Mohamed. 
Take your time picking a moniker. The truth is, you'll probably go through several before you decide on one that sticks. 
Male World Cup-Inspired Dog Names
Votes
Name
Vote
0

Diego

Diego Godin, a defender for Uruguay

0

Angel

Angel Di Maria, a midfielder for Argentina

0

Cristiano

Cristiano Ronaldo, a top scorer for Portugal

0

Kevin

Kevin De Bruyne a premier league winner

0

Harry

Harry Kane, awarded the World Cup Golden Boot

0

Luis

Luis Suarez, a top scorer for Uruguay

0

Mohamed

Mohamed Salah, England's 2018 Player of the Year

0

Antione

Antione Griezmann member of the French team

0

Eden

Eden Hazard, a Belgian forward

0

Robert

Robert Lewandowski, a top player for Poland

0

Toni

Toni Kroos, a multi-championship winner from Germany

0

David

David De Gea, a goalkeeper for Spain

0

Luka

Luka Modric, a midfielder for Croatia

0

Sergio

Sergio Aguero, forward for Argentina

0

Kylian

Kylian Mbappe, one of the youngest players ever for France

0

Phillipe

Phillipe Coutinho, a midfielder for Brazil

0

Silva

David Silva, a midfielder for Spain

0

Ramos

Sergio Ramos, a defender for Spain

0

Paulo

Paulo Dybala, a forward for Argentina

0

Andres

Andres Iniesta, Spain's winning goal kicker in the 2010 World Cup

0

Cavani

Edinson Cavani, a Uruguay forward

0

Manuel

Manuel Neuer, a Germany goal keeper

0

Marcelo

Marcelo, a Brazil defender

0

Isco

Isco, a successful defender for Spain

0

Thomas

Thomas Muller, World Cup Golden Boot award-winner

0

Ivan

Ivan Rakitic, a midfielder for Croatia

0

Gonzalo

Gonzalo, a forward for Argentina

0

Gabriel

Gabriel Jesus, a forward for Brazil

0

Willian

Willian, a midfielder for Brazil

0

Dele

Dele, a midfielder for England
Female World Cup-Inspired Dog Names
Votes
Name
Vote
0

Bunny

Bunny Shaw, a forward for Jamaica

0

Marta

Marta Torrejon, a defender for Spain

0

Andressa

Andressa Alves, a Brazil midfielder

0

Maren

Maren Mjelde, a defender for Norway

0

Jenni

Jenni Hermoso, a forward for Spain

0

Kiera

Kiera Walsh, a midfielder for England

0

Sarah

Sarah Bouhaddi, a goalkeeper for France

0

Valentina

Valentina Cernoia, a midfielder for Italy

0

Estefania

Estefania Banini, a midfielfer for Argentina

0

Kumi

Kumi Yokoyama, a defender for Japan

0

Kristine

Kristine Minde, a defender for Norway

0

Lydia

Lydia Williams, a goalkeeper for Australia

0

Nilla

Nilla Fischer, a defender for Sweden

0

Hedvig

Hedvig Lindahl, a goalkeeper for Sweden

0

Kadeisa

Kadeisa Buchanan, a defender for Canada

0

Abby

Abby Erceg, a defender for New Zealand

0

Li

Li Ying, a forward for China

0

Emily

Emily Van Egmond, a midfielder for Australia

0

Lucy

Lucy Bronze, a defender for England

0

Jessie

Jessie Flemming, a midfielder for Canada

0

Corsie

Rachel Corsie, a defender for Scotland

0

Kirby

Fran Kirby, a midfielder for England

0

Steph

Steph Catley, a defender for Australia

0

Vivianne

Vivianne Miedema, a forward for the Netherlands

0

Wendie

Wendie Renard, a defender for France

0

Sam

Sam Kerr, a forward for Australia

0

Tobin

Tobin Heath, a winger for the US

0

Christine

Christine Sinclair, a forward from Canada

0

Saki

Saki Kumagai, a defender for Japan

0

Liekie

Liekie Martens, a winger for the Netherlands
Dog Name Stories