How to Train Your Dog to Accept a Kennel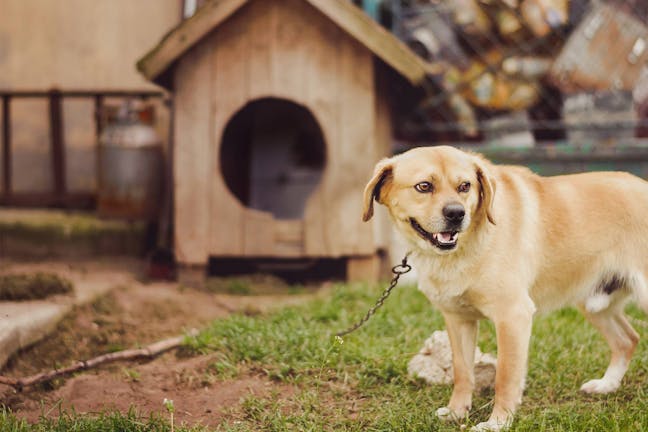 Introduction
Your dog is so big and strong that you simply can't have him around the house when you've got little children. The house is crowded enough, plus you got him originally as a working dog, so he's supposed to be tough enough to reside in kennels. The only problem is, he's not a big fan of kennels. He's used to his home comforts and likes having attention from everyone around him. It will be a tough adjustment period, but it's necessary. 
Training him to accept a kennel can give you some much-needed space. It will also give you somewhere secure you can leave him and know he's safe. Also, if he's particularly attention-seeking and you want to cut that out then a kennel can come in handy. Not to mention if you need to go away it's ideal.
Top
Defining Tasks
Training your dog to accept a kennel isn't always straightforward. Dogs don't like being left alone and especially in places they've never been before. It can be a daunting experience being locked up on your own. You'll need to take a number of steps to make him feel comfortable while he's in a kennel. Fortunately, you can also prepare by taking him for some brief kennel visits so he knows you'll come back for him. If he's a puppy he may be extra scared and you may need a couple of weeks before he accepts a kennel. If he's older and is used to being left alone then you may see results in a just a week.
Succeed with this training and you'll be able to relax and enjoy your time away from him. This training will also be good for him if he suffers from separation anxiety. It will teach him how to be away from you.
Top
Getting Started
Before you get to work you'll need a few things. Firstly, you'll need the kennel in question and you'll need to be able to visit it easily. Secondly, you'll need treats and some of your dog's favorite food to make him feel at ease.
On top of that, some of his favorite toys will make him feel at home when he's there. You'll also need to set aside some time to take him to the kennel, at least once a week.
Once you've got all of that you're ready to start!
Top
Size
Make sure the kennel is the right size. You need him to be relaxed and comfortable and part of that means he has enough room. He needs to be able to move around and turn around with ease. If it's too small it may make him stressed.
Home comforts
Make a house a home by sprucing it up. Put some comfy blankets down and put the odd toy in there. The toys will make it smell like him and that will instantly relax him.
Treats
Leave treats in the kennel. If he gets a treat every time he goes in there he'll soon start associating the kennel with food, and then you may find it a struggle to get him out! Once he's comfortable in there you can slowly cut out the treats.
Play time
Give him attention at the kennel. You can take a toy and play tug of war for a few minutes. Alternatively, you can calmly stroke him. It's important he knows he'll still get some attention from you.
Don't punish him
Do not shout at him or scare him if he doesn't want to go in the kennel. You don't want him to associate it with punishment and fear, then it will be even harder to get him used to it.
Leash
Secure him to the leash and head for the kennel. Stay upbeat and positive you want him to think you're playing a big game. Make sure you have some treats in your pocket too.
'Kennel'
When you get to the kennel, point at it and encourage him to go in. As you do this give the 'kennel' command. Give it an animated tone. You can use any word or phrase you like, dogs can remember hundreds of different instructions.
Treat
If he won't go on his own, try and lure him in with a treat. You can hold it in your hand to draw him in, or you can stand outside and throw it in to encourage him. Just make sure as soon as he's in he gets a treat and lots of verbal praise.
Shut the door
Only leave him secured in there for a short period of time to start with. Just a couple of minutes is long enough. Also, make sure you stay with him just outside for those 2 minutes to make him feel at ease. The more relaxed he feels during this first visit the more inclined he'll be to go back there again.
Increase the time
Next time you go back, leave him there for a little while longer and use the 'kennel' command again. If he always gets a reward he'll soon catch on and know what's expected of him when he hears the instruction. Over the next few visits, gradually increase the length of time you leave him in there for. When he heads straight there every time on command, you can slowly cut out the treats.
Exercise
Before you go, give him a nice long walk. You want him tired by the time he reaches the kennel. If he already wants to relax and sleep then you'll find he'll be much more receptive to accepting the kennel. Throwing a ball for a few minutes beforehand could also do the trick.
Head for the kennel
Get him all ready with everything he needs. As you're doing this, stay happy and upbeat. Dogs mirror their owners behavior, so if he sees you're relaxed and happy he's more likely to feel that way too.
Introduction
Fit him to a leash and slowly walk him around the kennel. As you're going, stay animated and upbeat. It's important you set the tone of the visit.
Reward
Have some treats in your pocket and give him one every so often. It will also make him associate the kennel with tasty rewards.
Repeat visit
Don't spend too long there, then take him back home. A few days later, go back again. This time spend a little longer there. The time after, leave him there for a couple of hours on his own. This will help him realize that you'll always come back to get him.
By James Barra
Published: 12/05/2017, edited: 01/08/2021
---