How to Train Your Stubborn Dog to Come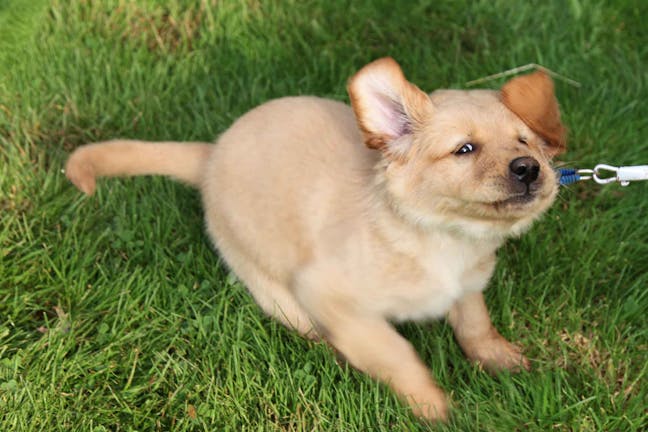 Introduction
The light is fading fast and it's nearly time to pick up the kids from school. A hectic schedule of after-school clubs means there'll be no time to walk the dog later (which you don't like doing in the dark) so it's now or never. A quick blitz around the park should do the trick, especially as the dog loves playing ball, which will tire him out rather nicely. 
But things don't go according to plan. You let the dog off the lead, but immediately your recognize that devilish look in his eye. It's as if he knows he holds all the cards and if he stays just out of reach there's not a thing you can do about it.
You shout "Come", but instead of running towards you, he takes the command as a warning that playtime's at an end and skips further off. The short work quickly turns into a nightmare as, in the dwindling light, the dog ignores your frantic calls and stays out of reach. 
Eventually, you're forced to phone a friend to collect the kids, while you pursue the dog. By the time you do eventually catch him it's fully dark and you're almost weeping with frustration.
Top
Defining Tasks
Dogs that appear to be stubborn when it comes to recall, have often learned that it pays to stay away. A combination of remembering past punishments, along with knowing the fun stops when the lead goes back on, means they have little to gain by responding to "Come".
Teaching a stubborn dog the art of recall is not as difficult as you might at first suppose. It's simply a matter of tipping the scales in your favor, by teaching the dog that there's a fantastic treat waiting and that he still gets to play afterward. 
Start training in the safety of your home or yard, and as the dog becomes more accomplished move the training into public places. If you can't trust the dog to obey, then use a longline while training so he can't run off.
Top
Getting Started
Teaching a good recall depends on you understanding what's going through the dog's mind and playing on the positives. This means making sure you have plenty of time,  along with a pocketful of tasty treats. 
To teach a stubborn dog a good recall you'll need:
 A longline

Super tasty treats, such as sausage or cheese
A small bag in which to keep the treats
Time and patience. 
Top
The Back-up and Recall Method
Understand the idea
A puppy has a strong instinct to stay by their mother's side. Take advantage of this latent instinct with the counter-intuitive action of backing away from the dog. With the right encouragement, the dog will move toward you, allowing you to label the action of closing the distance as 'come'. Eventually, you stay still while the dog approaches on command, and even a stubborn dog has learned to 'come'.
Exercise your dog
If the dog has expended most of his energy (but without being utterly exhausted) then he's going to be less likely to get distracted and more likely to pay attention to you. Ahead of teaching a stubborn dog recall, take him for a good walk.
Put the dog on the leash
Now put your dog on the leash. Get his attention and back away from him. Slap your thighs and in an excited voice, say "Come"
Move away from the dog
Keep moving away while encouraging the dog to follow. As he steps toward you, say "Yes" in an excited voice, and repeat "Come."
Reward the dog when he reaches you
Keep backing away, which encourages the dog to keep moving toward you. If necessary, slow up slightly to allow the dog to reach you. Then say "Yes" in a super-excited voice and give the dog a reward.
Practice makes perfect
Keep repeating this until the dog is moving freely towards you. Then try with the dog off-leash. Also, start practicing in different places, so that the dog learns to obey in a variety of environments.
The Make Life a Party Method
Understand the idea
When a dog finds something really interesting - like horse dung - this is a strong distraction. Why would he want to leave this super-scrumptious bounty in order to return to heel and go home? The short answer is, he'll refuse and continue rolling in the unmentionable. The trick is to make every successful recall a party for the dog, so that he knows he's guaranteed a good time that is more rewarding than nature's bounty.
Use a longline
If your dog is really stubborn about recall, take the frustration out of training by keeping him on a longline. This gives you the control to bring him back if he chooses to disobey. A longline is better than a flexilead, as the latter teaches the dog that pulling allows him to get further away (not a message you want to send out.)
Call "Come" as he moves towards you
Don't only ask the dog to 'come' when you want him back. Take advantage of happy coincidences, such as when the dog is moving towards you, to shout "Come". Then reward him with a super-tasty treat. This starts him linking 'come' to a reward and therefore a command that's worth listening out for.
Throw a party
When the dog does 'come', throw a party. make a huge fuss, tell him how clever he is, and give him a fantastically tasty reward such as a piece or sausage or cheese. Your aim is to have the dog realize that coming to you is a good thing, and something to look forward to.
Practice
On a walk, stop and call the dog to you. The aim is to have him turn on a dime to come back when there aren't any distractions so that he doesn't think twice about obeying when there are.
The What NOT to Do Method
Don't end the party
The dog comes to you. He gets a reward, you clip the lead on and go straight home. In the dog's mind he learns to link coming to you with the end of the fun. This may make him reluctant to respond despite the treat. A better idea is to end the game slightly early, so that you can take one last turn round the park before heading for home. That way, this prevents him seeing recall as a party pooper activity
Don't keep yelling "come"
If you shout "come" over and over and over, the dog will tune out and the word loses its power. Most dogs respond straight away or not at all. If he doesn't answer the first time, clap your hands, whistle, squeak a toy, anything to get his attention and then try again. As a last resort, turn you back and walk away (keeping a sly watch on his whereabouts), which should have him running to you.
Never punish a slow recall
You're late for a meeting and that quick dog walk turns into a half an hour saga when he fails to recall. At long last he comes back, so you vent your frustration by smacking him. Unfortunately, you've just punished the dog for doing the very thing you so desired...which makes him all the less likely to respond next time. Sadly, you have no option but to grin and bear it, and throw a party when at last he puts in an appearance
Don't tempt fate
If you know your dog is stubborn and likely to ignore recall, then don't let him off in a large park. Instead, keep control of the situation with a longline.
Don't expect quick results
Running free and all the delightful distractions available to a dog, mean that it takes time to learn a rock solid recall. Dont be discouraged if it takes a while, stick with it and you will both get there.
By Pippa Elliott
Published: 11/23/2017, edited: 01/08/2021
---