How to Crate Train a Chihuahua Puppy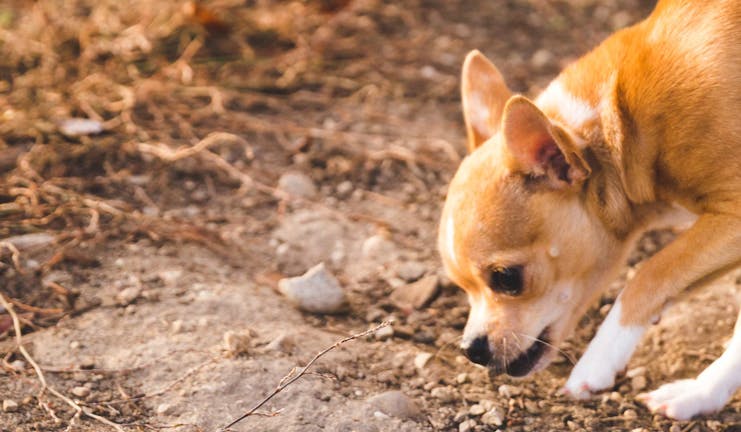 Introduction
There is nothing quite like the fun of bringing home a new Chihuahua puppy--they are so tiny and cute. But mayhap some of that dims just a little the first time he leaves a pile in the middle of the floor. So now, not only do you have a mess to clean up, it's time to start thinking about crate training the little guy. Before you think of a crate as a puppy prison, you need to understand that all dogs are born with a natural instinct that makes them want to find a den.
By creating a safe place for your pup using a crate, you are not punishing him in any way. You are simply giving him a den, a safe place, a place he can literally call his own. How can anyone see this as a bad thing? The only time using a crate can be seen as punishing and not right, is if you leave your pup in it for too long at a stretch. 
Top
Defining Tasks
Crate training can be considered a very important part of your pup's overall training program. You can use it as part of his potty training, teaching him to sleep at night, and do deal with separation while you are at work. Be aware, however, that you should never leave your pup in the crate for too long. It will only lead to problems getting him to go in his crate. Also, if he tries to hold himself for too long, it could cause physical problems for him.
The idea is to teach your pup that his crate is actually his den and a safe place for him to take a nap, hang out in at night, or simply go into when he wants to get away from it all. You can make the crate as simple or fancy as you like. Carpet the floor, add a doggy bed, toss in some toys, even throw a blanket over the top to create a cave-like atmosphere, just be sure to make it comfortable and welcoming to your pup. 
Top
Getting Started
There really isn't much to getting started. First, you need to buy a crate; be sure it is neither too big or too small for your pup. Then you need to create the den by making the inside comfortable. From here it is simply a matter of working with your pup until he loves being in his "den". However, you need a few supplies:
The Crate – Be sure you get the right size

Training pads – For accidents

Treats – As lures and rewards

Pup bed – Somewhere comfortable for your pup to sleep

Toys – For your pup to play with

Plus of course, you need plenty of time to work with your pup along with a generous supply of patience. Chihuahuas are very smart but tend to be a bit stubborn, be patient and he will soon figure out what is expected of him. 
Top
Assemble the crate
Start by finding a quiet area in your home that is still in sight of you during the day and assemble his new crate. Place the carpet or a blanket on the floor, add the bed, the toys, and a pee pad for accidents.
Add one pup
Time to introduce your pup to his new bed by placing him directly into it. As you do so, be sure to use your choice of cue words such as "crate" or "go to bed". Close the door and give your pup a little time to get used to his new surroundings.
Let him have his say
Chances are pretty good your pup is not going to be happy with the door being closed and will let you know it quite vocally. That's okay, let him have his say. When he quiets down, give him a treat and lots of praise.
Let him out
Go ahead and let your pup out, then take him straight outside to go potty. When he is done peeing, praise him, give him another treat and let him stretch his legs.
Repeat and extend
The rest is all about rinse and repeat. Keep working with your pup, extending the time your pup stays in his kennel until he is comfortable being in there at night or when you have to go to work. In time, your Chi will come to love the time he spends in his "den."
Find a spot
Find a nice quiet spot in your home for your pup's crate, somewhere you can see him, and he can see you, but he won't have to deal with a lot of distractions. Use a blanket, doggy bed, some toys, and a pee pad to create the perfect den for your pup.
Add dinner
Place his food and water dishes in front of the crate by the door and fill them. Open the door and leave it open. Allow your pup to go in and out of the crate, give him plenty of time to explore it. Do this for several days, giving him time to get used to it.
Shut that door
Now it's time to work with your pup with the door closed. Place him in the middle of his kennel and close the door. If he decides to verbalize his discontent with the door being closed, let him. In time he will get tired of whining and will quiet down. When he does, praise him and give him lots of treats.
Time to go out
Open the door, let him out and then take him outside to pee immediately. This will help with his potty training.
Keep on trucking
Or in this case keep the training going, working on longer times and eliminating the treats until you can leave your pup in his "den" at night or when you need to go work. Be patient, your Chi will soon understand what is expected of him.
Make a home
Create a home for your pup's new crate/den in a quiet spot in your home. Turn the crate into a comfy home by adding carpet, a blanket, a bed for your pup to sleep on, and maybe a few toys.
Use his treats to your advantage
Using one of your pup's favorite treats, lure him into his new home. Repeat this until your put seems to be very comfortable with going in and out of the crate.
Add the command
Time to add a command word, such as "crate" or "kennel" as your pup is walking into his crate. This will help him associate the command, with the action of going into his crate, and being given a treat.
Work the command word
Start using the command word first then tossing the treat into the kennel. This will speed up the process as it won't take long before he will walk into the crate in anticipation of the treat. Practice this until he goes in every time.
Finishing up
Keeping working with your pup and extended the time he has to stay in the crate until he will stay in there as long as necessary. It will take time until he can stay in all night or day, but keep working with him until he is successful at staying in his crate.
By PB Getz
Published: 01/24/2018, edited: 01/08/2021
---