How to Crate Train a Corgi Puppy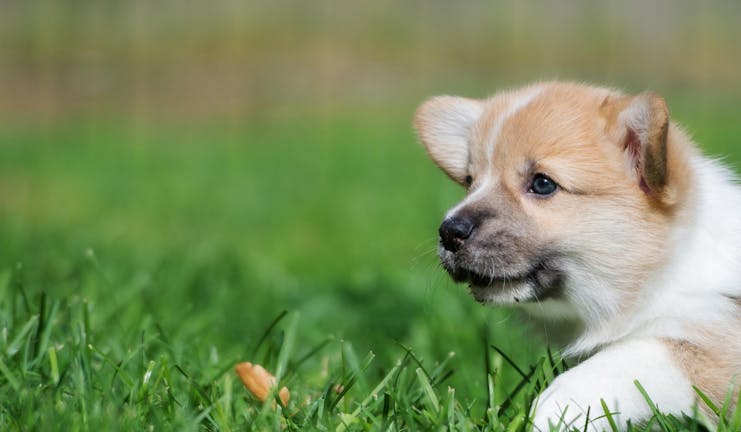 Introduction
The long-anticipated wait is over, today is the day you get to bring the newest member of your family home. Your new Corgi pup is a bundle of energy and so much fun to play with, but then without warning, the little pooch lifts his leg and pees on the floor right in front of you. Argh, now you have a mess to clean up. It also means that it's time to start crate training your pup and working with him to only go potty outside where it is allowed.
But potty training is only one reason for crate training your Corgi. He should see his crate as his den or safe place. During his puppy days, a crate can be used during the day when you are work or at night when you are trying to sleep. Although there are many who feel crates are inhumane, the reality is that when your Corgi sees his crate as his den, he will enjoy being in it. 
Top
Defining Tasks
When handled properly, crate training can be a great housebreaking tool, to create a safe place for your pup when he is scared, a way to go on vacation with the family, and of course, the perfect place to sleep at night. Part of the training process lies in turning the crate from what, to many, might look like a prison into a comfortable space for your pup that he can call his own. Due to his natural instinct to search for a den, he will soon see his crate as just that.
Bear in mind, you should never use his den as a form of punishment. If you do so, he will soon start refusing to go in it, completely negating all the hard work you put into crate training him in the first place. If you feel you must have a place to use as punishment or time out spot, have a gated off area in a different part of your home and set it up with the bare necessities. Perhaps nothing more than a piece of carpet. Never leave your Corgi in the time out spot for more than 10-15 minutes. 
Top
Getting Started
It starts with choosing the right size crate for your Corgi. If you get one that is too small, your furry buddy won't have room to move around or stretch out. If you buy one that is too big, your pup may tend to use one end as his potty and the other as his place to sleep, negating its usefulness. If you must buy a larger crate to be used when your dog is full-grown, put a divider in it to keep it smaller at first. Beyond this, there are a few supplies you might need.
Treats – As rewards

Bed – A doggy bed for added comfort once your puppy is trained

Toys – To keep your pup occupied

Along with these items, you will need a large supply of patience and the time needed to work with your pup.
Top
Make a home in the crate
Start by placing the crate in a quiet corner of the room and creating a comfortable home in it for your pup. Cover the floor with a non-absorbent flooring. Add a few toys, and if you like, a blanket over the top (leaving the front open) to create a nice little "puppy cave."
Lure him in
In the early stages, you may find it works best to toss a treat in the crate to get your pup to go inside and explore his new den. Keep doing this until he will follow the treat into his crate.
Add the cue word
For this, you need to choose a cue word. Consider the obvious, such as "Kennel!" or "Crate!"; it's up to you, but stick with the one you choose.
Teach your pup the cue
Each time you send your pup into the crate, give him your cue word. This way he will learn to put together the fact that "Kennel" plus going into his den equals a reward.
Extend his stay
Over time, you need to cut back on the treats until he will go inside on command with one and at the same time start extending his stay. Always be sure to take your Corgi straight outside every time you take him out of the crate to go potty and soon he will look forward to his long naps in his new den.
Place the crate carefully
Place the crate in an area where there is plenty of fresh air and light, one where you can see the crate and your pup can see you.
Make it fun
Make the crate a fun place to sniff around by occasionally placing a few toys there for him to seek out.
Food and water
Place his food and water bowls close to the gate and leave the door open. Let him wander in and out of the crate on his own. Be sure to praise him when he does, but do not close the gate at first. Let him wander in and out for few days, then try closing the door.
If he whines
If he whines, open the gate and immediately take him outside. When he has gone potty, take him back in and put him in his crate. Once he is getting used the routine, you can add a bed. After the potty break, chances are good he will lie on the bed and take a nap.
The rest is up to you
The rest truly is up to you, the more time you can invest in working with your pup and crate training him the better. During the early stages, your pup should not spend more than two hours at a time in his crate without being taken out to go potty.
Set up the crate
Choose an area of the house where your pup can see you and you can easily keep an eye on him. Make the crate a welcoming spot and even add a few toys. You are trying to create a den for your pup.
Place your pup
Gently pick up your pup and place him in the crate while saying "crate" or "kennel" or your choice of cue words. Close the door and step back.
Wait for the whining to stop
It's only natural for your pup to whine at first, it's okay. It may take time for him to calm down. When he does, reward him with a treat and let him out.
Potty break
As soon as you let your pup out of the crate be sure to take him outside immediately, so he can go potty, investigate the outdoors for a bit, and stretch his legs.
Repeat
The rest lies in repeating this training and extending the amount of time your Corgi spends in his crate until he will spend the night there or the day while you are at work. Like most dogs, Corgis will not foul their dens unless they simply cannot hold it.
By PB Getz
Published: 01/24/2018, edited: 01/08/2021
---