How to Crate Train a Labrador Retriever Puppy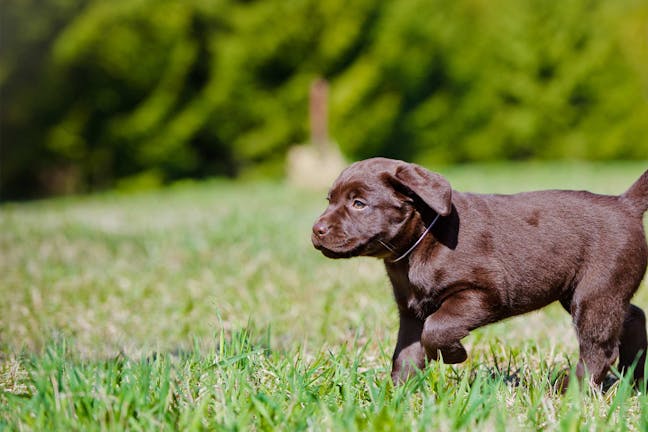 Introduction
For years, using a crate has been perceived by some as a cruel way to treat a dog. Many are under the impression that everyone who uses a crate for their dog simply leaves them in a cage for untold hours. Nothing could be further from the truth! In fact, when used properly, your pup will come to see his crate more along the lines of his den and be happy to spend time there. Bear in mind, not all labs respond to a crate in the same way. Some might walk right in and make themselves at home, while it's going to take a little extra work for some to be comfortable.

The big thing is to take your time and to give your dog plenty of time to become comfortable with his new "den". This way you should not have a problem leaving your pup in his crate during the day while you are at work or at night while you are sleeping as needed. 
Top
Defining Tasks
For a dog in the wild, his den is his safe place, somewhere he goes to be secure and comfortable. He will raise his family in his den, rest in it, and bring his pack into it for safety when needed. Your pup will draw on this natural instinct and come to see the crate in much the same way if you take your time and follow through on his training. The most important part of the training process is to do your best to help your pup to see his new crate as his den. The more comfortable you make it for him, the more likely he will be to enjoy going in it. 
Top
Getting Started
Crate training starts out with buying the right size crate. Since your pup is going to eventually grow into a full-size Lab, you might be tempted to buy an adult-size crate for him. This might work if you are able to put a partition or temporary wall in it to make it smaller to start out. If not, you should start out with a crate that fits your pup. This will help make things go easier. Along with this, you need a few things:
Carpet

Bed

Treats

Toy

Blankets

A good spot

Since you are training your dog to stay in a crate with the door locked, which is something he may not like at first, be ready to take your time. All good things come to those who are patient. 
Top
Set the crate up
Set up his crate in a busy place in your home, one where everyone can see it and your pup can still feel like he is part of the family. Leave the door open and tie it back.
Take up your position
Take up a sitting position next to the crate with some of your pup's favorite treats in your hand. Let your pup see and smell his treats, but don't let him take them. Instead, toss a treat into the crate. At the same time, use your choice of cue words such as "kennel" or "crate."
When he goes in
When he finally goes in the crate, give him lots of praise and another tasty treat.
Give him room
Take a few steps away from the crate and give your pup room to come out on his own. When he does, give him your cue word to come out, something easy like "out" works. When comes out and over to you, give him a treat.
I like to work it...
Start closing the door and extending the time between when he goes in the kennel and you open the door. Be sure to praise your pup heavily and treat him for his successes. In to time, he will love spending time in his den.
Place the den
Place your pup's new den in a nice busy spot in the house. You don't want him feeling isolated when he is in the crate.
Insert one pooch
Pick your lab up and gently set him down in his crate. As you are doing so, give him your cue word, such as "crate" or "kennel". This will help him associate the action with the cue word, making it much easier to get him in his crate in the future.
Let him talk
It might happen immediately, it might take a few seconds, but your pup is going to let you know in no uncertain terms he is not happy. That's okay, let him. Just go on about your usual routine and ignore him and the noise he is making.
The sound of silence
There is nothing quite like the sound of silence, so wait until your pup has stopped making noise and has calmed down. Then open the door, let him out and immediately take him out to go potty.
Keep adding time
Now that he knows he must spend time in the crate, go ahead and start extending the time between when he stops complaining and when you open the door. By the time you are done, and your pup grows up, he will be able to spend several hours in his kennel as long as you make sure he has water.
The Slow and Steady Method
It's all about location
Find a nice spot for your pup's kennel, one where he can be in his den and still feel as though he is part of what is going on. If the activity levels make him fuss, go ahead and create a cave for him by draping a blanket over the kennel.
Add the chow
While you are at it, this is a good time to relocate your pup's food and water dishes. Move them to a convenient spot just outside the crate door. At the same time, tie the door open and walk away. Give your pup a few days to get used the kennel, the new location of his food, and to let him wander in and out of it at will.
Lock the door
With your pup on the inside of the kennel, go ahead and close the door and latch it. Now your pup may not be happy about this and may, in fact, make a lot of noise for a bit. But, eventually, he will get tired of the noise himself. When he finally does, be sure to praise him and give him a treat.
Time to come out
After your pup finishes his treat, open the door and let him out. Take him straight outside to go potty. You can work this into your potty training routine as well.
Increase the time
Slowly start to increase the amount of time your pup spends in the crate. Bear in mind, young pups should not be left in the crate for more than 30 minutes at a time, as they may not be able to hold themselves for much longer. Once your pup has learned to enjoy spending time in his kennel, you may even find him napping in there.
By PB Getz
Published: 01/31/2018, edited: 01/08/2021
---