How to Crate Train an Alaskan Malamute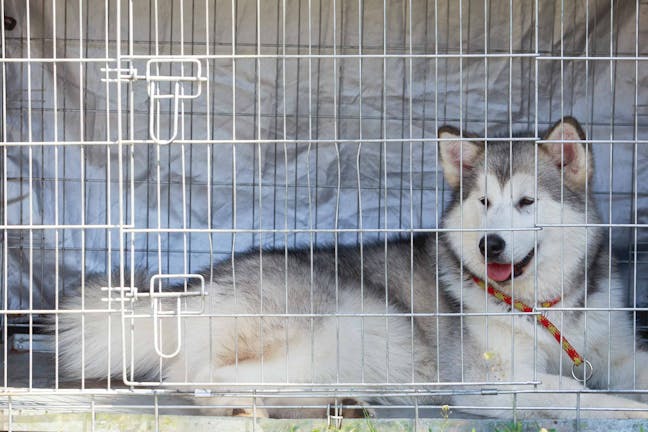 Introduction
Far too many people seem to be under the mistaken impression that crate training an Alaskan Malamute is cruel and that putting a Mal in a crate is akin to putting him in solitary confinement. While it is true that Malamutes are indeed highly social dogs that want to be with their pack at all times, they also have a strong "nesting" instinct. When approached properly, crate training your pup is, in many ways, just like handing him the keys to his own home.
Alaskan Malamutes prefer their "nesting places" or "dens" to be in a place that is free of distractions, a place where they can rest. This is an important fact to consider as you look for the perfect spot in your home for your pup's new "den." 
Top
Defining Tasks
So, the basic idea here is to train your Alaskan Malamute to think of his crate in terms of it being his den, a place he can go when he needs to and a safe place for him to stay while you are out or at night when everyone is sleeping. Of course, if you expect your Mal to see his crate more in the terms of his den, it needs to be a comfortable place where he can relax.
While you need to make the crate comfortable, you don't need to get carried away, your dog will not appreciate it. Start by cutting a nice piece of durable rug to fit the bottom of his kennel, then add a large comfortable bed for your pup. If you want, you can toss in a few toys and cover the whole thing to create a cave. You can use a blanket to do this or there are ready-made covers you can buy. The idea is to make the crate into a place your pup wants to spend time in. 
Top
Getting Started
Before you can start crate training your Alaskan Malamute, you need to make sure you buy the right size crate. This is important, even if it means buying more than one crate. If you buy one that is too small, your pup won't go into it as there won't be enough room for him to move around in it. If you are starting with a pup, you can get away with buying a full-size crate, but you will need to create a partition to keep the size of the kennel appropriate to the size of your Mal.
You may also need:
Beyond this, you just need time and patience. Alaskan Malamutes are extremely intelligent, but at the same time they are quite stubborn and learn at their own pace. Take your time, and your pup will learn to love his den. 
Top
The This is My Den Method
A dog's den is his home
If you want your Mal to enjoy spending time in his crate, you have to make it comfortable and place it in a spot out of the main flow of traffic. However, you need to be able to keep an eye on him without seeming to be doing so.
Introduce the crate
Bring your pup over to the kennel and using your cue word "crate", "kennel", or even "den", place him inside the crate and quietly close the door. Step back and give him all the time he needs to get used to it.
Let me out of here!
Your pup is going to whine, bark, yip, howl, and do anything else he can to get your attention and tell you how much he hates it in there. That's okay, let him do so. Soon enough he will stop and when he does, praise him and give him a nice treat.
Give him a moment
Give your dog a moment to enjoy his treat and then open the door. When he comes out, take him outside to go to the bathroom.
Stretch it out
Start slowly adding to the amount of time between when you put him in the crate and when you let him out. In time, he won't mind being in his crate for longer periods of time. In fact, if you leave the door open, you may find him snoozing in there at the strangest times.
The Got a New Home Method
An all new home
Not only is your pup's crate going to be new to him, but it is new to your home. You need to find a quiet place for it out of traffic, but where you can both see each other. Make the crate comfortable for your Mal as described above.
Complete with dinner
Move your dog's bowls over to sit just outside the door to his crate and leave the door to the crate open. Let your dog explore his new home at his leisure, allow him to go in and out for several days.
Close the door
Catch a time when your pup is in his crate and quietly close the door. If he decides to verbally inform you of just how unhappy you have just made him, let him. Let him howl and fuss until he runs out of steam. When he does, praise him, and give him a treat.
Come on out
Open the door and give your pup the cue "come on out" or your version of it, then take him outside for a pee break.
As time goes on
Continue working on his training, extending the duration of his stays in the crate until he will happily stay there as long as you need him to. Keep working with your pup, it will happen.
The Little by Little Method
Build his new home
Build your pup's new home by finding a quiet place for his new "den" and making it as comfortable as possible.
The bait and switch
Using a treat, lure your pup into his den and trade him the treat for giving up his freedom. Only don't close the door on him quite yet. Allow him to explore the den and leave on his own. Keep doing this over the course of several short sessions every day for a week or two until he will willingly go in for the treat.
Time to add the cue word
For the next couple of weeks, repeat the above training, but this time add the cue word "crate" or "kennel." This will help him associate the cue word with the required action.
Continue working with the cue
Keep working your pup using the cue word until he willingly goes in his crate when you tell him to. Each time you place your pup in his kennel, start extending the time he spends in there before you let him back out of it.
Give him time
In time, he will come to think of the crate as his den and spend plenty of time snoozing in it all on his own.
By PB Getz
Published: 01/25/2018, edited: 01/08/2021
---