How to Train Your Corgi Dog to Fetch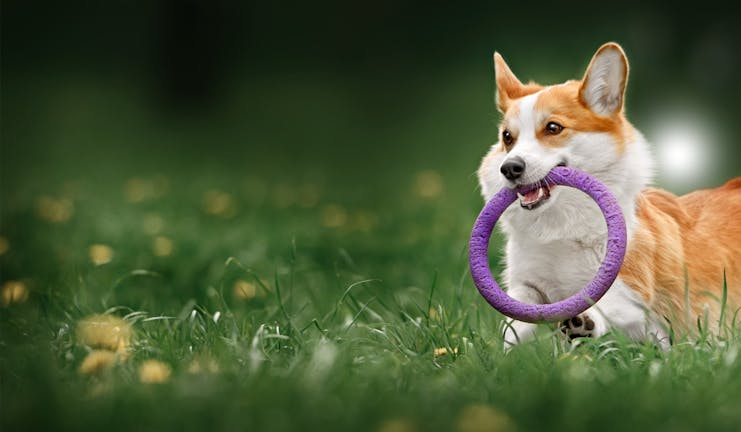 Introduction
Corgis are among the best herding dogs in the world. But at the same time, they make outstanding family pets and are highly intelligent. Don't let their short little legs fool you. Once you teach your pup to play fetch, he will run those little legs off to bring you things. Did you know that the Corgi is ranked as the 11th smartest dog breed in the world? For most tricks, it can take only 5 to 10 repetitions of most commands to learn them. In fact, some are known to be able to follow a command the first time.
Fetch is a great game; it helps you bond with your pup and it lets him get plenty of good healthy exercise. Don't let the fact that Corgis look like a loaf of bread with legs pull the wool over your eyes. These dogs are very athletic and fast on their feet. Playing fetch with your pup is a good way to run off all that excess energy and be more relaxed at home. 
Top
Defining Tasks
Fetch is pretty much self-explanatory; you throw a ball or a toy out and your pup is supposed to happily chase after it and then bring it back to you. Because Corgis are exceptional herding dogs, their sense of direction, ability to follow instructions, and sense of smell are very well developed. Always use positive reinforcement while training, never use punishments or other negative methods as they will only serve to make your pup harder to teach.
During the training sessions, you will be using treats to reward your pup when it gets it right during the early stages. But, as he gets better at playing fetch, the only reward should be praise when he drops the toy in your hand. This game should be fun for both of you, so should the training sessions. 
Top
Getting Started
Before you try to start training your dog to play fetch, he must have already mastered the four basic commands of 'come', 'sit', 'stay', and 'down'. Teaching him these first helps to establish who is charge and puts your pup in the learning mode. It will also help you control your pup during many other types of training. To train your Corgi to play fetch, there are a few things you might need to make things go easier.
Treats

A rubber ball 

Leash

An assistant

A wide-open place to train like a big backyard or field

Top
Assume the position
Start out in the backyard or training field with your pup on a leash sitting beside you and your assistant standing on the other side.
Throw out the first pitch
This should be fun – toss the ball out in the yard and then give your helper the "fetch" command, attaching his name to it.
I got it!
When your helper reaches the ball, have him pick it up and let your pup see that he has it in his hands.
Fetch!
Have your helper come back to you and drop the ball in your hand. When he does, shower him with praise and give him a treat (yeah, give your assistant a "people" treat). Repeat this five times so your pup puts the pieces together as to what is expected when he is given the 'fetch' command.
Run, corgi run
It's now your pup's turn. Follow each step of the training above, only this time release your pup and let him try. Start with the ball or toy close to you and work on distance as you train. It won't be long before your pup will be begging you to play fetch.
It all starts with toys
Gather up a small selection of your pup's favorite toys and take them out into your backyard for the training session. Place them in a line or pile so that you can easily reach them.
Bring out the pup
Bring your pup into the yard and make him sit. You can use a leash to hold him in place or simply hold onto his collar.
Throw a toy
Take one of his favorite toys, show it to him, and then toss it a few feet out into the yard.
Release the hound
Release your pup and let him chase after the toy. Don't worry if he doesn't get it at first, after a couple of repeats, he should start to get the idea. If he does grab the toy and bring it back, be sure to praise him and give him a treat. If not, then try turning away from your pup and running that direction. This should help encourage your pup to try and catch you so that he can give you the toy. When he does, give him plenty of praise and a treat.
Add the cue word
Now your pup is bringing you the toy, add in the cue word "fetch" and his name each time. This will help him associated the cue word with the required action.
Practice
Rotate through each toy, increasing the distance you throw them with each toss. When your Corgi reaches the point where he will play fetch every time, start backing off on the treats until he will do it just for the fun of it and a little praise.
The Train in Reverse Method
Start with the end
The idea behind fetch is that you throw the ball out and your pup brings it back to you and drops it in your hand. So, first train your dog to drop the ball when told to.
Next up, the leash
With your pup on his leash, drop the ball in front of him on the ground. Your pup should reach out and pick up the ball. When he does, give him the 'drop it' command. If he drops the ball in your hand, praise him and follow it up with a treat. If he doesn't, keep working on it until he does.
It takes more than one try
Work with your pup doing this over the course of the next few days until he will reach out, grab the ball, and then drop it in your hand every time.
No more leash
Unclip the leash and toss the ball out a few feet, giving your pup the "fetch" cue using his name. Each time he brings it back to you, praise him and give him treats.
Can he go the distance?
The rest is all about increasing the distance and making it harder for your pup to find the ball to bring it back to you. Keep your training sessions down to about 15 minutes. This is especially important in the summer months when your pup will play until he overheats or gets sunburn.
By PB Getz
Published: 12/27/2017, edited: 01/08/2021
---