How to Train Your Barn Dog to Go Home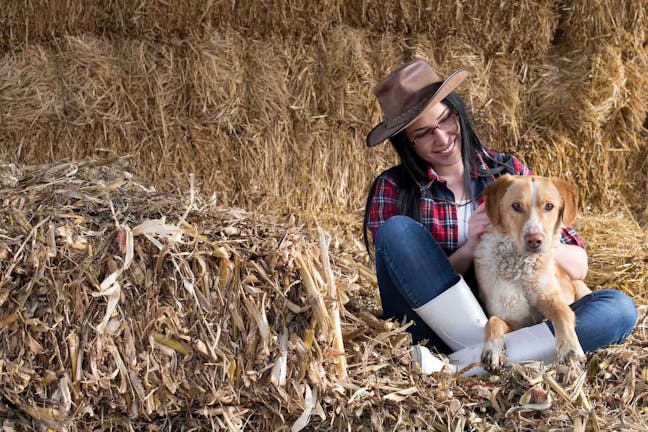 Introduction
So, there you are driving down the driveway (can you say long dirt road) to go into town and what do you see in the rearview mirror? Well, if it isn't your newest barn dog bent on going into town with you instead of staying where he belongs. Maybe he just wants to go for a ride, maybe he doesn't want to be left alone. It doesn't really matter why; what matters is the fact he has not learned where his place is quite yet.
Maybe it's not so much that your pup hasn't learned where his place is. Maybe instead, it's that you haven't taken the time to teach him where his home is. Once you teach him this, you should able to tell your pup "Go Home!" and that is exactly what he will do, go straight home to his "place." 
Top
Defining Tasks
When your pup has completed this training, you should be able to give him the "Go home!" command from anywhere on your property or the surrounding area and your pup should make a beeline for home. But it's really not just anywhere at home, with this type of training, you are teaching your dog to go to a specific place at home, in the barn. In most cases, this spot is a bed or mat, the one he normally sleeps on.
The rest of the training is teaching him to stay in place once he arrives until someone releases him. This part may not be so easy, but chances are good once your pup has been sent home, he won't wander very far if at all. It just takes time and an endless supply of patience. 
Top
Getting Started
Before you get started training your barn dog to go home, he must first have mastered all of the basic commands, 'sit', 'come', 'stay', 'down'. You should also have created a special space that is just for your pup, maybe a bed in one corner of the barn or a thick mat. It should be his "place" one that he knows is his and that he will go to as a "safe" place.  You also need a few supplies, including:
Bed or mat: Used to create a special place for your pup, one he can call his "home".

Treats: For rewards or as training lures.

Leash: For early stage training.

Time: You need to take the time every day to work with your pup.

Patience: You are certainly going to need a lot of this along the way.

No matter what you are trying to teach your pup, it will take time. But when it comes to teaching him to go home on command, this is likely to take a little extra time. Be patient and remember you should never punish your pup for making a mistake, but you should always praise him for getting it right. 
Top
The Start at the Door Method
Go for a walk
Take your dog for a nice on-leash walk and as you get to the barn door, say something like "good boy, go home" and open the door so he can get in. Praise him and give him a treat.
Repeat
Repeat this step for a few days allowing your pup to get used to the command and the action and put them together into a behavior.
Moving on out
Start giving your pup the "go home" command when you are about 10 feet away from the door. Each time he heads straight for the door be sure to give him a treat and praise him.
Down the driveway
Every few days, give the command farther out. Give your pup a treat each time he acts like he wants to go to the barn.
Off the leash
When you get to the end of your long driveway and you can let your pup off the leash, give him the 'go home' command and let him go. He should now hightail it right to the barn and head inside to his place. If he strays a bit, don't worry just keep working with him until he will go home every time he is told. Be sure to reward him for getting it right at first, but you will need to slowly wean him off the treats, so he doesn't get fat!
Bed and treats
Start with a bed and treats. The bed will become "home" to your pup as the training progresses.
Stand and deliver
Stand by his bed in the barn and give your pup the "go home" command. Then drop a treat on his bed to lure him to his "spot". The minute he puts all four paws on the bed, praise him and give him a nice treat.
Repetition builds success
Repeat this step until your pup will get on his bed in the barn each time you give him the 'home' command.
Teach the 'down'
The next step is to teach your pup to lay down on his bed. He should already have been taught the 'down' command. All you are doing is reinforcing the concept that when you give him the 'home' command, he is to come into the barn and lay down on his bed.
Increase the time
Slowly, over the course of several days, increase the amount of time he must stay on his bed, using treats to reward him for getting it right.
Add to the challenge
Now it's time to start slowly increasing the distance, making sure to follow your pup to make sure he does what is expected of him. Use lots of praise and treats to reinforce the training until you can tell your pup to "go home" from anywhere on your property and he will head straight to his bed in the barn.
Create a training marker
Using a piece of cardboard, use tape to create an X on it.
Lay the marker on the floor
Place the marker on the floor in the barn where your dog can easily see it.
Associate the marker
Leave the marker alone. When you see your pup step on it, praise him and give him a treat.
Give the marker a name
Give the marker a name like "Home" and use the command each time your pup steps on it. Give him a treat when he gets it right.
Gain a little space
Spend the next few weeks adding to the distance between the marker and your pup as you give the command to "go home". Each time your pup goes straight to marker, be sure to reward him and give him lots of praise.
The rest is all about time
The rest is up to you, it will take several weeks of training to get to the point at which you can give your barn pup the command to 'go home' from anywhere on your property and he will go straight to the marker in the barn.
By PB Getz
Published: 12/13/2017, edited: 01/08/2021
---