How to Train Your Dog to Herd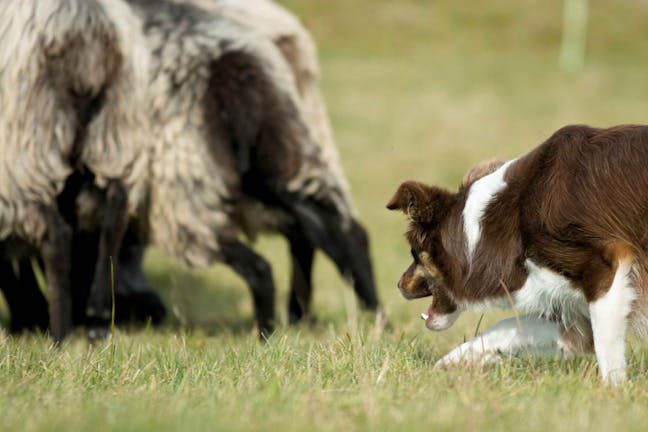 Introduction
Adding a new pup to your small hobby farm and want him to learn how to herd? Maybe this is the first time you have a large herd on your farm and you could use a little extra help?  No matter what the reason, teaching your dog to herd can be a great way to give yourself a little extra time, save you from running around the fields after a rogue critter, or to simply stay out of the rain, while he brings in the herd. These are all very good reasons to train your dog to herd.
Of course, there is the other side of the picture. Herding has become a national and international competitive sport. One that can be just as much fun for you as it is for your dog. While some breeds such as Border Collies are more naturally inclined to herd, you can train most breeds to do so. It may take a little longer but is well worth the effort. 
Top
Defining Tasks
The act of herding is when a well-trained dog can be commanded using either hand or whistle signals to move a herd or flock of animals from one place to another on your farm or in competition. No matter whether it is a group of animals, or even people, your dog is quite capable of being trained to herd them around. Bear in mind, that this is a difficult series of commands for your pup to master and that some dogs are better suited to this than others.
Your dog will need to have mastered basic commands before he is ready to move on to complex training such as this. You should also be aware that there is a significant risk of injury in this activity, your dog needs to be a young adult, puppies are not suited to this activity. Also, be sure to have your vet give your pup a complete exam to make sure he is healthy enough for this activity. 
Top
Getting Started
In order to get started training your dog to herd, he must first readily respond to the most basic commands, including 'come', 'sit', 'stay', and 'lie down'. You will also need to teach him the basic herding commands including 'come bye', which means turn the herd to the right and 'away', which means he should turn the herd to the left. The other command he needs to learn is 'walk up' which indicates he should be behind the herd driving the herd towards you. You are also going to need access to a herd or flock you can practice with, plenty of time, and patience. 
Top
Use a long leash
Attach your dog to a long-leash (one that is 20 to 30 feet long) and walk him up towards a small herd of animals or flock of birds while giving him the 'walk-up' command.
Be patient
Give your pup plenty of time to get used to being around the herd and reward him with a treat when he calms down.
Walk around
Take him for a walk around the herd on a shorter leash. He should walk around them instinctively without trying to bother them. If he does, give him a treat.
Reverse directions
Keep using your 'away' and 'come bye' commands as you reverse directions while he is on the leash. Once he has mastered behaving like this on the leash, it's time to let him try his skills.
Practice makes perfect
Keep repeating the above until he has mastered the commands and then let the leash pay out as you back off 20 feet or so. Keep practicing the commands with him until you are fully satisfied that he can do as instructed. Keep working until you are all the way at the end of the leash. Once he can herd the animals on the leash, you can take him off the leash and keep practicing.
The Keeping It Small Method
Select a herd
The last thing you want is for your herding dog to be scared of your herd, so start out small. Consider using chickens and a small training pen.
Add chickens
In a small training pen, place a few of your calmest chickens in the center and bring your pup in on a leash. Have him sit at one edge of the pen.
Time to Relax
Give your pup plenty of time to get used to the chickens and once he settles down, give him a treat.
Let him meet the chickens
With him still on his leash, walk your dog towards the birds, giving him the 'walk-up' command and stop when you are two feet away. If he stops and doesn't fuss, give him a treat.
Around and back
Walk around the flock in circles using the commands 'away' and "'come bye' to get him used to associating them with directions going around the birds. Each time he gets it right, be sure to give him a treat.
No more leash
Once he is calm and behaves around the birds, you can take him off the leash. Continue using your commands to have your dog move the flock in the training pen. Keep repeating this training until your dog masters it.
Moving out
Now you can move the training outside to work with a bigger flock and bigger animals. Be patient and work with your pup. In time, he will become an excellent herding dog and keep your herds under control for you.
Sounds and signals
Using a loud whistle, introduce your pup to the sound and treat him when he stops being startled by the sound. The traditional whistle commands are two short blasts for the 'away' command, one short-one long for 'come bye', and a short high/low pair of blasts for 'to me'.
Train your dog
Now take these whistle commands and introduce them to your pup as part of several training sessions. Match the command to the whistle and work with your dog until he has mastered them.
Back to basics
Start working with these commands with small flock or herd to help reduce any excessive distraction.
Practice on-leash
Since you are essentially introducing a new type of behavior to your dog, you need to start this process with your dog back on his leash to protect the flock or herd. Once he has shown you he can follow commands on the leash, it's time to move on to the next level.
Back off his leash
Unhook your pup from the leash and keep him close for the first few trials. Have him work with a small flock or herd at first and work his way up to working your entire herd over time. Remember, this is going to take a little time, but be patient and your pup will master the skill.
By PB Getz
Published: 11/10/2017, edited: 01/08/2021
---