How to Train Your Border Collie Dog to Herd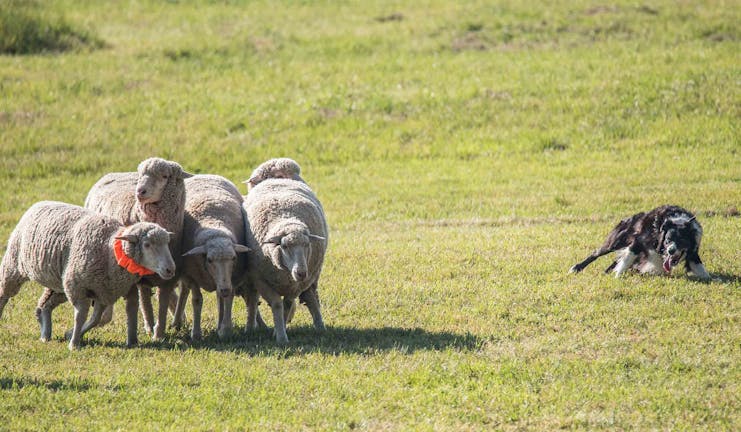 Introduction
Border Collies are one of the many dog breeds who are bred specifically for their natural herding instincts. There are records showing Border Collies being used as herding dogs as far back as the 16th Century. These dogs are highly intelligent, have highly developed instincts, and a passion for doing their jobs. It can take several months for you to fully train a Border Collie to herd livestock, but your pup can learn the basics in just a few weeks.
Border Collies have more energy than most breeds and need something to do to burn it off or they can become hard to handle. One of the best ways to do this is to train them to do something that they like doing: herding. The big thing with this training is that you need to be consistent as your pup must learn several new commands to do his job. 
Top
Defining Tasks
Herding is a unique task in that it requires your dog to learn more than a single command. For example, if you want your dog to come to you, you simply call his name and say come. But with herding, you are teaching your dog to move a flock of sheep, a herd of cows, or a group of many other birds and animals in direct accordance with the instructions he is given via verbal command, hand-signal, or whistle tones.
You should wait until your dog is at least one year old so that his bones, muscles, tendons, and ligaments have had a chance to mature. You may want to have your vet give your pup a thorough examination to make sure he is healthy enough for the task you have in mind. Once he has been given a clean bill of health, it's time to get started on the training program. 
Top
Getting Started
Before you can start training your pup to herd, he must first have mastered the four basic commands, 'come', 'sit', 'stay', and 'down'. You will need to make use of these commands along with the basic herding commands. These are:
Come bye: Go to the left side of the herd.

Away to me: Also shortened to "away", go to the right side of the herd.

Walk up: Walk in the back of the herd and bring them towards you.

Stand: Used to make your dog stop in place.

Steady: Slow down.

Find: Search for a missing member of the flock.

This is only a small part of the many commands a good herding dog must learn to follow. However, for basic training purposes, you will only be teaching your pup the first three. The rest can be taught to him after he has mastered the basics. 
Top
The Shepherd's Whistle Method
Master the tones
Learn the traditional whistle tones for the basic commands and spend time practicing them until you have mastered them. They are: 2 short blasts = walk up, 2 short 1 long = come here, 1 long, 1 extra-long with a high pitch change at the end = come bye, and 1 high pitch 1 low pitch = away to me. There are many more you will need to learn in time. But start with these around the house to help your dog get used to the sound of the whistle.
Train your pup to obey
Train your pup to obey the whistle commands at the same time you teach him the verbal commands. This will help him to associate the sound of the whistle with the verbal command and the desired action. Bear in mind the whistle is much louder and far more useful when you are far enough away from your dog that he will not be able to hear your commands clearly.
Work a small group of animals first
Start with a small flock of birds or sheep and walk your dog up to them, stopped just a couple of feet away. Have your dog sit and allow him time to get used to the animals and them time to get used to him.
Leash work
With your dog on his leash, use the whistle and appropriate commands to have your pup slowly move the herd around the yard. Be sure to give him plenty of praise and a healthy supply of treats each time he gets the command right.
Off on his own
Once you are comfortable with your pup's behavior and work when he is on his leash, it's time to try him on his own without it. Start out by keeping your pup in close quarters while you work him through the commands you give using only the whistle. With time and repetition, your dog will be ready to work on a large herd, you can then move on to the rest of the commands a good herding dog should know.
Start with a small herd
Start out by putting together a small herd of animals that are used to dogs for your pup to work with during his early training. Put them in the middle of your training pen or enclosure.
Dogs on the run
Well, not quite. In this case, one dog and he should be on a leash and allowed to walk up to the herd slowly. Have him sit when he is a couple of feet from the herd.
Time, it's on my mind
Or it should be on yours, in that you need to give your pup plenty of time to get used to being around the herd. Once he appears to be calm and relaxed, praise him and give him a treat.
The dog in the pen goes round and round
With your dog on his leash, walk him around the herd in circles using the 'come bye' and 'away to me' commands each time you change direction. This will help him to associate the commands with what he is expected to do. When he can follow the commands every time without fail, give him lots of praise and treats.
You go where I tell you
Remove the leash and use the commands to have your pup move the herd around the training area. Each time he moves them where you wanted him to, give him praise and treats.
Final test
Take your pup out into the real world and increase the size of the herd, working him through all of the commands over and over again until he can move any size herd by your command with 100 percent success.
Grab your long-line or long leash
Hook your pup up to the leash and allow him to walk up to a small herd or flock of animals using the walk-up command. If possible, use a herd that is already used to dogs.
Time...
While maintaining control using the long-line, give your pup plenty of time to get used to the sight, sound, and smell of the herd. This will make training him go significantly easier in the future.
Let your pup circle
Keeping slack in the lead, allow your dog to walk around the herd in circles. This movement should come naturally to him.
Work in the commands
The next time your pup comes around the circle, put yourself in front of him. This should make him reverse directions. When he does so, use the appropriate command, 'come bye' or 'away to me', depending on which direction he is going. Each time he does so be sure to praise him.
The rest is all about practice
The rest really is all about working with your dog and a small herd using the commands to help him move the herd from one spot to another. It can take several months of consistent training for your pup to master this skill and even longer for him to master all the commands, but the time and effort are sure to be more than worth it.
By PB Getz
Published: 12/28/2017, edited: 01/08/2021
---