How to Train Your Corgi Dog to Herd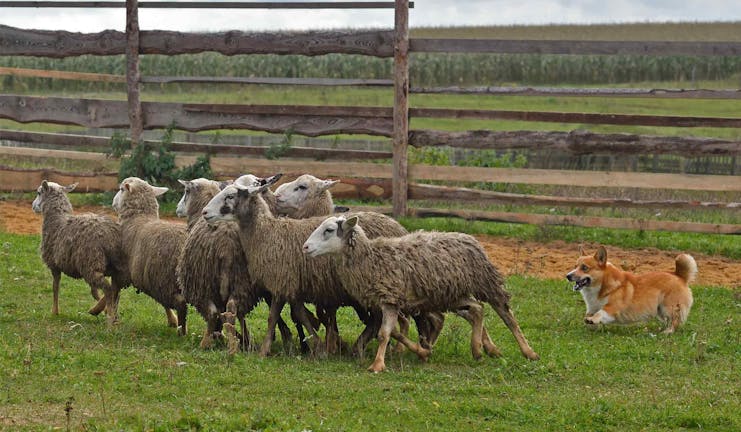 Introduction
For as long as history records and probably further back, the one job that makes a dog the happiest has been working as man's best friend. However, if you have a dog who is looking for a career rather than just a job, herding is the way to go. This traditional career puts the dog to work controlling the movement of a herd of animals out to pasture or back to the barn at night. While you can train many different breeds to herd, some, like the Welsh Corgi are better suited to this task as they have a very strong natural instinct to herd.
The most important thing to keep in mind is that the dog you choose for your next herding class needs to have the required intelligence, agility, and drive in order to become a successful herding dog. The training takes advantage of your Corgi's natural herding instinct, enhances it, and then allows you to direct it to move your herd around. 
Top
Defining Tasks
A herding dog can be of immense value for any ranch, yet there is a chasm as wide as the Grand Canyon between a dog that is a well-trained herding animal and one that is likely to cause you much frustration and heartache. One thing that will make training your Corgi more successful, is to make sure he has mastered all four of the basic commands, including 'come', 'sit', 'stay', and 'down'. This establishes your role as the leader in your pup's pack and ensures that he takes his direction from you.
You will be training your pup to work with your stock and move them around your ranch or farm. There is nothing quite like watching your dog make the change from a bundle of puppy energy into a mature dog standing at attention quivering with anticipation as he awaits your command. At all times during the training process and afterward, be sure to keep an eye on your pup to keep him out of situations where he could be hurt. 
Top
Getting Started
A herding dog's best years tend to be between the ages of 4 and 8, but the sooner you start training your pup to work with livestock the better. It will also help him to develop his skills in interacting with the animals in your herd or flock. You do need to wait until your pup is old enough to be able to have the physical strength, the stamina, and the cognitive ability to handle the rigors of the training and the job. Typically, this happens around the 10 to 12-month point. If you seem to be having difficulty training your pup, you may need to wait a few months until he is more amenable to the training. 
Top
The Commands First Method
The basics first
To start with, your pup needs to know all of the basic commands and recall from a distance. You can be working on his mastering these skills while you wait for him to mature enough for herding training.
Learn the basic herding commands
Take one of your pup's favorite toys and toss it out in the yard. Send your pup out after the toy using a command such as "get around" or "go bye", both are considered acceptable herding commands. When you want him to bring the toy back to you, use the cues "come in" or simply "here". Each time he goes out and comes back with the toy, praise him and give him a treat.
Keep up the good work
You will need to spend a fair amount of time practicing these two commands. It is vital that your dog learns these commands first before moving on to the next phase of training. You will teach the other movement commands once you introduce your pup to your herd.
Add in the herd
Now it's time to put your pup on his leash and introduce him to the herd he will be working with. In a small pen, walk your pup up to the herd slowly, giving them both time to get used to each other. Start walking him around the herd--always keep him outside the herd. Walk him around the herd using the 'come by' and 'away' or 'away to me' commands until he has mastered them and will change directions as soon as you give the command.
Working him off the leash
Start working with him off the leash in the training pen until you are comfortable with his ability to follow your commands. The final test is to work with your pup and the rest of the herd until he is capable of following your commands to move them around. It can take months before he perfects it, but most Corgis learn much faster than that.
The Start Out Small Method
Begin with just a few animals
Put a few of your calmest critters (preferably ones that are used to dogs herding them), and put them in the center of a small training pen.
Bring in your pup
Put your pup on a leash and bring him into the pen. Take him to within 2 feet of the animals and have him sit.
It's about time, it's about space
Keep your dog sitting this far away from the herd until he has calmed down and seems to have gotten used to them. It also gives them time to get used him as well. When he appears fully relaxed, praise him and give him a treat.
Going in circles
With your pup on his leash, work him going in both directions around the herd, keeping his distance. Each time you change directions, use the appropriate 'come by' and 'away to me' commands. This will help him learn to match the cue with the required action.
Final stages
Let your dog off his leash and work him through the commands while he moves the herd around the training pen until you feel comfortable that he knows how to follow them. Then take him outside, introduce him to the herd and keep working him through his paces until he can take your herd anywhere you need them on your ranch or farm.
Teach the basics first
Put your dog on a ten-foot long leash so that you can walk him around you in circles. You will need to turn with him as he does. Have him change directions using the commands 'come by' (to go to the right of the herd and move them to the left) and 'away' (to go to the left of the herd and move them to the right) each time he does. Give him treats each time he gets it right and work with him until he masters these skills.
Next up: walk-up
The next thing to teach your pup is the 'walk-up' command. This is the command used to have your pup approach the herd. An easy way to do this is to toss a toy out in the yard and then give him the command before letting him go to his toy. Keep working with him until he will do it every time using treats and praise as rewards.
To me
Grab a beach ball and your pup for this one. First, teach your dog to push the ball around with his nose. He will probably this naturally to a certain extent. Then using the 'to me' command teach your pup to push the ball to you. Each time he succeeds, praise and treat him.
Choose a small herd first
Take a small herd and put them in a pen where they can be used for training purposes. Bring your pup in on a leash and work him through his paces until he can move them around on command. Remove the leash and keep working with the small herd until you feel he is ready to go to work. Always use plenty of praise and treats to reward your pup along the way.
Working the herd
Take him out to meet the full herd and work him through his paces. With a little bit of luck, your herd is already used to being herded by a dog, which will make it much easier for your Corgi to step in and take over the reins. The rest is all about practice, practice, practice until your pup can take the herd anywhere on the ranch.
By PB Getz
Published: 01/05/2018, edited: 01/08/2021
---