How to Train Your Dog to Hold Point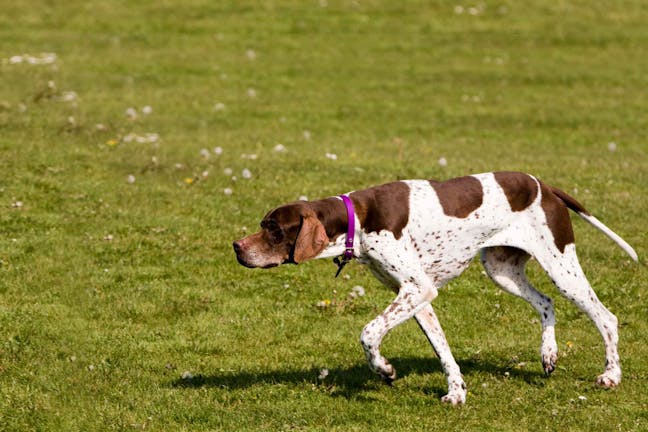 Introduction
You're out with your canine hunting companion, your gun is slung over your shoulder and you've got a good feeling today is going to be a successful hunt. After a while of slowly making your way through the forest, he becomes motionless after picking up a scent. However, he stands still just for a moment before he charges after whatever it is that his nose has picked up. It's fantastic he's picked up a scent, but not so great that he didn't remain still for long enough to point you in its direction. He's obviously got the nose for it, but he always lacks the patience and discipline to hold point when you're out on a hunt. His adrenaline always kicks in and he's off like a shot.
If you could train him to hold point you'd be able to pin point where your prey is. You'd be much more likely to return home with game over your shoulder instead of disappointment.
Top
Defining Tasks
Training your dog to hold point will not be easy. It requires rigorous obedience training and significant patience. You need to motivate him to want to hunt prey, but instill in him the patience to remain motionless when he finally locks onto something. If he's young, you have the best chance of success. He should be receptive and you may be able to train him in just a few weeks. If he's older with years of running wild on hunting trips, then training may take a couple of months before you see consistent results.
Succeed with this training regime though, and you'll have a formidable hunting partner. He'll be able to accurately detect your prey and point you in its direction. You'll also find teaching him any number of other commands will be easier too.
Top
Getting Started
Before you hit the ground running you'll need to collect a few bits. You'll need lots of his favorite food or treats to keep him motivated and on task. You'll also need to commit 20 minutes every other day to training.
A large amount of space will also be needed to train in. Woods or fields should do the job. Bird decoys, scent spray, and a launcher will also help the process along. Apart from that you just need to bring a good degree of patience and an optimistic attitude, then you're ready to get to work!
Top
Choose the right breed
If you want the best chances of success you need to opt for a dog with the right manner and characteristics. Brits, Pointers, Setters, and Retrievers are all thought to be wise options. Opt for one of these and training will likely take far less time than it will with other breeds.
Start young
You need to start training very early on. You need him to be disciplined and well-behaved when he's just a puppy. That means teaching him a number of commands, such as 'sit', 'wait', 'down' and any others that will come in handy. All will help prepare him for holding point later on.
Familiarize him with his prey
If you want him to hold point, he needs to know the birds or game you want him identify. That means get hold of some bird decoys and spray and play around with them in the yard. This will all give him a head start when he heads out to track them down for real.
Get him used to hunting
He needs to be comfortable with the sound of gun shots and the hunting format. That means shoot with him around so he's confident when you head out for real. That also means get him used to quietly and slowly making your way through fields and woods.
Avoid certain pitfalls
In his early days don't let him do anything you don't want him doing when you go out hunting in three years time. That means don't encourage him to play tug of war with his bird decoys. You want him to hold point down the line, not tear your pheasant to pieces.
The Bait & Long String Method
Setting up
Tie a pheasant wing or a part of another prey to a 15 inch length of string. Then stand up on a large table outside and have some treats in your pocket. Make sure your canine companion is with you, but keep the bait out of his reach.
'Hold'
Issue a 'hold' command in a clear voice. You can use any word you like, but it's best to keep it relatively short and easy to understand. Make sure you give the command in a tone that shows you mean business. At this point, he'll be stood patiently thinking he's going to get some of that wing. He will naturally be holding point in anticipation.
Treat him
Wait a few seconds and then throw him a treat and give him some verbal praise from on top of the table. He doesn't realize it yet, but this is the behavior you want from him. You just need to cut out the pitfall most dogs make, which is not staying still, but chasing after the prey once they've pointed.
Swing the wing
Throw it so it ends up on the far side of the table, where he'd have to run to get to it. Then when he does run to try and get it, swiftly pull it back up before he gets to it. Practice this technique again and again. What you are teaching him is that he can never catch the wing, so eventually he will give up trying. Reinforce the initial holding behavior with a treat each time and this will end up being the behavior he sticks with, because he knows it will yield tasty rewards. Practice this for several weeks.
The real deal
Only when he's given up charging for the swinging pheasant wing should you put the training to the test. By this point he understands that 'hold' means stand still until he gets a treat. Take him out with you and keep a close eye on him. When you see him catch a scent and point, issue the 'hold' command. Be sure to reward him every time he holds point correctly with a tasty treat. Keep this up and be consistent with the rewards and he'll keep holding point for you.
Get him familiar with a launcher
Use the remote controlled launcher for a few days with him in the vicinity, this will prevent him being shy or scared of it when you use it for practice. Try and stay close to him too, this will put him even more at ease.
Ensure your dog is down wind
Set up the launcher with a scented decoy about 75-100 meters away. Then walk your dog slowly towards it. If he's the right breed for it, he will quickly pick up the scent. When he does pick up the scent he will automatically point. Now you need to get him to hold it.
'Hold'
In a firm voice issue a 'hold' instruction. If you have him on a short leash you can physically hold him in that position. As soon as you give the instruction and he holds for just a second, give him a treat and lots of praise. Keep praising him for as long as he stands there.
Release
Once he starts running, hit the release button but ensure a friend is close by and gets the bird. The key to this is making sure the dog never catches the bird. Once he realizes he won't ever catch it, he'll give up trying to chase it and will remain still, for he knows as long as he's stood still he gets rewards.
Practice frequently
You may need to practice this for several weeks and even a couple of months before you're ready to head out for real. Keep practicing until he stops trying to chase your decoy and until you can instruct him to 'hold' for at least a minute. At this point he will have proven he has the patience and discipline to hold point on a real hunt.
By James Barra
Published: 10/25/2017, edited: 01/08/2021
---