How to Train Your Dog to Jump Into Your Arms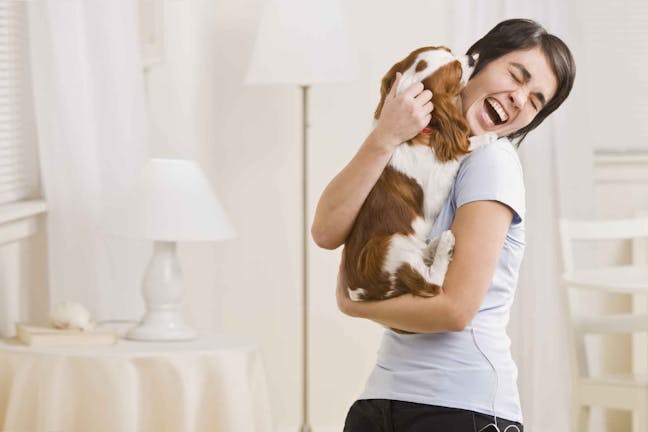 Introduction
You walk through the door after a long and awful day at work and you just want your canine pal to leap into your arms and give you a big cuddle. A jumping dog that's always happy to see you is what puts a smile on your face after a hard day. It also makes for a fantastic party trick when you've got guests over. If you've got a smart and sensible mother-in-law, nothing will make everyone chuckle more than seeing your dog jump up into her arms.
Training him to do this trick isn't just fun and games. It's also a great way to bond with each other, which is particularly important if you work long hours. It also comes with the added bonus of being a great way to help him let off steam if he's a tad on the energetic side.
Top
Defining Tasks
It is surprisingly straightforward to train him to perform this trick. Most dogs love jumping up and down, and most dogs love leaping onto their owners. You just need to combine the two in a controlled manner. It will be easier to train a young dog who'll be full of energy and sprightly. Older dogs who may have arthritis kicking in, and whose acrobatic days are in the past, may need a week or two before they get the hang of it.
If you can complete training successfully you'll get a party trick that's guaranteed to leave guests grinning. You'll have a dog you can cuddle and snuggle by using a quick verbal command. Plus, if he's on the larger side, you have an exercise that will help him burn a few extra calories!
Top
Getting Started
Before you turn your home into a circus, you'll need to prepare a few bits. You will need space and lots of it. You don't want to both tumble into the TV or even worse, a window. Yes, it does happen! You'll also need some treats or his favorite food to act as an incentive and reward. 
On top of that, furniture, such as a table and chairs will be needed. Make sure you can commit 5-10 minutes a day to training each day, too. The more consistent you are the quicker he will learn.
Once you have all of that, you're good to go!
Top
Set up
Place a chair in the middle of a spacious room. Many dogs can't make the leap in one go, so building up the height with a chair is often an effective way to speed up the trick.
'Up'
When you've sat down, hold a treat out and call him 'up'. You can use any word you like as long it is relatively short and easy to understand. It is thought dogs can learn over one thousand words, so get creative!
Reward
Once he's jumped up, give him the reward and show him how happy you are. If he needs encouragement the first couple of times, help pull him up. Then practice this for 5-10 minutes each day for the first couple of days.
Table time
Sit on a table and repeat the process to call him up. Ensure the table is higher than the chair but lower than your chest. This will help bridge the gap and build his confidence. Be sure to keep it as a big game, the more fun he is having the more he'll want to play again.
The high jump
After several days of practicing the chair and table, migrate to the full jump. Make sure you think he's confident and comfortable before you try this final step. Issue the same command and catch him in your arms. Give him lots of praise and easy rewards to start with, but once he get good, you can lose the food.
The Lead With a Treat Method
On your knees
Get down on his level and kneel in front of him. You can also use a treat to get his attention. You're going to slowly work your way up to a full jump.
Verbal command
Issue a 'jump' command and pat your chest at the same time. As soon as he puts his paws up on you pick him up and cuddle him quickly. Give him the treat and lots of praise. This will encourage him to reach for your chest again.
Sit down
Start on a sofa or chair to start with, but issue the same command as before. Again, use your hands to hit your chest to encourage him to jump. You may also want to hold a treat in your hand to further motivate him. Make sure as soon as he jumps you catch him safely. If you drop him he may be hesitant about jumping up again. Practice this for a couple of days until he jumps with confidence.
Stand and jump
When you think he's relaxed and got the hang of it, up the stakes. Stand up and issue the command. You may need to use a treat and pat your chest to encourage him the first few times. He will soon get the hang of it if you keep it upbeat and playful!
Cut down on treats
After several successful days, you can start to reduce how many tasty rewards you give him. By now he'll understand what you want and how to do it. A simple cuddle from his owner should be enough of a reward at this point.
The Tease With a Toy Method
Hold a toy above his head
Find a quiet space free from the distractions of a noisy household. You're going to first show him how to jump and then introduce a verbal cue later.
Encourage him to jump
Have him jump up to get the toy that's dangling above his head. Make sure you let him catch it too. If he never catches it he won't want to carry on playing. Each time he does catch it, give him a treat and lots of praise.
Increase the height
Over the next few days, have him jump higher and higher. Also, start to hold the toy on your chest, then when he jumps, catch him and let him play with the toy while in your arms. Again, encourage him with treats and verbal praise.
Introduce a command
Now he knows how to jump, start issuing an 'up' command each time. Over a few days he will learn to associate the command with jumping. Make sure you give the command in a loud and clear voice.
Lose the toy
After several days or a week, you can start giving the command without the toy bait. By now he will associate the command with jumping into your arms and should still do it. You can use a treat to tempt him up and reward him the first times. Once he's mastered it and jumps with confidence each time, slowly stop giving him treats.
By James Barra
Published: 10/18/2017, edited: 01/08/2021
---