How to Train Your Dog to Keep His Tail Up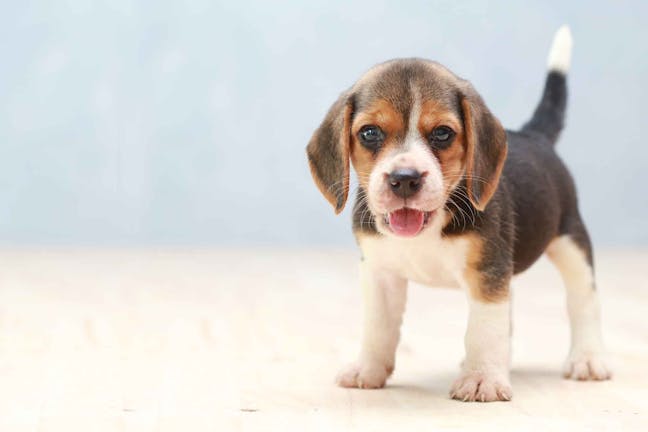 Introduction
If you're entering a local dog competition you'll want your canine pal looking his absolute best. That means he's stood upright, looking lean, and standing to attention. That includes his tail! If his tail always drops then he doesn't look happy and he's not going to be able to strike the right pose. There is no room for mistakes if you want the perfect shot, so that big, bushy tail needs to get in line. Alternatively, if you've got friends and family over and you want to show them a giggle-inducing party trick, then making his tail stand to attention never disappoints. 
This type of training is about more than keeping his tail up, it's about drilling into him discipline and control. Control that you can use to teach him a range of other commands to get him marching to your beat and signing to your tune.
Top
Defining Tasks
You might think training your dog to raise his tail is going to be a challenging, but it's actually surprisingly straightforward. Once you understand that he raises his tail when he's happy, you just need to find a way of triggering instant happiness and excitement. That way whenever you give the cue, his tail will quickly jump straight up. As you can probably imagine, nothing gets dogs excited more than some irresistible food. If he's a puppy he should be eager to please and straightforward to excite. It may take just a few days before you see consistent results. If he's older and his tail has been drooping for a while now, then you may need a couple of weeks to get the message across.
Training him to keep his tail up will help you get that perfect Snapchat story. It will also make him picturesque for any dog show you want to enter him into.
Top
Getting Started
Before you begin, you'll need to collect a few bits. Find his absolute favorite food and break it up into small pieces. Alternatively, stock up on some tempting treats. You'll also need a clicker for one of the methods below. 
You'll need just 5 minutes a day for the next week or two. You'll also want to conduct your training in a quiet room when you won't be distracted by a noisy household.
The only other things you'll need are patience and an optimistic attitude. Then you're ready to begin!
Top
Pay attention
For the first couple of days, simply play close attention to your canine pal. What causes his tail to jump up most? Is it meal times? Is it when you go out for a walk? Is it when you walk through the front door, or when you pick up his favorite toy?
Click
Now choose one of those triggers and click during them. Give a clear click close to him consistently. So if his tail jumps up when he eats a meal, you'd stand next to him and click just before he gets it and then every now and then until he's finished it all.
Patience
You'll need to do this every single time this activity happens. This is the time-consuming bit, but it will be worth it in the end. You also need to make sure you don't have any lapses. If you're consistent he will soon associate the sound of the clicker with mouth watering food.
Test
After several days, it's time to put your work to the test. When it's just the two of you and there are no distractions around, hit the clicker. You'll probably see his tail instantly jump to attention. The mere sound of the clicker will bring back the smell and taste of food.
Reward
To make sure the clicker stays doing the job, hand over a treat once his tail stand upright. Over the next few days, leave his tail standing upright for longer and longer before you hand over the treat. You'll now be able to lift his tail and keep it upright with a simple click.
Play time
You need to make one toy his absolute favorite. Opt for a toy that makes a sound, like a squeaky toy. The sound is loud, crisp and will immediately get his attention. Play around with it for several minutes each day. Talk in an animated voice throughout to really get him worked up.
Test
After a few days of consistent play, the sound of the toy should send his tail to the roof. He'll be so happy and excited at the thought of playing with it that they'll be no dampening his mood. So give it a squeak and once his tail is up, let him play around with it.
Increase the time
Now give it a squeak again, but this time wait a few seconds before you give him the toy. The aim is to gradually increase the length of time he'll keep his tail up for you. Practice every day, adding a couple of seconds on each time.
Verbal cue
Now you don't want to have to reach for an old toy covered in dog saliva each time, so you need to use a verbal cue. As you give the toy a squeak, say "attention". Or, you can use any word or phrase you like. Over several days, he'll associate the command with the toy and you won't need to squeak it at all.
Lose the toy
Once he's got the hang of it, just issue the command and then throw him the toy afterwards. By now the command will send excitement through his body. Just make sure he keeps that tail up for a little while before you give him the toy.
Somewhere quiet
Head for a quiet spot with your canine companion and a pocketful of treats. You're going to take a slightly different approach and encourage any signs of tail movement to start with.
'Up'
Give an 'up' command in a clear but playful voice. He's probably going to look at you like you're a crazy person to start with, but that's fine. To help him understand what you want, point at his tail, look at it, you can even touch it.
Reward
As soon as it moves, which may take a little while of waiting, give him a treat and some praise. At this point, any movement at all is progress. This first hurdle is the biggest, so don't be alarmed if you're waiting for 30 seconds before you see any movement.
Persistence
Spend a few minutes each day doing this, but as he catches on that the behavior you want is related to his tail, you can begin to make it harder. Don't give him a treat as soon as it moves anymore, wait for it to rise up. It probably will anyway, because he knows food is on the cards.
Staying up
After several successful attempts of him bringing his tail up, you need to motivate him to keep it up. Simply wait a couple of seconds before you give him the treat. Then next time wait a couple more seconds, and so on and so on. Once he's fully got the hang of it you can cut out the treats altogether.
By James Barra
Published: 11/17/2017, edited: 01/08/2021
---