How to Leash Train a Husky Puppy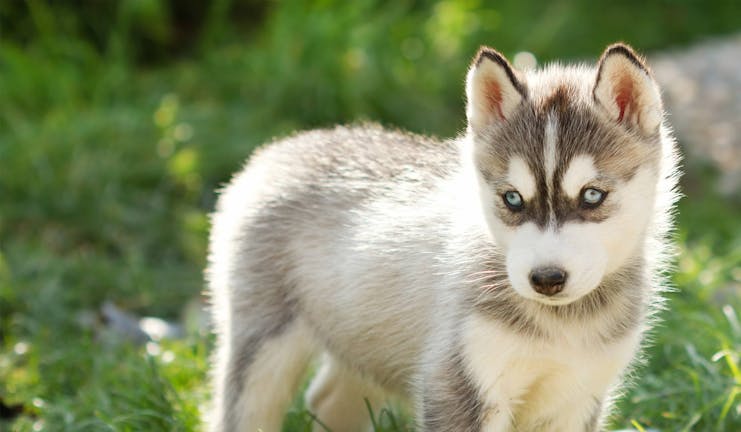 Introduction
Husky puppies are some of the more daunting breeds to train, especially when it comes to leash training. Huskies and other similar breeds like the Alaskan Malamute are bred for heavy pulling, such as the pulling that is done by sled dogs in snowy climates. This pulling tendency can lead to issues when adjusting a Husky puppy to walk on a leash. Beyond their issues with leash training, huskies can also be stubborn and aloof and training one is not easily done.

Despite this, Huskies can be hard workers and fantastic companions, though much of that depends on the amount of work invested into their training. A well exercised, mentally stimulated, and properly trained husky can be a great addition to any family.
Top
Defining Tasks
Leash training can be challenging for any dog owner, but it doesn't have to be. The key to proper leash training is a good foundation in obedience and repetition, tools that are useful for a Husky puppy just learning to listen. An introduction to leashes is necessary for a puppy just starting out, followed by an adjustment to the preferred method of leash walking, whether you prefer loose leash walking or walking at a heel.

A veterinarian will typically ask you to wait at least a week or two after your puppy's last vaccination before taking him out for a walk. This is to protect him from any airborne illness from other dogs or animals in the area, and at about fifteen weeks of age, a puppy is generally ready to take on the challenge of beginning to learn obedience. Begin early with walks and expect to work on it for a few weeks before he gets a handle on what you require of him. Huskies especially will require plenty of patience from even well-practiced dog owners.
Top
Getting Started
Before anything else, you'll want to determine which kind of leash you'd prefer to use with your husky puppy. Harnesses can be useful to avoid damage to the throat for a dog who likes to pull, but harnesses can also encourage pulling, as the weight is being directed to the chest rather than the neck. There are other options such as front-clip harnesses, flat collars, prong or pinch collars, or slip collars. Whichever you choose, be absolutely sure that it's the right fit for your puppy to avoid any unnecessary injury, especially if he has a tendency to pull.

Beyond that, gather up some treats for positive reinforcement, as something tasty and smelly can usually be very encouraging to a dog who is food motivated.
Top
Fit the collar
Adjust the collar to your puppy's appropriate fit. It should not be too tight or too loose. For most collars, you should be able to fit two fingers, and no more, in between your dog's skin and the collar.
Start with positioning
Using a treat as a lure, encourage your puppy to stay at your side. 'Heels' are generally done at the left side. Reward your puppy for staying right next to you for any length of time.
Put a word to it
While your puppy is in the right position, put a verbal command to the behavior such as 'heel'. Then reward. He will soon associate the word with the behavior.
Take a few steps
Hold the treat in front of your Husky puppy's nose and take a step or two, encouraging him to follow along with you at your side. Reward if he continues to focus on the treat and stays in the 'heel'.
Extend the length of time
Begin to request more heel time from your puppy before you reward him. Take two steps, then reward. Then three steps, then reward. Gradually increase how many steps you take before rewarding. If he falters, go back to the last number of steps he was successful at and try again.
Begin in the house
Like many owners, you probably place the collar and leash onto your puppy before leaving the home. Take this opportunity to practice this technique before even walking out the door.
Walk on your terms
Move only when you are ready to. Take the steps that you would take whether you had a dog at your side or not.
Stop if your dog takes control
If your puppy begins to pull or go a direction that is unwanted, stop the walk altogether. Root your feet in place and do not let the walk continue.
Wait until your dog settles
Depending on your preference, this can mean that you wait until your dog is back at your side or until your dog simply sits or focuses on you. You may choose this opportunity to ask her to sit or come to you.
Reward good behavior with more walking
Once your puppy settles, then you reward with a continuation of your walk. The walk is the reward and she only gets to continue if she is patient and gives you appropriate behavior.
Avoid straight pathways
The sudden switch method relies on being able to change direction at any time and redirect your puppy into a new one. Try to avoid narrow walkways where there is little room to do this.
Begin your walk
Focus on one direction to begin with. This will be your direction until you decide otherwise.
Watch for pulling
If your puppy begins to get ahead of you, this is your cue to change things up.
Switch direction without warning
As soon as he begins to pull or go too far without you, turn into another direction and start walking. Generally, this will pull your puppy's attention away from his previous focus and force him to pay attention to you.
Reward for good behavior
Reward your puppy if he walks with you without pulling. You want that behavior to continue and should be ready to catch it when it happens.
By TJ Trevino
Published: 01/23/2018, edited: 01/08/2021
---