How to Train Your Dog to Stay Still While Grooming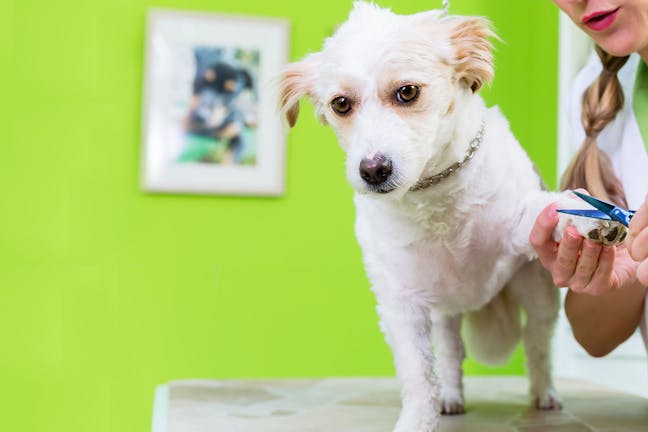 Introduction
For most people, personal grooming is a part of the daily routine. A quick brush or the occasional haircut can get you looking fresh and ready to tackle the day. For your furry friend, however, it might seem like the most difficult thing you could ever ask from them. The brush is suddenly a very inviting chew toy and the clippers are now an evil monster trying to steal their fur. It's time-consuming, stressful, and a groom gone wrong may only serve to reinforce those fears in your dog. Grooming is necessary to keep him healthy. The good news is that it doesn't always have to be a struggle.
Top
Defining Tasks
In most cases, grooming isn't something that you can simply ignore. Training your dog to stay still while you brush out those clumps of fur and trim those nails is an invaluable tool and can help make both at-home grooms and trips to the groomer much less intimidating for both you and him. Keeping still will also ensure that he stays safe and doesn't jump off a grooming table or jerk away when his nails are being cut. Preventing these types of accidents is important for dogs of all ages and in just a week or two of working with your dog, you can feel much more confident that he will eventually see grooming as just another daily activity.
Top
Getting Started
To get started, you'll want to grab your dog's leash, a couple of your grooming tools, and some yummy treats. It'll help if you're in a good mood and relaxed as this may help your dog to feel a little more relaxed about the process as well. Determine whether you're going to be grooming on the floor or up on a table and make sure you stay consistent with this environment throughout the training. If this is the first time you're grooming your dog by yourself, read up and be aware of the appropriate use of any and all grooming tools to ensure your dog's safety.
Top
Place your dog into a 'sit' or a 'down'
Starting from these positions will let him know how to transition from either one and into a 'stand'.
Place your hand palm up underneath your dog's belly
You can offer belly scratches and pets to encourage him to enjoy this type of handling.
Gently lift your dog into a standing position
Use your arm to coax him upwards and onto his feet. Be gentle and encouraging. Be careful to not accidentally pull or tug on his fur in the process.
Add a command
Say 'stand' once your dog is on all fours to mark the appropriate behavior with a command word. Eventually he'll start associating the word with the behavior.
Reward with a treat
Reinforce the 'stand' with a yummy treat or two. Standing up for you will soon mean good things.
Repeat
Repeat until your dog will stand on his own. This may take a few days for him to fully understand so patience is important.
Stand for longer periods of time
Extend the amount of time he'll need to 'stand' before you offer the treat.
Bring in the tools
Have him maintain a 'stand' while you brush him or turn the clippers on. Keep the first attempts at this short and sweet.
Continue until the grooming is complete
It may take several training sessions for your dog to get very good at standing for the amount of time you need to fully groom him.
Perfect timing
Pick a time of the day when your dog is relaxed. Ideal times are after heavy exercise when she's tired and a little hungry. Avoid high times of stress.
Get comfy
Adjust your dog to the grooming environment. Whether it's the bathroom, outside, or in a grooming salon, let your dog visit these areas frequently and ensure the experience is as calm as possible.
Offer treats within the environment
Without bringing out the tools yet, let your dog associate the environment with good things like treats or lots of petting and affection
Get your dog used to being touched
Wherever you plan on grooming your dog, get her used to tolerating your touch first. Provide treats as you pet her, touch her face and paws, or handle her tail.
Introduce the tools one by one
Give treats with each new tool being introduced. This may need to be spaced out over several training sessions. Get your dog used to what each tool may sound and feel like. Don't expect to be able to complete a full groom just yet.
Keep sessions short
Don't overextend your dog's patience. Start with short sessions of just a few minutes at a time and work your way to longer ones.
Groom with breaks
Once your dog is adjusted to the environment, the tools, and the touch, get to grooming, but take breaks in between steps if necessary. Clipping, then taking a small break and resuming with a brush later may help prevent her from feeling overwhelmed.
Keep it relaxed
Never groom when you're stressed out or having a bad day. Think of grooming as a trip to the spa for your dog. Play calm music to help keep the atmosphere a nice one for both of you.
Bait
Find a sticky, tasty treat to smear onto a plate. Ideal treats are things like peanut butter or dog-safe ice cream. Make sure the plate is heavy enough that it won't move around too much while your dog licks.
Find a spot
Place the plate where your dog can reach it. For larger dogs, a chair or a couch may work. For smaller ones, the floor can work just as well.
Get used to tools
Use each tool on your dog for very short periods of time while he licks. Take breaks to allow him to focus on the treat for a while if necessary.
Work in sections
Brush or clip your dog bit by bit. This may increase your grooming time, but it'll be worth it to avoid stressful grooming experiences.
End on a good note
Allow your dog to finish the treat once you're done grooming or offer a little bit more if he's finished off what you've given him. This will help reinforce that the grooming was a nice activity.
By TJ Trevino
Published: 12/13/2017, edited: 01/08/2021
---