How to Train Your Dog to Heel With a Prong Collar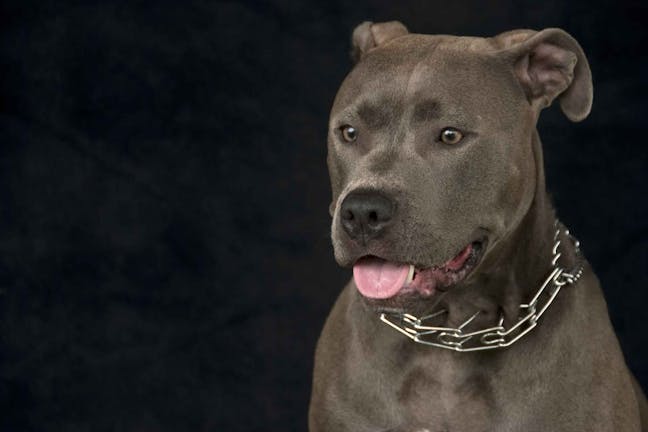 Introduction
It's not uncommon to see a dog owner passing by on the street, dragging behind an over-eager pooch that is wheezing and panting excitedly as they pull and strain against the leash. It might be a little amusing to see the dog taking the owner for a walk, but this sort of behavior can also be dangerous. Leash pulling can cause damage to the dog's neck or throat and it can be much easier for an excited pup to slip out of a collar, running off in front of a car with no guarantee of returning to safety without a strong recall.

'Heel' is the most important command when out on a walk, as it can relieve much of the tension that can harm both your dog and you. It can also mean that your walks are more pleasant and your four-legger will be less likely to bolt towards a distraction. There are a few strategies and tools that exist to help you teach the perfect 'heel'. The prong collar is one of the more popular tools out there.
When used safely, the prong collar can protect your dog against injury. Even pressure is applied around the neck without having a strong pull on a specific area such as the throat. This collar can help you teach your best buddy to walk along beside you, making your outing more pleasurable for both of you.
Top
Defining Tasks
A prong collar is made up of a series of connected links with open ends that face inward toward the neck. A proper fit prevents tracheal damage on an eager pooch who tends to pull excessively when walking. The Herm Sprenger collar is a popular brand that has rounded tips that do not poke into your dog's neck. Sometimes used in beginner obedience classes, the collar is also effective when teaching a dog to walk calmly and in the heel position.
Proper use of this type of collar entails self-correction. For instance, when you are teaching your pup to heel and they continue to move forward, they will tighten the collar and come to a halt. They are then gently reminded that they are in training to learn how to heel.
The prong collar is only used for training and should not be left on your dog afterward. Timid dogs or pooches that do not pull when walking won't need the prong collar.
Top
Getting Started
To teach the heel command, find a prong collar with the appropriate fit for your dog. The collar should be fitted behind the ears and up towards the head, rather than around the base of the neck. If you're unsure of the size or fit, ask your veterinarian for advice. Other than that, you may need a handful of treats, a sturdy leash, and a little bit of persistence to obtain the results you want. Rushing to teach your furry buddy can be discouraging for them, so it's important to take your time when helping your dog understand what you want.
Top
Use the 'sit'
If your dog is not already familiar with the 'sit' command, get them familiar with it. It should not take more than one or two training sessions for them to fully understand how to sit properly. This command is useful in many situations.
Head outside
Attach your dog's collar and leash and make the announcement that it's time for a walk. Head outside and decide on the length of training and where you plan to go.
When you stop, your dog stops
As you're walking, stop in place and have your dog perform a 'sit'. Do not continue the walk until your pooch sits. The reward is the continuation of the walk and verbal praise for sitting when asked.
Keep walking
Once your pup sits, continue your walk with the command 'heel'. If your dog gets ahead of you or tries to pull, have them perform another 'sit'. Once they do, turn and walk in the opposite direction.
Continue to alternate
Keep walking with the occasional 'sit' and a 'heel' to follow up as you start moving again. Repeat as many times as necessary for your dog to adjust to what you're asking.
Challenge your dog
If your pup seems to be grasping the concept, try going for longer periods of time before you ask them to 'sit'. Weave in and out of obstacles and go around in circles. Reward your dog with gradually longer walks or runs if you feel comfortable doing so.
Find a treat your dog enjoys
Make sure the treat is tasty and appealing enough to overpower any possible distractions on your walk. Feel free to use treats you've never used before. The lesson could prove to be interesting for your dog.
Find a place to train
This area should be small and relatively quiet to begin with so your dog will have an easier time focusing on you.
Entice your dog with the treat
This can be done by holding the treat a few inches from the nose so your dog can smell it. Do not give the morsel until your dog performs what you are asking, however.
Walk a few steps
With the treat held in front of your dog's nose, take a few steps forward and allow them to follow your hand while you guide them to heel at your side. Reward with the treat when your dog takes those steps with you successfully and say 'heel' as they do so.
Reward frequently at first
This is a slower process, so you'll need to reward often. Increase the amount of steps you take with your dog before rewarding as you go. Have lots of treats handy and don't forget verbal praise, too.
Maintain focus
If your dog's focus drifts from the treat, stop moving to divert their attention back to you and the reward you have in mind.
Switch up your directions
Guide your dog in multiple directions to maintain their focus as you make changes in your path. Reward them both verbally and with treats for making quick turns. Continue to use the command 'heel' as they perform what you want them to.
Get rid of the treats
Reward less and less frequently over time as your dog becomes more reliable, until you can reward randomly and then eliminate the treats altogether if desired. However, you can still choose to carry treats on walks with you to reinforce your training from time to time. Verbal praise should be given indefinitely.
Adjust the fit of the collar
This method will only be effective if the collar is fitted appropriately. A poorly fitted collar of any type will hurt rather than help.
Keep your dog on a short leash
The leash should not have tension, but it shouldn't allow for your dog to wander. The goal is for your companion to understand that you'd like them at your side and not drifting here and there.
Start with a small area
Don't anticipate a long walk to begin with. Find an area to walk where there are few distractions at first and where you can walk at least a few yards in any direction.
Start walking
Pick a direction to start in and begin to walk at a slow pace. Your dog should begin to follow.
Turn and walk in the other direction
If your dog begins to overtake you, turn around and begin walking in the other direction. Use the word 'heel' to help your pooch attribute the movement to the word. Any attempt they make to continue in the initial direction will be met with light pressure from the collar and will coax your dog to follow you instead.
Repeat the process
It will take some time for your dog to grasp that the easiest way to continue walking without being interrupted is to follow your direction at all times. Repetition of the action along with the word, 'heel' will help your four-legged friend understand the task.
Extend your walks
Over the next few days, you can increase the amount of time you spend walking before you turn and go in the opposite direction. Try going in multiple and unpredictable directions to keep your dog thinking and learning.
Walk regularly
Your dog will need regular walks to remember your instructions. Take your pup for walks in different places with different types of distractions, using the boundaries you set in place. The understanding of 'heel' will improve over time.
By TJ Trevino
Published: 12/19/2017, edited: 01/08/2021
---