How to Train Your Chihuahua Dog to Not Be Scared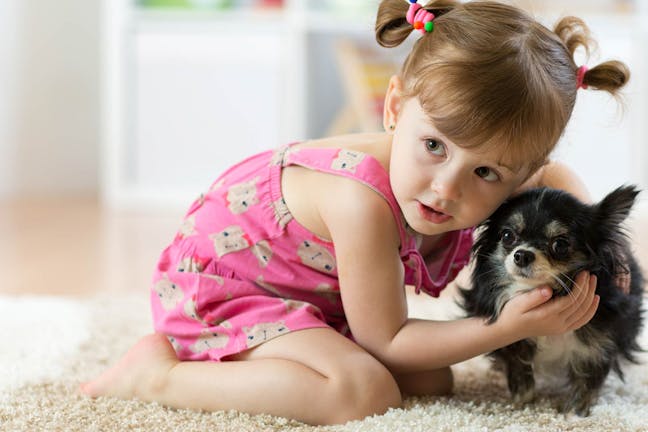 Introduction
It's no big secret that when you think of the Chihuahua as a breed of dog, the word "courage" may not exactly spring to your mind. They're tiny and shaky, known for their ability to be the perfect lap warmer, and bounce between bold and noisy or being scared of everything that moves. Chihuahuas can be loving companions and the perfect pet, but when your dog fears strangers, other animals, or the outside world in general, it can be difficult to help them adjust.
Top
Defining Tasks
Helping your Chihuahua overcome his fear may take some work, but it isn't impossible. Plenty of patience and gentle guidance through these obstacles is usually what he needs to succeed. A Chihuahua that isn't afraid is much more relaxed inside and outside of the home and less prone to stress that can affect their more fragile physical health. A less fearful Chihuahua is also easier to adjust to things like guests or new pets in the home, small children, and loud noises.
Getting a dog over their fears is often a time-consuming task and Chihuahuas especially may take longer than most dogs to show progress. It's much easier to condition a puppy to these scary things than it is an adult, but most Chihuahuas will respond to training at any age with the right amount of persistence and care.
Top
Getting Started
Adjusting dogs to fearful things often means that you'll need something much more interesting than what scares them. This means getting some treats or a nice chew toy that your Chihuahua loves. Make sure your Chihuahua has somewhere he can go to relax before and after training like a crate in a quiet room. Try to work with him when you're in a good mood. Your stress will likely wear off on your Chihuahua and make it much more difficult for him to calm down. Start your training in another quiet place and you can work your way up from there.
Top
Figure out triggers
There may be one or multiple things that your Chihuahua will react fearfully to. Try to determine how many of these things there are and what they are exactly. This will give you a better idea of how much work you'll need to do with him.
Focus on one fear at a time
Trying to tackle too many things at once can be overwhelming. Focus on one fear such as strangers, other dogs, or loud noises.
Get your Chihuahua to relax
Before exposing him to anything, spend some time with your Chihuahua to get him relaxed and comfortable.
Start the exposure
For sounds, try to imitate the sound very quietly or at a distance where your Chihuahua does not react. For strange people or animals, go somewhere where they can be seen far enough away that he is unaffected. Reward him with a treat whenever he ignores the stimulus or offer playtime with a toy.
Turn up the exposure slowly
Make the sound gradually louder or bring the strange object, animal, or person a little closer. Reward when your dog continues to ignore it. If he shows visible signs of fear, distance him from the scary thing and try again.
Repeat the process with each fear
Slowly expose your Chihuahua to each thing they fear while rewarding as you get closer and closer. Continue to do this if new fears ever emerge.
Reinforce often
Even if your Chihuahua begins to adjust to certain fears, he may need a reminder from time to time that the object isn't scary. Expose him to these things as often as you can to reinforce the training and keep him from becoming fearful all over again.
Choose a task your pup knows
Practicing obedience or learning tricks are both good activities for your Chihuahua to take part in.
Find the source of the fear
If your Chihuahua fears more than one thing, you'll want to be aware of all of them.
Intercept
When the fearful thing happens, entice your Chihuahua's attention away from that fear and onto you instead. You can use both treats and toys if you need extra help. Try to be more interesting than whatever is scaring her.
Begin the activity
Start practicing obedience or any other related activity you choose to maintain your dog's focus while the fearful thing is nearby.
Have the activity available often
If you anticipate the fearful thing, be ready with the activity to distract your Chihuahua. The more often you engage in this activity with her, the more she'll anticipate fun rather than fear.
Find a quiet place
Not all Chihuahuas can overcome certain fears. Having a quiet place for your Chihuahua to go to when he wants to distance himself from it is important, whether you put him there yourself or he decides to go there on his own.
Make the space comfortable
Set out some soft blankets or a comfortable bed for your Chihuahua to lay in. Offer a favorite toy to chew on or a tasty snack that will last him a little while.
Play soft music or white noise
Music or white noise can often help muffle sounds that may contribute to your Chihuahua's fear.
Consider an anxiety-reducing shirt
Some dogs feel secure with a bit of compression around their bodies and this may help your Chihuahua feel more comfortable. Do some research on the different types of anxiety-reducing wraps or shirts and determine if one may help your dog.
Encourage your Chihuahua
Whenever a fearful thing or noise is present around your dog, place him in this quiet area or let him follow you to it. Close the door if necessary. He will learn to use this space to relax when he is overwhelmed.
By TJ Trevino
Published: 12/14/2017, edited: 01/08/2021
---