How to Train Your Small Dog to Like a Rabbit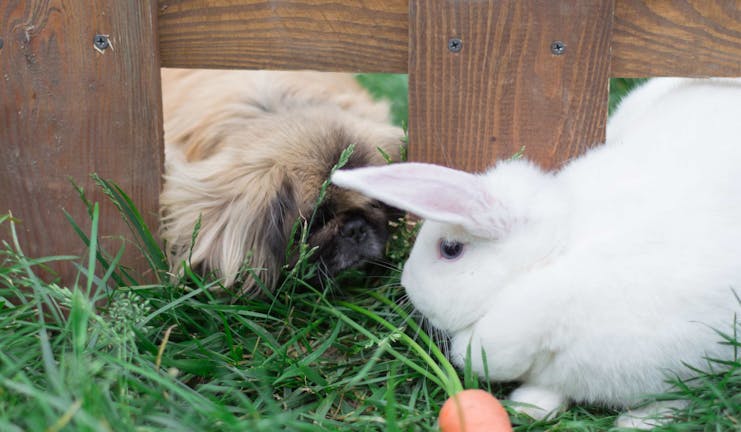 Introduction
Traditionally dogs are predators, rabbits are prey, and specifically, rabbits are prey for dogs. They are a natural food source for canines and their wild cousins. What if you have a pet rabbit and a pet dog?  Is there any hope of your dog becoming "friends" with your rabbit? Will you be able to socialize them and let them loose together? 
Many dogs and rabbits share homes together quite amicably. But whether your dog and rabbit will be able to be loose together and enjoy companionship depends on your dog and, to some degree, your rabbit. Dogs that are extremely prey motivated, or from breeds recently crossed with wild canine cousins, such as coyotes or wolves, are not good candidates as bunny buddies! 
However, most dogs can be taught to respect their rabbit housemates. Even a Labrador cross farm dog, Bella, who would happily chase and kill a jackrabbit in her field, has been trained so that she carefully steps over her mistress's pet bunny, sitting on the living room floor, and quietly goes to her bed in the corner, leaving the family bunny unmolested. Bella may be an exceptional case, as she will chase wild rabbits, but not her family's tame one. Most dogs cohabitating with rabbits are trained not to chase rabbits at all, and this is usually how best success occurs in establishing rabbit and dog roommates!
Top
Defining Tasks
Before training your pet dog to get along with your pet rabbit, who is naturally a prey animal to your dog, it is important that your dog is obedient, that he listens well to your commands and responds to you, and that your dog recognizes you as the pack leader. Dogs perceive the world through their rigid social structure, which is hierarchical and includes a pack leader and pack members of varying ranks. You will want to establish that you're the pack leader and that your rabbit is a member of the pack, along with your dog, in order to be able to let your dog and rabbit safely in contact with each other.  
You can start training your young dog to get along with your rabbit, but a puppy may have limited self-control. Although he may not be intentionally aggressive towards your rabbit, roughhousing and chewing can be difficult to control for a puppy and can injure your rabbit, so use caution with young dogs. An older dog may have more control over behavior. Also, using a confident bunny helps; a rabbit that always shows fear or runs away will not be useful at teaching your dog not to chase or view the rabbit as a prey object.
Top
Getting Started
Be sure to supervise closely at all times when introducing a rabbit and dog together, to protect the rabbit's safety. Using a leash and a cage or barrier is usually necessary to control the situation until success socializing your two pets occurs.  Treats can be used to reward calm non-aggressive behavior in your dog around the bunny. Be sure you have a strong relationship with your dog, that he sees you as his leader, and responds to your commands and direction before attempting to teach your dog to socialize with an animal that he would otherwise see as prey. This strong relationship is necessary to help him establish an alternate way of relating to the rabbit and turn your bunny into a buddy, not an appetizer!
Top
The Introduce Slowly Method
Introduce in cage
Put your rabbit in his cage in the middle of the floor and keep your dog on a leash so you have control of your dog. Slowly approach the cage and allow your dog to investigate. A bunny will usually feel safer in his cage, and if the rabbit is well socialized will probably not show fear of your dog. If he does, finding a bunny to borrow that is less fearful may be useful for training.
Reward calm
If your dog stays calm while investigating, talk calmly and praise him, give him treats.
Correct aggression
If your dog barks, paws at the cage or reacts aggressively, correct him by tapping him on the side and distracting him. Move your dog further away until he is calm and then approach the cage again. Say "gentle" when your dog is quiet and calm with the rabbit.
Hold rabbit
When your dog is quiet around the rabbit in the cage, take the rabbit out of the cage and hold him while your dog investigates. Have an assistant hold the rabbit so you can control your dog on-leash. Reward gentle behavior, correct aggressive behavior. Create space when needed.
Let loose supervised
Gradually move to playing with the bunny on the ground, and if your dog reacts calmly, remove leash and allow the rabbit and dog to move around together, supervise closely.
Put rabbit in rolling cage
Dogs like to travel in packs. Your dog forms a pack with you, other people, and other animals that walk alongside him. Put your rabbit in a small rolling cage, available at pet stores, or put a small cage with your rabbit in it on an open wagon, so your dog can see the rabbit.
Walk with dog
Go out on a walk in a safe location. Be sure other large, aggressive dogs will not be present, that may get out of control and attack your rabbit in the cage. Control the situation. Walk your dog alongside your rabbit in the cage frequently.
Carry rabbit
If possible, have a reliable child ride in the wagon holding the rabbit on a leash to increase exposure during walks or carry your rabbit while on a harness and leash. This will help your dog see your rabbit as a pack member part of his traveling group.
Introduce after walk
Start introducing your dog to your rabbit after walks in a quiet location with your dog on leash and the rabbit held on a leash. Supervise closely. Tell your dog to lie down at first, until the rabbit becomes accustomed to your dog.
Allow to socialize
Eventually let your dog and rabbit move around together, if they are comfortable together you can let them off leash, in an enclosed safe area while supervised, to socialize together.
The Create Submission Method
Tire and expose
Exercise your dog so that he is tired and ready for quiet time. Expose your dog to your rabbit while your rabbit is in the cage on the floor. Praise calm behavior, correct aggressive or excited behavior.
Have dog lie down
Once your dog is calm around your rabbit in the cage, have your dog lie down next to the cage door on his side. This is a submissive position. You are teaching your dog that he is not dominant over the rabbit.
Allow rabbit access
Open the cage door and allow the rabbit to come out and investigate your dog at his own pace. Do not force the bunny out.
Allow investigation
If your dog is remaining calm, allow your dog to lift his head and sniff or investigate the bunny, but insist he remains lying down, and allow the bunny to move around freely. Give your dog lots of praise and attention for being still and calm. Repeat frequently for several days. This stage will take significant time for your rabbit to become comfortable approaching the dog, and your dog to learn not to react to the rabbit.
Increase exposure
Eventually allow your rabbit and dog to move around together. Always supervise and insist your dog lie down if he shows signs of wanting to play aggressively. Reward your dog when lying down in the presence of the rabbit, so your dog recognizes this as a pleasant experience and does not feel frustrated and reprimanded constantly.
By Laurie Haggart
Published: 01/11/2018, edited: 01/08/2021
---