How to Train Your Basset Hound Dog to Listen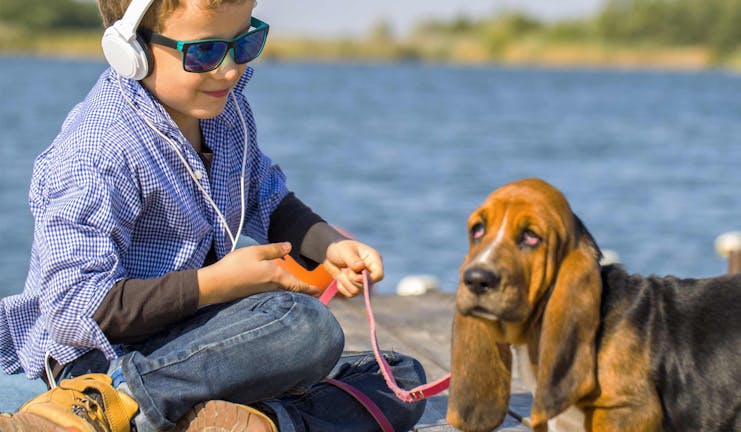 Introduction
Basset Hounds are sweet, lovable, vocal and yes, stubborn. At least they appear to be stubborn-- actually, they are easy going and easily distracted by their powerful sense of smell, which can lead to perceptions they are stubborn. Understanding your Basset's natural inclinations and having the patience to find ways to work with your Basset will contribute to success getting him to listen to you. 
These dogs are rarely aggressive or ill-tempered; if your Basset Hound is not listening to you it is more likely a product of lack of motivation to attend to you, greater interest in something else that has caught your dog's attention, or his natural inclination to vocalize. Bassets are prone to howling, part of their hunting dog heritage. You will need to ensure that you are more important than anything distracting your dog, such as howling or scenting, so that he is highly motivated to listen to you. How do you achieve this?  Practice, and establishing that good things happen to those who listen!
Top
Defining Tasks
The independent Basset Hound has a reputation for being harder to train than some more eager to please breeds. Training your Basset means understanding his motivation to use his nose and his need for establishing behaviors through repetition and strong leadership. Avoid punishment as a means of correction, as your sensitive Basset as he may not respond well to this form of correction. Instead, focus on direction when getting your Basset to listen to you by establishing a way to get his attention with leadership, signals, and commands. Ideally, you will start working with your Basset when he is a young puppy, to establish that your dog needs to attend and listen to you, older dogs can take longer to train. Having patience and using repetition works well with Basset Hounds, and success will come to those who persevere.
Top
Getting Started
Time and patience are the most important things you will need to get your Basset to listen to you. You will need to establish a strong leadership relationship and use consistency with your loving, but sometimes obstinate Basset! Using treats to reward your food-motivated hound for positive listening behavior is usually a good choice. Also, be prepared to spend time exercising, establishing obedience, and giving your nosey Basset plenty of sniffing time to meet his scenting needs, in order to get your dog to listen more effectively to your direction.
Top
Use distraction-free zone
Find a quiet location free from distractions.
Command 'look at me'
Hold a treat and command "look at me". Wait patiently, this may take a while.
Capture 'look at me'
When your Basset turns to look at you, use a clicker or say "good" to capture the behavior and reward him with the treat.
Practice
Continue to practice, increase the length of time you need your Basset to look at you before rewarding him. When he is turning to look at you immediately when commanded, in anticipation of his treat, you can move to areas of more distraction.
Add commands
Take your Basset outside, or to an area with distractions and practice the 'look at me' command. Eventually start replacing treats with praise and affection once your dog is consistently looking at you when commanded. Follow up 'look at me' with other commands so your dog learns to listen to you when you command "look at me".
Determine signals
Dogs don't speak human language and your Basset, especially, may not be particularly geared to respond to verbal commands. Establish some hand signals and body language you can use to get his attention.
Avoid verbal commands
Do not repeat verbal commands without getting a response, as this just teaches your Basset to ignore you. Also, avoid yelling or punishing your dog, which will just cause your Basset to withdraw and avoid you.
Practice
Practice hand signals in distraction-free environments and then start using them in environments with distractions.
Use your body to get attention
Get your Basset's attention. Tap him on the side firmly but gently, or place your body between him and the object that is distracting him from listening to you For example if he is sniffing a tree, insert yourself between your Basset and the tree.
Use hand signals
Once you have got your Basset's attention, give a hand signal to communicate, such as 'sit' or 'come'. Your Basset may respond better to hand signals you develop than to verbal commands that he may have learned to tune out.
The Be the Pack Leader Method
Provide food
Establish that you are the provider of food and all good things. Make your Basset Hound wait for you while you prepare his food, and then stand or sit next to him while you provide food. You can even hand feed your dog so he knows you are where his meals come from.
Provide time
Socialize your dog; spend lots of time with your Basset, take him on adventures, introduce him to new people and things. Exercise and take him on walks regularly. Play with your Basset lots to establish relationship through shared experience.
Teach obedience
Teach your Basset Hound obedience commands in a quiet location. 'Sit', 'stay', and 'come' are all necessary commands.
Teach tricks
Teach your Basset Hound tricks he can do to earn rewards, like 'roll over' or 'speak'--your vocal Basset may really take to this one and it uses his natural abilities.
Provide "nose" time
Provide lots of nose time Your Basset Hound loves to scent. Make a game out of finding scents and following trails to meet his needs and establish your leadership. A Basset that sees you as his leader is more likely to listen to you.
By Laurie Haggart
Published: 01/04/2018, edited: 01/08/2021
---