How to Train Your Boston Terrier Dog to Not Bark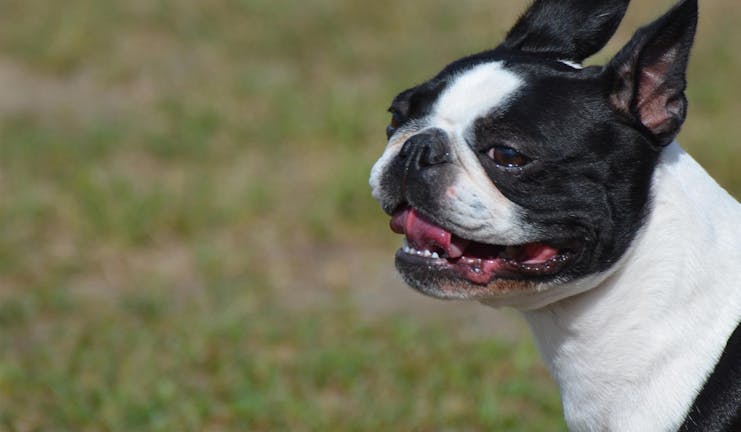 Introduction
Nothing beats the first few weeks of having a new dog in your home. If they're a puppy, you just want to cuddle them all day long. Boston Terriers, in particular, are small, sharp and lively. They make the ideal addition to a home. However, despite him being less than a couple of feet from the ground he may well have a surprisingly loud bark. To start with, it was entertaining but now it's getting to be a bit much. It's also putting a strain on your relationship with the neighbors. A dog that barks makes bringing new people to the house uncomfortable, too.
Training your vocal companion not to bark will solve a world of problems. You'll be able to relax and get an undisturbed night's sleep and you won't need to worry when you introduce him to new pets and friends. 
Top
Defining Tasks
Training a dog not to bark can be challenging, especially if you're unsure what the cause is. Boston Terriers are usually very friendly, so putting your finger on the problem can be even more confusing. Once you have identified the problem, you can set to work remedying it. You'll need to use a number of measures to teach your pooch the ropes. You can also train him to be 'quiet' on command. This can be a very effective way to silence the barking habit. To do that, you'll need the right incentive. Most Boston Terriers will do pretty much anything for food, so that will be essential.
If he's a puppy, he should be a fast learner and you could see results in just a week. If he's old and a tad stubborn, be prepared to invest several weeks into training. Get this right and you'll have your peaceful and relaxing evenings back.
Top
Getting Started
Before you can start work you'll need to collect a few items for training. You will need a stockpile of treats or your dog's favorite food broken into small chunks. A safe dental stick will come in handy, too. The more your pooch loves the food, the quicker you may see results.
Then, you'll need to set aside 10 minutes each day for training. Try and find a time where you won't be distracted by noisy kids charging around, or other dogs waiting to play.
Remember to praise often, and wear a smile. Once you have all of that, you just need to bring patience and perhaps some earplugs, then you're all set!
Top
Exercise and fun
Your Boston Terrier may be barking because he's full of energy. Take him for a long walk each day, or throw a ball for him while you walk. The short sprints will quickly tire him out. If he's blown off all his steam, he will spend the evenings napping rather than making a racket.
Bathroom breaks
Make sure your Boston Terrier gets to go out for a pee break regularly. Some dogs bark because they are trying to draw your attention to a problem. So, take him out first thing in the morning and last thing before bed. Also, make sure he goes out promptly after meals.
Water & food
Make sure your dog's water bowl is full and he's getting the correct amount of food. You can also check he hasn't got any visible signs of illness. The barking could be a cry for help because he's in pain. If you do find something, swiftly take him to the vet.
Cold shoulder
If he keeps barking and all his needs are met then you shouldn't pander to his barking. If you respond to him then you're telling him barking is the way to get what he wants. Instead, turn around and don't say a word to him.
Reward
When your Boston Terrier stops barking you can turn back around and give him a treat. You're now giving him an incentive to stop barking. Over time this will help him kick his own habit without him even realizing what he's doing.
The Do's and Don'ts Method
Do: have a good attitude
Training any dog to change a behavior is a challenge. So, come with the right mindset and work with your pup in a positive way.
Don't: reward at the wrong time
Remember, you never give a barking dog a treat as a way to quiet him down. Doing so will register as, "when I bark, I get a treat."
Do: earn the reward
Plan to give a high-value reward, such as a chew stick. When you think you are in a situation that will end up with a bark fest, be proactive and give your pup the reward, but only after having him earn it by obeying the "sit" or "down" command.
Don't: use training aids that are inappropriate
You've chosen to get a dog, and dogs do bark. If you are trying to lessen the barking, work with patience, not with methods or aids that scare your pup into worse behavior.
Do: allow play time
Make sure your dog gets enough attention from you each day. Some Boston Terriers bark for attention, so make sure you set aside 5 minutes a couple of times a day for playing with him. You can play tug of war, or you can just sit and stroke him.
Monitor your pooch
Spend a couple of days watching your dog to see what it is that causes him to bark. Most Boston Terriers bark at the same things. While you're preparing his meals or when you're getting ready to take him out for a walk are likely occasions.
Quiet is the way
Now, put him in one of those situations and wait for him to stop barking. As soon as he stops barking, issue a 'quiet' command. Really try and give the command as quickly as you can when your dog falls silent. Over time he'll learn to associate the command with being quiet. You can use any word or phrase you like for the instruction.
Reward time
Once you've given the command and your little companion has stopped barking, you can hand over a tasty treat. The better the treat, the more likely he'll be to respond to your instruction next time. You can shower him in verbal praise, too.
Bring the command forward
Practice this for a few days. Now the word will mean something to your dog, so you can start giving it to him when he's still barking. He will know the command and falling silent brings food, and that will be motivation enough.
Consistency is key
Issue the 'quiet' command whenever your Boston Terrier barks over the next few weeks. You must be as consistent as possible and react every time. If you always silence him, he will break his own habit over time. Your work will be done and you can finally remove those earplugs.
By James Barra
Published: 12/19/2017, edited: 01/08/2021
---