How to Train Your Dog to Not Bark Out the Window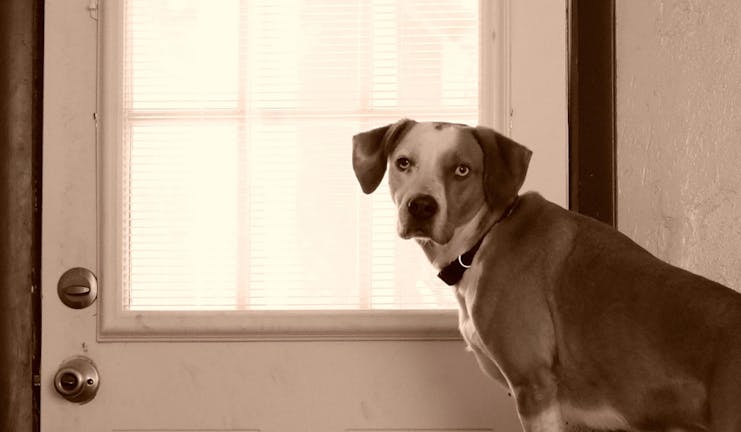 Introduction
He's everything you hoped he would be. He's good-natured, playful, loyal, and full of life. Your kids love playing around with him and you love snuggling up with him on the sofa in the evenings. He also loves seeing and meeting other dogs, which means you can your best bud out for walks with other dog-owning friends. However, he does have one rather annoying habit. He always barks out the window. It started off being quite amusing, but now it's relentless. It would be great to channel all that energy into something more productive.
So, training him to not to bark out the window will bring you some much-needed peace and quiet. It will also prevent the barking developing into anything worse, such as biting. Not to mention that it might save the quickly souring relations with neighbors who are fed up with the noise.
Top
Defining Tasks
Training a dog not to use his voice once he's found it isn't always straightforward. You will first need to look at the underlying cause of the barking. For example, is he scared? You will then need to take a number of steps to deter him from barking in the first place. Once you have done that, you can start looking at more productive avenues to channel his energy into. Successful training will also require an effective incentive. If he's like most dogs, food or a favorite toy should do the trick.

If he's a puppy he should be receptive and the habit relatively new. You could see results in just a week or two. If he's older and this habit has cemented over many years, then you may need up to six weeks. Succeed and you will have the calm, friendly, and quiet dog you fell in love with.
Top
Getting Started
Before you start training, you will need to collect several bits. Something to cover the windows, a water spray bottle, and a deterrence collar will be required for one of the methods. You will also need some toys, food puzzles and a decent supply of treats. Alternatively, you can break his favourite food into small pieces.
Set aside 10 minutes each day for training, at a time where you and he won't be distracted by a noisy household. 
Once you have all that, just bring patience and a pro-active attitude, then work can begin!
Top
Cover the window
If it is a particular window he barks at, try closing the curtains or covering it with something. If it is a number of windows, then you may want to consider closing doors to prevent access to them. If he doesn't know there is anyone out there, he won't bark.
Radio or TV
If he barks because he can hear people or pets walking past the window, then you may want to leave the TV or radio on quietly. The sound can often drown out the noise of people walking past, so he won't even know to bark.
Water spray bottle
If you do catch him barking, rush over and give a firm 'NO' command. You can also give him a quick spray of water near his face. He will soon start associating barking with negative consequences.
Deterrence collar
You can now get deterrence collars from a range of online and local stores. They will emit an unpleasant spray of citronella whenever he barks. This will make him think twice next time.
Baby gates
It may seem like a drastic measure, but simply by removing his access to the window in question, you are removing the temptation. With all of the above measures, very soon he will have forgotten he used to bark at the window at all.
'Bark'
Before you teach him to be quiet on command, you first need to teach him to bark. So, put him in a situation that usually makes him bark, such as going out for a walk or when you're preparing his food. Then issue a 'bark' command. As soon as he then barks, hand over a tasty treat.
Change it up
After a few days of practicing this, start giving the command when he isn't already in a bark-inducing situation. Continue to reward him and practice until he has fully got the hang of it.
'Quiet'
Now instruct him to bark, but as soon as he falls silent, issue a 'quiet' command. You can use any word or phrase you like, dogs can learn hundreds of different commands. Then as soon as he falls silent, hand over a treat.
Practice makes perfect
Practice this for a few days, but gradually start giving the 'quiet' command while he is still barking. Give it in a clear, but firm voice. Then make sure he gets a treat within three seconds of falling silent.
Application
It's time to apply the 'quiet' command to his window habit. Whenever he barks, give the 'quiet' command. If you silence him every time like this, you will break his barking habit altogether. Just be patient, it may take several weeks. Also, make sure everyone in the house is on board and uses the 'quiet' command when they catch him barking at the window.
Obedience classes
Sign him up for some classes, preferably when he's a puppy. This will not only teach him obedience commands, but it will socialize him with other people and dogs. Here he will learn what behavior is acceptable and what isn't, such as barking. If he barks because he's scared, this may prevent this.
Attention
Spend a few minutes each day playing around and giving him attention. If his barking is attention seeking behavior, this could well stop it in its tracks.
Distraction
Make sure he has toys to play around with and food puzzles to get through. A food puzzle will keep him busy for hours on end. With that tasty reward in front of him, he will soon lose interest in the window.
Lead him away
When you do catch him barking, lead him away calmly by the collar. Don't pander to his needs or play with him, remain quiet and pull him away. This will show him he will not get the attention he craves if he barks at the window.
Keep him tired
He may simply be barking out of boredom. So, take him outside each day and throw a ball for 15 minutes. The sprinting will quickly tire him out. A tired dog is a happy dog, but more importantly, a quiet one!
By James Barra
Published: 01/23/2018, edited: 01/08/2021
---