How to Train Your Bull Terrier Dog to Not Bite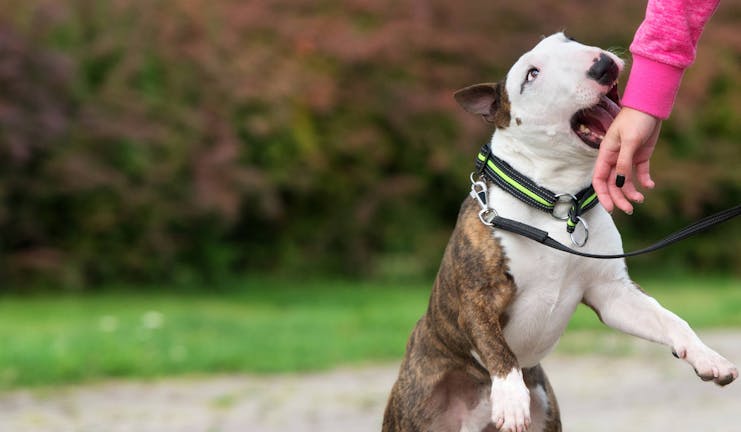 Introduction
To you. he's the cuddliest and cutest thing you've ever seen. He doesn't argue back and he loves you unconditionally. He'd also never cause you any harm intentionally. However, your Bull Terrier's nature can be extremely protective. Recently, he's tried to bite at your new partner when he's come too close. He also occasionally displays signs of aggression and biting behavior at other dogs when they get too close to you. This behavior could be seriously problematic. If he gets into a habit of biting, he could cause someone serious harm. Not only could this result in expensive medical bills, but worst-case scenario, he could have to be put down.
Getting a handle on this behavior is essential. Fortunately, Bull Terrier dogs are, on the whole, well-tempered and easy to train. So, all is not lost. Getting this training right could even save him from serious injury if he gets into a fight with another dog.
Top
Defining Tasks
Because Bull Terriers are so receptive, you can definitely train this biting behavior out of him. To do so though, you'll need to take a number of steps to deter him from biting altogether. You'll also have to react quickly and firmly when you do see any worrying signs. Part of training will also require you to direct his energy elsewhere. With the right incentive, you'll soon see results.
Bull Terrier puppies are particularly energetic and responsive. This means you could see results in just a couple of weeks. If he's older and this habit has developed over many years, then you may need a couple of months to fully break the habit. Succeed with this training though, and you won't have to be on edge when you meet new people and pets. You also won't have to worry about leaving him with the kids.
Top
Getting Started
Before you start training, you'll need to get your hands on a few things. You'll need some treats or your pooch's favorite food broken into small pieces. Some toys and food puzzles will also be needed for one of the methods. The main component though, will be time. You need to be on hand to monitor and react to your Bull Terrier's behavior as much as possible. 
Bring a positive mindset and a willingness to work alongside your independent pooch. Once you have all of those things, you just need patience and an optimistic attitude. Then, work can begin!
Top
React
When your Bull Terrier bites or displays any signs of aggression, you need to react quickly. Take him by the collar and lead him out of the room. Shut him in a room for 30 seconds. Make sure there are no toys in there for him to play with. Say nothing as you take him out.
Release him
Once the 30 seconds are up you can release your dog from the room and allow him to rejoin you. Try not to get him worked up and keep him calm when he's back with you. Just make sure you keep a close eye on him in case the behavior resurfaces.
Increase the sentence
If he bites again, then repeat exactly the same procedure. However, this time leave him in his time out room for an extra 30 seconds. Once the time is up you can bring him back in again. Add 30 seconds onto his sentence each time he bites until he gets the message. He'll soon catch on.
Boundaries
If the biting usually happens around certain individuals or kids, then you need to address how they're behaving around him. Don't let them play around his mouth, for example, and make sure they're giving him enough space.
Encouragement
Make sure you show him how happy you are when he plays calmly. You can talk in an upbeat voice and give him the occasional treat. This combination of positive and negative reinforcement will swiftly show him what is and isn't acceptable.
The Positive Encouragement Method
Exercise
Bull Terriers need lots of exercise. Those that don't get enough can act out in any number of ways, such as biting. So, make sure he gets a good, long walk each day. You can also throw a tennis ball as you go. The short sprinting will tire him out. This could help release that pent-up energy.
Tug of war
Spend a few minutes each day playing tug of war with him. This is an effective, controlled environment for him to release any aggression. Make sure to end each session on a positive note, otherwise, he'll soon give up playing.
Give him space
Make sure he has his own space he can escape to. Bull Terrier puppies can often feel overwhelmed, especially if kids are always trying to play with them. So, if he retreats to his crate or bed, let him have some alone time.
Reward
Make sure you reward gentle play. That means giving him the odd treat when you're stroking him and he remains calm. If he associates gentle play with food he'll have a serious motivation to remain relaxed.
Attention
Make sure he gets enough attention each day. If he spends long periods of time on his own then he may get agitated and frustrated. The biting could be attention-seeking behavior. So, dedicate a few minutes each day to giving him the love he needs.
The Do's and Don'ts Method
Do: seek help if your dog is at all aggressive
Trying to train your Bull Terrier if you really aren't aware of triggers and how to react isn't wise. Seek the help of a professional trainer if needed. Don't make the situation worse.
Don't: ignore the problem
Your feisty Bull Terrier likes to be included in all things. If he is becoming a biter, don't ignore the issue. Don't let him bite without you letting him know it hurts. Give a vocal "ouch!" to deter him from thinking it is all in play.
Don't: lose patience
Never strike your pooch. Your dog will begin to fear you and the added anxiety may bring on more biting.
Do: provide toys and outlets for play
Rather than roughhouse with your dog with your hands and feet, throw a frisbee for fun or teach your dog agility skills. This is a good outlet for extra energy.
Don't: make quick movements
Moving your hand or arm away quickly may indicate game-on. Instead, fold your hands to let your dog know you are not interested in being bitten.
By James Barra
Published: 12/20/2017, edited: 01/08/2021
---