How to Train Your Border Collie Dog to Not Chase Cats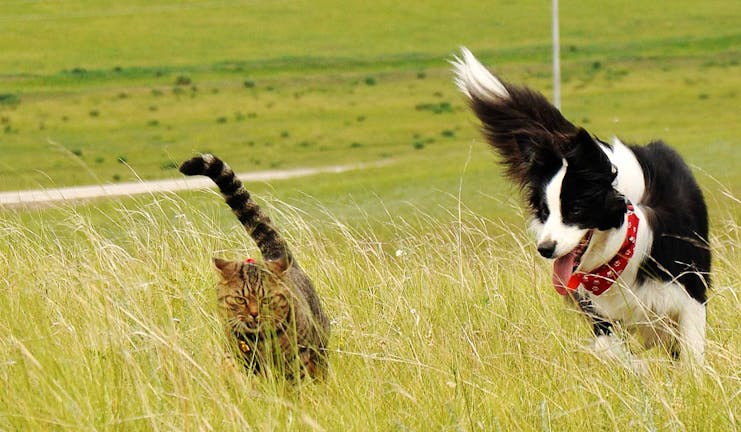 Introduction
Your Border Collie is probably tenacious and full of life. These high energy dogs have a lot of steam to blow off. Needless to say, their confident and eager nature sometimes lands them in trouble. Your street has several cats that call it home. Your Border Collie loves nothing more than chasing these cats. His tail may be wagging, but they look nothing short of terrified. It was amusing to start with, but now it's starting to affect relations with the neighbors.
Training him not to chase cats is essential if you want to keep the peace. It's also important because you don't want anything more sinister to take place if he catches a cat. If he causes a cat any harm you may find some hefty vet bills land in your lap. Worse still, if he continues to chase and attack animals he may have to be put down.
Top
Defining Tasks
Training a dog not to chase cats is never easy. It can be even harder when you need to tackle the behavior in Border Collies. That's because they naturally enjoy chasing animals. It's in their blood to herd livestock. However, with the right incentive, you can channel their energy into something more productive. You'll also need to use a number of deterrents to make them think twice.
If he's a puppy he should be a fast learner. You could see results in just a couple of weeks. If he's older, stubborn and this habit has been developing for many years, you may have your work cut out. You could need up to a month. Get this training right though, and you'll never have to panic when you hear a cat screech, or your dog disappears.
Top
Getting Started
Before training can begin you'll need several items. For one of the methods, you'll need baby gates and a water spray bottle. You'll also need some toys and a long leash.
Stock up on high value treats that he can't resist or break your Border Collie's favorite food into small pieces. Set aside any time for tackling the problem and be on hand as much as possible to react to any situations.
The only other thing you need is patience and a can-do attitude. Once you have all of that, you can get to work!
Top
Extracurricular activity
Border Collies excel at skills like agility, flyball, and obedience trials. Join a club to learn the ropes and add to socialization. Build an agility course in the backyard and practice often. Soon, your dog will see the yard as a place to play and won't need to scout for cats. He'll be tired, too.
Tug of war
Spend a few minutes each day playing tug of war. This is the ideal place for him to release any aggression and blow off steam. If he's tired he won't have the energy to chase the cat anyway.
Reward
Whenever he's in the presence of a cat and is calm, you should reward him. Give him gentle words of praise and hand over the odd treat. You are giving him an incentive to behave around cats in the future.
Remove him
As soon as he stops being calm, take him by the collar and remove him from the room. Give him a minute to cool off and then bring him back into the room. Border Collies are highly intelligent, so he'll quickly catch on.
Consistency
It's important you react every single time. To fully stamp out the behavior, there can be no mishaps. You must show him every time that the behavior won't be tolerated . Each occasion that he's allowed to chase without any repercussions is further you push back the end goal.
Cat haven
If you have cats in your house you need to make sure they have a safe space they can escape to. This could mean fitting cat flaps in doors so they always have an escape. If you want them to feel safe in the house, then this is essential.
Get him early
Try and bring your Border Collie into the home as early as possible. Dogs that grow up with cats from just a few weeks old see them as family. This means they're less likely to display signs of aggression and chase them.
Encourage socialization
When he's young, encourage them to play together. You must make sure you monitor them all the time to ensure the play is calm and comfortable for both parties. If they interact when they're young, problems in the future can be prevented.
Exercise
Border Collies need lots of exercise. If they don't get enough they have to look to other ways to blow off steam, such as chasing cats. So, give him an extra long walk or throw a ball while you do walk. The frequent sprinting will leave him napping in the evenings instead of causing trouble.
Never punish him
Try not to shout or terrify him when you catch him chasing cats. This could make him defensive and then aggressive. It could also make him resent cats more. Instead, you need to be calm and collected whenever you do have to react. Remove him from the scene of the crime quietly.
Baby gates
They're easy to fit and they could completely remove any temptation. If your Border Collie chases a cat in your house, then use baby gates to keep him isolated from your cat. If you place one on your back door it will also stop him charging into the yard to chase any cats out there.
'NO'
Dogs look to their owners for guidance and support. So, if you react with a firm 'NO' every time he chases a cat, then he will quickly understand you do not want to see this type of behavior. Hold eye contact when you give your disapproval.
Water spray bottle
If the 'NO' instruction doesn't work then you can upgrade to the water bottle. Give it a quick spray near his face whenever he gives chase. This negative consequence will make him think twice next time.
Obedience brush up
Border Collies are one of the smartest breeds around. That doesn't mean that he doesn't need a little reinforcement of his commands. Work on his recall skills, his down, and his stay, all useful commands in this situation.
Long leash
You can secure him to an extra long leash when you're at home. The leash should give him enough space to roam around the yard and the house, but it should stop him being able to chase a cat any further. Put simply, if he can't catch any cats he'll quickly start giving up.
By James Barra
Published: 12/20/2017, edited: 01/08/2021
---