How to Train Your Dog to Not Chew the Carpet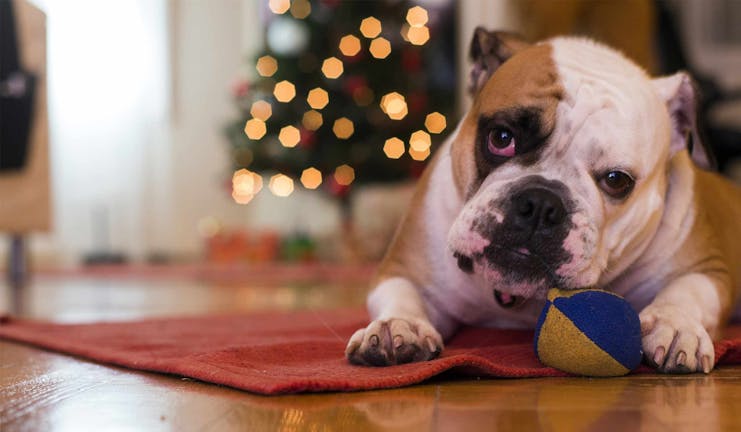 Introduction
So, that cute little puppy you picked up for the family has become a one hound wrecking machine. His new trick: chewing on the carpet. If you don't stop this destructive behavior in a hurry, your local carpet retailer is going to love you. Puppies chew as their way of exploring their world, young dogs chew to relieve the pain of teething, and older dogs will chew to help keep their teeth clean and jaw muscles tuned up.
Teaching your dog to not chew on the carpet can take a little while, depending on the root cause of the chewing behavior. For example, if he is bored, you need to find more time to play with him and tire him out. Some dogs simply need something they can chew on like a bone or chew toy. For the rest, there are methods you can use to train them not to chew on the carpets. 
Top
Defining Tasks
The task at hand is to train your dog not to engage in destructive chewing, in this particular case on the carpet. Chewing is a natural behavior in every breed of dog. Your dog needs a good steady supply of chew toys he can gnaw on. In many instances, these will suffice and keep him from chewing on furniture, carpets, shoes, and any other item he should not be.
Since you will be redirecting your dog's chewing attention to something he can chew on, make sure any toys you buy for him are tough enough to stand up to your pup's teeth and jaw muscles. If your pup is chewing because he is teething, you can use baby gates or a crate to keep him out of the rooms with carpeting until he is done. 
Top
Getting Started
Since we are talking about curbing or redirecting a natural behavior in your pup, you can start at any age as soon as you notice the behavior. If you have an older dog who has suddenly started chewing on the carpet, you should take him to see the vet to ensure there isn't a dental problem like a broken tooth or gum disease causing him to chew.
To get started, you'll need just a few supplies:
Treats

Chew Bones

Chew Toys

Deterrent spray

The rest of your supply list includes time and patience as you are going to need plenty of both to get your dog to stop chewing on the carpets in your home.
Top
Gather your supplies
For this training method, you need a few chew toys that are just the right size for your pup.
Observe your pup
Keep a close eye on your pup so that you can catch him in the act of chewing on the carpet.
Tell your pup "no"
Pick up a chew toy and tell your pup "No!" in a firm voice.
When he looks up
When your pup stops and looks up at you, redirect his need to chew to the toy in your hand.
Keep it up
Keep doing this every time you see your pup start to chew on your carpets. Be sure to praise him every time he takes the toy and chews on it instead. Rotate through the toys so he knows he can chew on them all. In time, your dog will choose his favorite.
The Deterrent Spray Method
Spray bottle first
For this, you need a spray bottle filled with clean water.
Watch your dog
Anytime you are at home, you need to be keeping a close eye on your dog.
When he chews
Each time you catch him trying to chew on your carpets, say "No!" in a firm voice.
Pick him up
After you say no go over and pick your pup up and move him away from the spot.
Spray shock
Another option is to use the spray bottle on 'stream' and give your pup a quick squirt as you say "No" to startle him and get his attention.
Rinse and repeat
Keep practicing every time you see your pup go to chew on the carpet. In time, he will get tired of being squirted, reprimanded, and moved. Of course, you need to make sure he has plenty of toys to chew on.
Choose your spray
Head out to your local pet store and pick up a spray bottle of pet deterrent. These sprays not only taste bad, but they also smell bad to your dog. Even better, they will not stain or damage most surfaces. Be sure to do a test on an inconspicuous area of the carpet first to be safe.
Dog meet spray
Time for your pup to meet the spray in person. Take a cotton ball and spray it with the deterrent. Give it to your dog, this will help him associate the smell with the nasty taste.
Observation is key
If your dog has a specific area he likes to chew, lightly spray that area with the deterrent and watch what happens the next time your pup heads over to his favorite chew spot. The smell should drive him away. Mission accomplished, right? Not quite.
Keep watching
Stay tuned in to your pup's behavior. If he decides to find another place to chew, use the spray. However, you can't cover every inch of carpet.
Something else to chew
This is where having a chew bone or chew toy to redirect your pup's chewing attention to will come in handy. However, he will learn that trying to chew on the carpet results in a nasty smell or taste. He will also learn that chewing on a bone or toy results in praise rather than trouble.
By PB Getz
Published: 01/05/2018, edited: 01/08/2021
---