How to Train Your Boxer Dog to Not Jump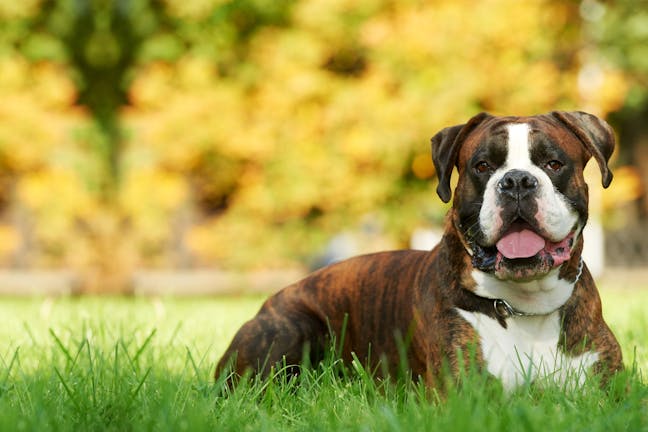 Introduction
Daisy is a very friendly 2-year-old Boxer--too friendly, some would say. As is characteristic of her breed, she gets very excited when people come over or her owners return home, jumping up on them to show how happy she is to see them. The problem is, Daisy is a big girl--with claws--and most people do not appreciate her jumping behavior. Her owners have got to come up with a solution before Daisy drives all their friends away and wrecks all their clothes!  
Boxers are very expressive of their emotions and can be high-energy dogs. The result is jumping behavior when they are excited. What may be cute when they are puppies will not be cute when they are bigger. Because jumping up can injure people, especially seniors or children, your Boxer will need to earn a more appropriate way to channel his emotion and excitement. Fortunately, there are several ways to teach your Boxer how to keep his or her paws on the ground.
Top
Defining Tasks
When your Boxer jumps up on you, he is probably trying to express his excitement at seeing you and wants affection. This is a worthy goal, and you do not want to punish it, but to redirect it to more appropriate expressive and attention-seeking behavior. Boxers are pawsy dogs, which means they are more apt to use their paws to handle a toy or communicate with you then some other breeds. Keep this in mind when redirecting behavior, and try not to lose patience with your lovable Boxer, who is just trying to show his pleasure in being with you. You will want to teach your Boxer that putting his paw on you does not get attention. Instead, he will get attention for other behaviors, like sitting and looking at you or performing a trick or command.
Top
Getting Started
When working with your Boxer, you will want to first establish that you are the leader. Work with your dog to teach him obedience commands. Take your dog for walks and participate in feeding time by making your dog wait while you prepare food and then staying with him while he eats, to establish you are the provider of all good things. A Boxer that recognizes your leadership will be much easier to work with and teach not to jump up. Make sure all members of your household and any guests to the home understand that your Boxer is undergoing training not to jump up, and understands what to do or not do when the dog jumps. You will want to establish consistency.
Top
Turn away
When your Boxer comes at you, and starts to jump up, cross your arms over your chest and turn your body away from your Boxer.
Ignore jumping
Pay no attention to your dog if he continues to jump.
Walk away
Walk away from your Boxer if he continues his jumping behavior.
Reward stop jumping
As soon as your Boxer stops trying to jump at you, stop, turn around and praise your dog. Give him attention.
Capture paws on ground
Repeat, withdrawing attention for jumping, giving it when paws are on the ground. When your Boxer approaches you and does not jump up, give him lots of attention and a treat to reinforce paws on the ground behavior.
The Alternate Behavior Method
Teach alternate behavior
Teach your dog a behavior such as 'sit and look at me', or 'sit-stay'. Provide treats for performing the behavior.
Practice when distracted
Give the command for the alternate behavior in distracting situations, such as outside in the yard, or while on walks. Reinforced with treats, attention and play for your high-energy Boxer.
Provide command when dog jumps
When your Boxer approaches you or someone else, and starts to jump up, provide the command for the alternate behavior, 'sit-stay' or 'sit and look at me'.
Reward obedience
When the dog complies, give a treat and lots of attention.
Ignore jumping
If the Boxer continues to jump up, ignore and turn away. When the dog hesitates and has paws on the ground, repeat the command for the alternate behavior. Reinforce the alternate behavior.
Take paws
When your pup jumps up towards you, take hold of his paws before he puts them on you.
Hold paws
Hold the paws until your puppy becomes tired of standing on his back feet, when he show signs of this, let his paws go, and allow him to put them back on the floor.
Reward paws on ground
When your Boxer puppy's paws hit the floor, give your puppy praise and attention.
Repeat
Repeat every time your Boxer puppy tries to put his paws up on you.
Capture not jumping
When your puppy approaches you about to jump, and then second guesses and stays down, give lots of praise and treats to reinforce not jumping. Capture the moment when the Boxer puppy hesitates and decides not to jump up.
By Laurie Haggart
Published: 12/22/2017, edited: 01/08/2021
---