How to Train Your Dog to Not Jump on Cars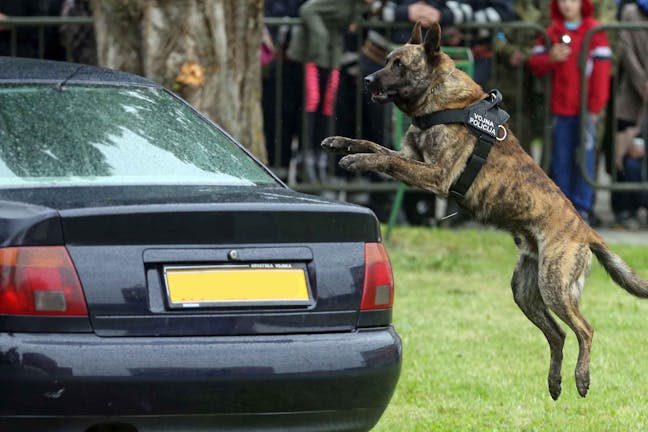 Introduction
If you have ever had a dog jump on your car, you know the damage those claws can do to your paint job. Your dog may be excited to see your vehicle if you are coming home. He could run out and jump on your car to greet you before you have a chance to get out of the car. If your dog is used to going for rides and sees your car before you can get the door open, he may jump all over the side of the car. This kind of excitement could cause some damage. It is important to teach your dog not to jump on vehicles to protect your property and the property of the people around you. Damaging a car can become quite expensive. 
Teaching your dog not to jump on your vehicle is a much easier solution. Finding other ways for your dog to be able to show excitement, whether it is because you are coming home or because he gets to get in the car, will be an important part of training your dog not to jump on cars.
Top
Defining Tasks
Teaching your dog not to jump on your car could be as easy as training the 'down' command and some patience for the delayed reward of either seeing what is inside the car or getting the inside the car himself. Though this kind of training requires some dedication and patience, it is imperative your dog knows from early on not to jump on vehicles, so you are not left with repairing damage as well. Hopefully, you are working with obedience commands across-the-board such as 'sit', 'stay', and 'down' so your dog can associate your vehicle with obedience as well.
Top
Getting Started
You will need some treats, patience, possibly a second person if your dog is outside waiting for you when your car arrives home, and if you would like to train using a scat mat, you will also need to have a scat mat available to place near your vehicle. Try to remember rewarding good behavior works much better than punishing poor behavior. Training a dog to be obedient is effective when we praise their good choices. When your dog jumps on your personal property such as your vehicle and causes damage, it is easy to become angry. However, your dog will not understand what happened nor will he understand why you are angry.
Top
Treat
Hold a treat close to the tip of your dog's nose without giving it to him.
Lower treat
Once your dog notices the treat in your hand near his nose, lower the treat down to the ground and then towards your body. While you are dropping, turn your opposite hand over, palm down for the down command
Follow
Your dog should follow your motion. He should begin to lower his body down to the ground, following your hand with the treat.
Reward
Once your dog's chest and belly touch the ground, give him the treat.
Repeat
Repeat. Have your dog get into a standing position and repeat the steps above several times, rewarding each time your dog lies down.
Hand signal
Be sure to use the palm down hand signal to show him the 'down' command each time.
Near car
When near the car, use the 'down' command to have your dog lie down until you are ready for him to approach you or the vehicle.
The Paws on the Ground Method
Paws
Teaching your dog to have four paws on the ground before he can greet you and before you get out of the car or before he is allowed to get inside the car, is a significant step to teaching him not to jump on your car out of excitement. If your dog is allowed near your car when you pull into your driveway, have a partner nearby with the ability to control your dog.
Partner help
With your dog on a leash for training sessions, have your partner offer treats as long as your dog keeps all four paws on the ground. As soon as your dog begins to rear up to jump at the sight of your car, have your partner gently tug on the leash, encouraging the dog to stay on the ground.
Treat
When your dog has four paws on the ground again, offer him a treat.
Under control
Your dog will become excited again as you get out of the vehicle because he cannot wait to see you. Be sure your partner has the dog under control with four paws on the ground before you exit the vehicle.
Repeat
Repeat the steps above, rewarding your dog each time he has four paws on the ground. As you get out of the car and approach your dog, offer him a treat as well--as long as he keeps his four paws on the ground. Do not allow your dog to approach your vehicle.
Vehicle
When you get out of your vehicle, as long as your dog has four paws on the ground, walk toward him and offer him a treat. This method may take several weeks for your dog to get used to not jumping on your car. It also requires a second person to assist you with the dog as he learns an appropriate way to greet your vehicle when you arrive home.
Mat
If your dog is jumping before he gets to get into the vehicle, you may consider using a scat mat to teach him to stay away from the vehicle until you have the door open. This requires a scat mat and a place next to your car to place it. Place the scat mat next to your car on the side your dog would normally enter or the side closest to your dog as he approaches your vehicle. If your car sits in a garage, on the garage floor right next to your car is the best place for a scat mat for this method.
Approach
As you and your dog approach the vehicle, the scat mat will send your dog energy in the form of a static charge to discourage him from being that close to the vehicle.
Empathy
Encourage your dog to stay away from the door by using the scat mat. Every time your dog enters the scat mat and is discouraged by the static charge use keyword such as "uh oh" to keep him close to you and not near the car.
Open door
Once your dog has been trained with the use of this scat mat to stay away from the car door, you can open the door and remove the mat. Even with the door open your dog should be discouraged to enter the vehicle until the scat mat is removed.
Alternative
An alternative is to walk your dog around to the opposite side of the car and allow him to enter that way. However, understand he may jump on that side if there is no mat over there.
Repeat
Repeat this process every time you get into your vehicle for several weeks or until your dog understands he needs to stand back away from the vehicle while you open the door before he is allowed to get close to your car.
Well done
Once your dog can go outside and sit opposite of the mat away from your vehicle, you can remove the mat altogether.
By Stephanie Plummer
Published: 12/20/2017, edited: 01/08/2021
---