How to Train Your Dog to Not Jump on the Counter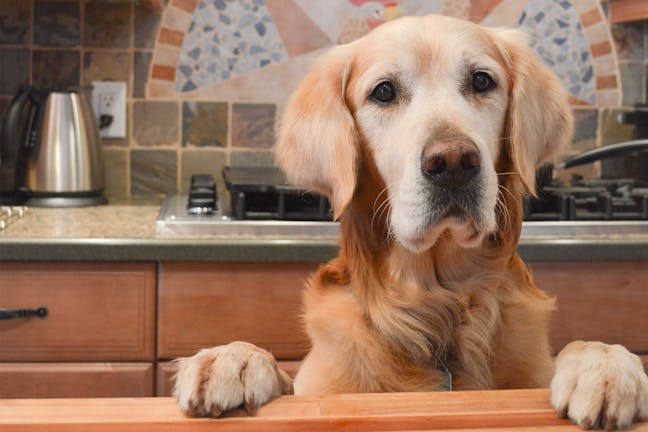 Introduction
If you have a dog tall enough to graze counters, no sandwich is safe in your house. Until you train him to stay off your counters, that is. Dogs who are left alone with delicious smelling food on the kitchen counters will be tempted to jump up and steal their own treat. They will happily go wherever the food is. It does not take long for your dog to learn that his delicious meals may stem from your kitchen, even if they are actually your delicious meals. If you have a small breed dog, he might jump on all fours on your counters while a medium sized dog may have to put his front two paws up on your counters to see what his options are and sneak whatever he would like. Large breed dogs tend to have the ability to sniff the counter with their noses. They can slightly tip their heads and help themselves to whatever they wish from your countertop.
Top
Defining Tasks
Teaching your dog to stay off your kitchen counters and not jump on them is part of obedience training. There's nothing quite like the reward of finding a ham sandwich or even a full Thanksgiving dinner after such a task. However, finding a hot Thanksgiving dinner could injure your dog and ruin your day. So, of course, we need to train our dogs not to jump on counters. Doing so is not difficult, and of course, as it is with most training, it is easier at a younger age. Motivating your dog to have all paws on the floor can be rewarding for your dog. If he knows good behavior is all he needs to earn your affection, attention, and some lovely treats, he might not try to work so hard to get what's on your counter.
Top
Getting Started
You will need a few things to get started teaching your dog not to counter surf in your home. 
A place away from the counters for your dog to go where he is safe but can understand the punishment by way of natural consequence. 

A special place for your dog to go within the space of the kitchen or just outside your kitchen so your dog can enjoy all the delicious smells while you are preparing a wonderful holiday dinner without your dog near your counters. 

A tasty treat, or if you are training during holiday meal preparation, maybe a tasty morsel of the meal he was going to steal anyway.

Top
The Paws on the Floor Method
Good behavior
If you allow your dog to be in the kitchen with you while you prepare meals, offer him treats and reward good behavior.
Praise
With verbal praise, every time your dog is away from the counters with all four paws on the floor, offer him a treat and tell him he is a good boy.
Two paws
Anytime your dog lifts his front two paws up to counter to graze, use a keyword such as a gentle but firm "no" or "ah-ah" to let him know your disappointment.
Redirect
Move your dog out of the kitchen so he knows he is not welcome with that behavior. He will likely return quickly, but you've removed him from the counters and the kitchen. Over time, he will associate the two actions.
Repeat
When he comes back into the kitchen, as you notice your dog keeping all four paws back on the floor, offer him a treat. Repeat the steps above until he understands he only gets treats when he has all four paws on the floor.
Special spot
Give your dog a special place to lie down while he is in the kitchen. If you have space in your kitchen or just outside of your kitchen, offer your dog a special mat or a bed on which to lie while he is in that space.
Name it
To teach him to go to his special mat, every time you walk into the kitchen, point and use a keyword such as "mat" to teach him that that is his special spot, and he can lie there while you are in the kitchen.
Treat
Every time he uses his special mat, offer him a treat. While you are preparing a meal, as long as he stays on his mat, you may offer him treats now and then.
Return to mat
Any time he gets up from his mat, point asking him to return. Once he is back on the mat, repeat the keyword you chose such as "mat."
Practice
Offer him a treat when he returns to his special place in the kitchen. Over the course of a couple of weeks, this will teach him if he wants to be in the kitchen with you, he needs to choose his special space away from the countertops.
Hide treat
You can teach your dog the 'leave it' command and use the command anytime you see your dog going near the counters. Hide some treats in your hands.
Command
Let your dog sniff your hand but leave it closed. As soon as your dog sniffs your hand to explore the treat and the delicious smell, say the command "leave it."
Attention
The moment your dog diverts his attention from the hand you are showing him, praise him and reward him with a treat from your opposite hand. If you are using a clicker, click and treat.
Practice
Practice this a few times and then move the treat to the floor while covering it with your hand.
Praise and reward
As your dog begins to sniff the treat on the floor, use the command to 'leave it'. Again, when he diverts his attention from the treat, praise and reward from your opposite hand.
Continue
Continue to practice the 'leave it' command while mixing it in with actions near your counters. Once your dog has 'leave it' understood, you can begin to use this command when he begins to graze near your counters.
By Stephanie Plummer
Published: 12/22/2017, edited: 01/08/2021
---