How to Train Your Dog to Not Jump on the Table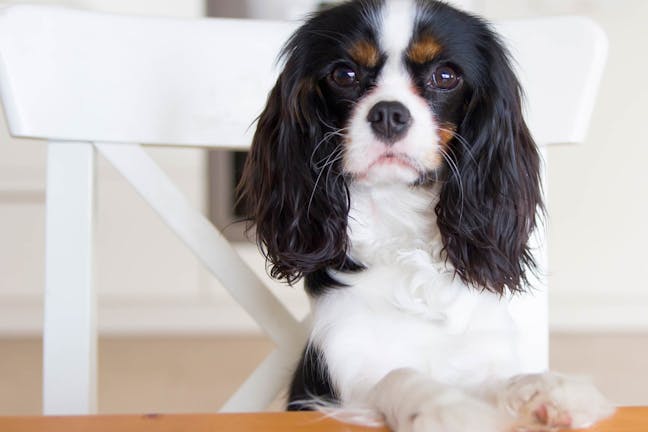 Introduction
Living with a dog has many advantages for yourself, your family and your precious canine. Dogs provide companionship, entertainment and an endless source of love and devotion. Multiple studies have even shown that people that live with dogs are happier and healthier. In short, dogs are awesome additions to our daily lives. That is…when they behave.
Few things are more annoying or embarrassing than when your dog jumps up on the table during dinner. Whether in front of guests, family or just by yourself, Fido jumping up on the table is disruptive. The good news, however, is that its relatively simple to teach your dog not to jump on the table and there are multiple methods to fit your training style, doggy household preferences, and individual pet's personality.
Top
Defining Tasks
It's a bit of a misnomer to say that you'll be training your dog not to do something, including jumping up on the table or counter. Instead, you are training your dog to perform a behavior on command or when a particular situation occurs. Dogs do not understand the word "no" or any command that asks them to stop doing something. Dogs can and will, however, perform tasks their owner requests when trained correctly in the first places. As with all training, it's important to keep sessions short and to not move on to the next step until your dog has thoroughly mastered the previous stages of the exercise. This will set your dog up for long term success and will have you becoming a master pup trainer in no time.
Top
Getting Started
Before beginning to train your dog to not jump on the table, you'll need to gather a few essentials. Locate a spot in the house where you can place a bed, crate or dog mat that will be your dog's "place." This will be somewhere your dog returns to on command when they need to rest, relax or generally be out from underfoot. You will also need a selection of tasty treats and a treat pouch that provides easy access for training. You should have several different "values" of treats to keep your dog interested and guessing. Try things like small pieces of kibble, cookies, small cubes of cheese and cut up pieces of hot dog or steak. Once you've compiled your tools to dog training success, it's time to try out one or more of our methods below!
Top
Sit
Start off with your dog in a calm and familiar environment such as your kitchen, front room or back yard. Hold a treat in front of your dog and raise it above their head while moving it backwards, luring them into a sit position. Once your dog sits, immediately give the treat and praise your dog.
Add command
Repeat the luring procedure until your dog is responding quickly to the treat, sitting almost immediately when you hold it above them. Once this occurs, add in the "sit" command as you move the treat back.
Repeat
Repeat using the 'sit' command, slowly phasing out the lure of holding the treat, until they are sitting on command without the use of a treat as a lure. Repeat this command in multiple surroundings, with increasing levels of distraction to maximize the response and solidify the command.
Down
Once you have taught 'sit', you can use your dog's knowledge to help teach 'down'. Go back to using the lure to get your dog into a sit, without use of the command, and then lower the treat to the ground until your dog is in a down position. Repeat using the lure and providing a treat until your dog is settling into a 'down' position reliably.
Add command
Once your dog is readily settling into a down with the treat, add in the command "down". Repeat this multiple times over different sessions. Begin phasing out the lure and using the down command. Don't be afraid to going back to use of the lure if your dog will not "down" with the command alone. With a little bit of patience and persistence, you'll have a dog that is solid in two foundational behaviors for helping keep Fido off of tables, counters and more.
Make a 'place'
Identify a place in the house where your dog will go when they need to rest, relax or be away from commotion. This spot should be comfy and safe, with toys nearby. This "place" should not be considered a punishment. Instead, your dog's spot will be similar to their own doggy room where they can entertain themselves with a treat, toy or chewy.
Lure to the place
Start training your dog by tossing or throwing a small treat onto their place. Once your dog is on the mat or bed, give another treat and praise.
Add command
Repeat the above step until your dog is reliably going to their place with a treat. Once this occurs, add in a command such as "bed", "rest" or "place". Say the command when you toss the treat and praise and reward once their feet are on the area.
Practice
Repeat and practice with your dog, removing the initial treat throwing occasionally, then altogether, until they are going to their place on command only. Reward and praise your dog when they go to their bed. You will want to slowly lengthen the time they remain still on their bed before rewarding with a treat. If your dog knows 'stay' you can also use that command to have them stay in their spot.
Stay
Using the 'stay' command, work with your dog on remaining in their spot until dinner is over. Be sure to give your dog a chewy, toy, bone, or other item to occupy themselves while they are in their spot.
Be ready
Teaching 'off' is best done by catching your dog in the act of jumping up on the table, counter or other object. Have treats on the ready while you're preparing or eating dinner and get ready to train.
Lure off the counter
When your dog inevitably jumps up on the counter or table, place a treat in front of their nose, say the command "off" and then use the treat to lure your dog to putting his or her feet on the ground. Once their feet are on the ground, immediately give the treat and praise your dog.
Practice
Repeat this step until your dog is reliably and quickly lowering back to the ground. Once this occurs, switch to using the cue on its own without a lure. Once your dog hits the ground, treat and praise effusively.
Increase duration
Once your dog is responding reliably to 'off', begin to lengthen the time between when their feet hit the floor and you provide the treat and praise. This will keep your dog from escalating their jumping up in order to receive a treat for performing the command.
Vary settings
Practice the "off" command in various scenarios. Use off when on walks, for greeting people politely, getting your dog off of furniture and more. Stressing this behavior in different surroundings and fact patterns will help create a strong association with your dog's behavior rather than food, counter or tables individually.
By Kimberly Maciejewski
Published: 01/19/2018, edited: 01/08/2021
---