How to Train Your Dog to Not Kill Animals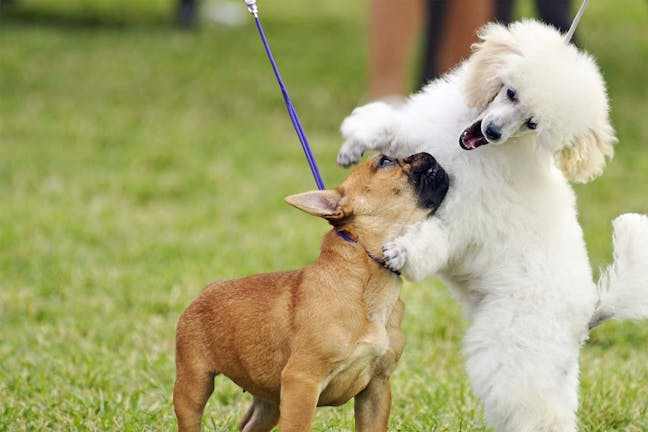 Introduction
Has your dog been attacking and killing your chickens? Does he keep the local squirrel population down? The desire to stalk and eat other animals is as natural to your dog as breathing. Your dog has a "prey drive" that is part of his natural role in the wild as both a predator and a hunter. However, this type of behavior doesn't necessarily mean your dog is aggressive, he is just following his instincts, which makes teaching him not to behave in this manner quite challenging and time-consuming.
There is nothing worse than going for a walk with your pup on a leash and suddenly finding yourself being drug across half the neighborhood as your dog chases a member of the local squirrel gang. Before you get to the point where you hate the idea of taking your dog for a walk, take the time to train your dog not to chase and kill animals. 
Top
Defining Tasks
There are so many different reasons to teach your dog not to kill animals, ranging from making sure your flock of chickens is safe to keeping your dog from getting run over chasing a cat or squirrel across the street. Before you can start to train your dog not to chase and kill other animals, he must be fully trained to 'sit' and 'stay'. You may also want to teach him commands like 'down' and be sure he has a very strong recall.
In order for your dog to learn not to kill, he must respond to being called by his name and obey the commands you are trying to give him. If you can't get him to listen to you when you call him, he is not going to be able to follow any other commands. You can teach this behavior to any age dog, but the earlier you start training your dog, the faster he will learn. 
Top
Getting Started
When it comes to teaching your dog not to kill animals, you need plenty of patience, a healthy supply of treats, a leash, and a quiet place to train him. Be sure to choose a time when you and your pup can focus on nothing but his training. It takes lots of time and patience to teach your dog a new behavior and even more so when you are trying to train him not to do what comes naturally to him.
However, when you stop to realize this training will certainly save other animals' lives and could save your dog's life, it is easier to see just how important it is. Be warned, you are going to go through a lot of treats during this type of training and you may never completely stop your dog's natural predatory instincts. 
Top
Plenty of treats
Have plenty of treats like chicken, hot dogs and his favorite doggy treats ready to go.
Go for a walk
Take your dog for a walk through the park on a leash or out to see the chickens.
Hide a treat
Each time he pulls, hide a treat behind your hand and hold it close enough to his nose for him to smell it.
Sit
If he turns to you and comes for the treat, make him sit and stay before you give him the treat.
Distract
The smell of the treat should be strong enough to distract him from his prey. In time, he will associate his predatory desires with the ability to get a treat from you instead of killing. Be sure that your dog is relaxed and no longer in the "hunt" mode before giving him the treat, to further enhance his desire to behave.
You need a toy
First, you will need a toy or treat ball for your dog to search for.
Play with your pup
Start by playing with your dog and the toy or treat ball until he gets used to it and starts to seek it out.
Play hide and seek
Now you get to play a game with your pup, the game of hide and seek.
Hide the treat
Hide the toy or treat ball and encourage your pup to find it.
Progressively harder
Make each time you hide progressively more challenging for your dog, he will love the game. Your dog uses his nose as his greatest hunting tool, he can smell the faintest scent and playing like this is a great way to make him use this tool. Bear in mind, teaching your pup to play like this can take a lot of time and effort, but it does work. Hide and seek is a great game and one you should continue playing with him for the rest of his life.
The Single Command Method
Clip his leash
Clip your dog on his leash and head out to where the animals he tends to chase are.
Use the 'stop' command
Each time he attempts to take off, use the command "stop".
Don't pull him back
Even if he reaches the end of the leash, don't pull him back, just stop his forward progress.
Use the 'come' command
Command him to 'come' and when he does, give him a treat and plenty of praise.
He will learn
In time, he will learn to stop and return on command for the treats.
By PB Getz
Published: 02/02/2018, edited: 01/08/2021
---