How to Train Your Dog to Not Lick the Baby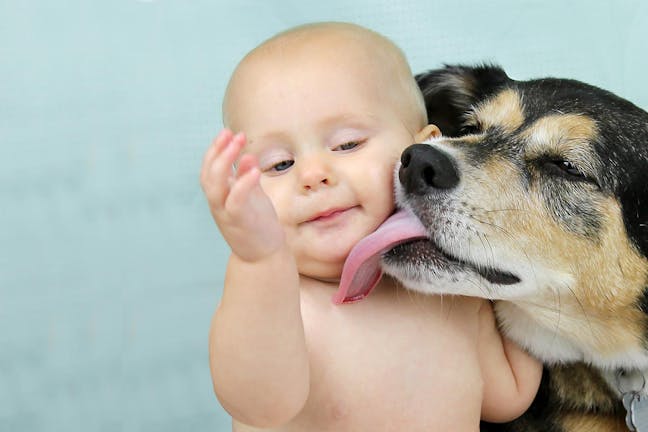 Introduction
You've just had a baby--congratulations! You are so happy to bring your new little one home and hope your dog will love your new addition as much as you do. You have spent hours getting your pup accustomed to baby sounds and a doll, beforehand in an effort to get her ready for the introduction to the new baby. The introduction goes well, no stress, no fuss. In fact, your dog seems to love the new baby, constantly licking her face, feet, and hands. That means she loves her, right? 
Wait a minute, maybe not!  
There are lots of reasons dogs lick, and they are not necessarily to show affection. Dogs lick because they are nervous, to show dominance, or just because something, or someone, tastes good. None of these are reasons to encourage or condone your dog licking your baby. In addition, there are health hazards associated with your dog's baby-licking behavior. Dogs can carry bacteria, viruses, and parasites that are transmissible to humans through saliva and licking behavior. These are absolutely the last things you want your dog sharing with your baby.
Top
Defining Tasks
You want to encourage positive interaction between your dog and your baby, but remember: dogs do not think or form relationships with the same perspective that people do. Dogs have packs and pack members, and view other pack members as part of a hierarchy that they belong to. You want your dog to recognize your child as a member of his pack, but not a subordinate one! To do that you will need to ensure that your dog respects your child and provides personal space that includes not licking your baby. This does not mean the dog cannot show the child affection, but do not interpret interactions from your perspective--ask yourself what the dog is communicating with their behavior towards your child. Licking may be a sign of dominance or nervousness that should not be encouraged but corrected. Also, germs and diseases can be spread by licking that can be a danger to your child or others in the home. Teach your dog that licking any person in the household is unacceptable, and provide other behaviors your dog can perform to get attention and affection so that your dog has a more positive means of interaction. Dogs should approach you or your baby and lie down quietly next to your child, or perform a behavior in order to get attention from the baby and you.
Top
Getting Started
You will need lots of treats to reinforce appropriate behavior.  Invest some time observing and supervising your baby and your dog to catch unwanted licking behaviors. Dogs and babies should never be left together unsupervised, so practicing constant supervision to prevent licking and other unwanted behaviors is a necessary habit to establish. You will want to stop your dog licking, not just of the baby, but of everyone. All members of the household will have to be on board, including guests, in extinguishing licking behaviors.
Top
Present treat
Teach your dog to leave a treat that is presented to him. Put your hand around a treat, command 'leave it' and when your dog ceases investigating, say 'leave it' again and provide another treat to your dog.
Leave treats on floor
When this becomes established, leave teats on the floor and command your dog to 'leave it'. When your dog complies, provide another, higher-value, treat to your dog.
Practice various places
Practice 'leave it' on walks and other times around your home. Have treats available to reward periodically for compliance.
Apply to licking the baby
When your dog approaches your baby, observe closely. The minute your dog starts to lick, command 'leave it'.
Vary reward
When your dog retreats, provide a treat and lots of praise and affection. Repeat until established and just praise can be provided as a reward for not licking the baby.
The Extinguish Licking Method
Ignore licking
Have everyone in the household, including guests to your home, aware of desired behavior change. When your dog licks anyone in the home, ignore until the dog leaves.
Reinforce not licking
When the dog has stopped licking and moved on to another behavior, reward him.
Remove dog from the baby
When the dog licks the baby, remove the dog from the baby's area by blocking him or directing him to a mat.
Reward not licking the baby
When the dog sits quietly next to the baby, or is on his mat, provide a treat.
Be consistent
Consistently remove opportunities to lick people. Reward non-licking behavior until licking is extinguished.
The Alternate Behavior Method
Teach alternate behavior
Teach your dog a behavior incompatible with licking, such as 'down-stay', or 'roll over'. Provide treats for the behavior and establish consistently.
Supervise
When your dog approaches your baby, supervise carefully.
Distract from licking
If your dog appears about to lick you baby, make a noise to get his attention and distract him.
Command alternate behavior
Provide the command for 'down-stay', or other behavior and treat your dog for performing.
Continue
Continue supervising, distracting, and commanding alternate behavior. Your dog will come to associate the baby with performing an alternate behavior for a reward and not licking.
By Laurie Haggart
Published: 12/07/2017, edited: 01/08/2021
---