How to Train Your Dog to Not Mark His Territory in the House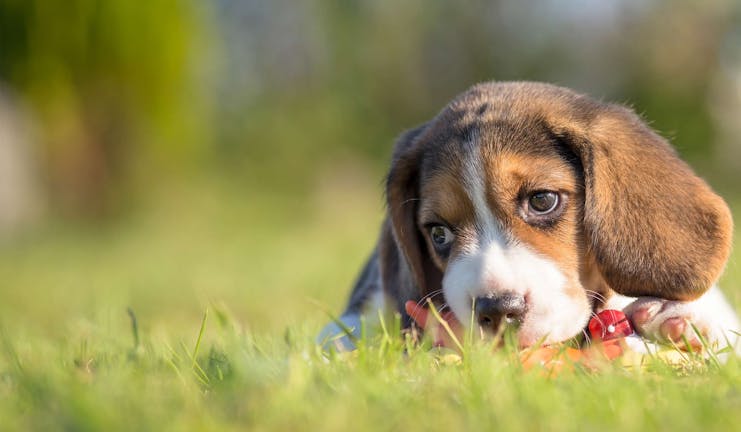 Introduction
You first realized there was a problem when you returned from a two-week vacation. During this time the house had been shut up, and the weather was warm. Unlocking the front door you stepped into the hallway, and your nose was assaulted by the strong and unmistakable smell of dog pee. 
You'd known for a while the dog was scent marking, but you didn't realize things had got to this stage. It seems you had gone nose-blind to the background smell of pee. It was only when the house was shut up and the stale air built up, that you were awoken to the awful truth... your house smells. 
What to do about it? 
Top
Defining Tasks
Territory marking is not about being aggressive or trying to dominant you. A dog scent marks, most usually in order to make himself feel secure and to ward off those who would intrude on his patch. Think of territory marking at putting up a big poster, saying "Hands off, this is mine". 
However, certain factors, such as being an intact male dog, will ramp up the provocation to scent mark. Indeed, reducing stress as a whole, along with desexing the dog are both constructive ways to reduce the problem.
Any crucial eliminate is taking down those 'posters' with effective cleaning, so that the dog isn't tempted to go back and reinforce the message. 
Top
Getting Started
Training a dog not to territory mark involves a multi-factorial approach and will require the help of an understanding vet. You'll also need:
A collar and leash: To keep him tethered to your wrist
Treats: For when he toilets in the right place
A crate
A urine specimen pot
A surgical or medical means of desexing the dog
Cleaning equipment including a household cleaner that does not contain bleach. 
Top
The Reducing the Urge Method
Understand the idea
A male dog's hormones are a powerful motivator. Intact male dogs have high levels of the male hormone testosterone, which can get him into all sorts of trouble. From running after female dogs to territory marking, much of this behavior is driven by hormones. With the best will in the world, you can retrain all you like, but if you are taking on the might of Mother Nature you are less likely to succeed. Instead, get things going in your favor by reducing his drive to mark.
Consider surgery
Removing a male dog's testicles won't change his personality, but it will make him easier to live with. However, don't expect an instantly reformed character. It takes a few weeks for the existing testosterone to work its way through his system. But no doubt about it, surgery is a good 'fix' for territory marking.
Be realistic about surgery
If your young dog has only marked his territory once or twice, then prompt surgery should nip things in the bud. However, the more times the dog marks, the more this becomes a habit. The older dog who has been marking for years, may not be totally reformed after the op, as much of his behavior is learned and well-established. When deciding for or against surgery, take this into account and adjust your expectations accordingly.
The six-month solution
If you are uneasy about surgery, then consider a slow-release implant that cancels out the effect of testosterone. These implants are about the size of an ID chip and injected under the skin in a similar way. It takes two weeks to take effect, but after that it works for six months. This can be a useful way of buying yourself time to think about surgery.
The injectable option
Hormone injections are available which help reduce the effects of testosterone. It requires an initial dose of two treatments, and then a monthly follow up injection. The jab has to be given into the muscle and can be sore, so this is best as a temporary solution while you weigh things up.
The Stamp Out Scents Method
Understand the idea
When a dog marks his territory, he is doing just that, using chemicals in his urine that act like a poster telling other dogs this is his patch. Unfortunately, those same scents will draw him back to commit the crime again, as the area is now labelled as a communication point. Key to stopping this behavior is to thoroughly clean up after any marking, so that he isn't drawn back to reoffend.
Mop up wet patches
If you catch him in the act, mop up the wet patch with absorbent kitchen paper and throw this away. This is a better option than towels or cloths, which can carry some of the scent even after washing.
Avoid bleach or ammonia
You must thoroughly deoderize the area, but do not use a household cleaner that contains bleach or ammonia, since these are components of urine. Using these will unintentionally amplify his scent signal, rather than obliterate it.
Effective deoderization
Use a three step method, but always test the surface first to make sure it is colorfast. Wash the area well using a solution of biological washing powder or liquid. Rinse well. Now wash the area with a dilute solution of sodium bicarbonate. Rinse well. If the surface is non-absorbent, wipe it over with rubbing alcohol. Leave to dry.
Repeat daily for 2 - 3 weeks
The bad news is that behaviorists tell us it's crucial to clean in this way, not just once, but every day for 2 to 3 weeks. Only then can you be sure of removing all lingering odors.
The Refresh Potty Training Method
Vet check
If the dog has been clean inside for ages, and suddenly starts soiling in the house, then a vet check is a good idea. It might be the dog has a medical problem which is causing him to wet in the house. Get an answer more quickly by taking a urine sample along to the appointment for the vet to analyze.
Crate train
Eliminate the option for the dog to scent mark, by keeping him supervised at all times. For those moments when you need a break and can't watch over him, then crate train the dog. Then you can pop him out of temptation's way while you leave the room.
Leash indoors
When indoors, keep the dog tethered to your wrist by a leash. Watch him closely, and at the first sign of sniffing to scent mark, whisk him outdoors to toilet.
Regular toilet breaks
Although scent marking is not about a full bladder, when the dog gets ample opportunity to relieve himself outdoors, this reduces the stimulus for him scent marking indoors. Be sure to give him lots of praise when he pees in the right place, so that he starts saving up his bodily functions in order to spend them for rewards.
Increase exercise
Make sure the dog gets plenty of exercise, appropriate for his age and breed. When the dog is pleasantly tired, he's less likely to look for ways to amuse himself by signing his signature around the house.
By Pippa Elliott
Published: 01/25/2018, edited: 01/08/2021
---