How to Train Your Dog to Not Play Bite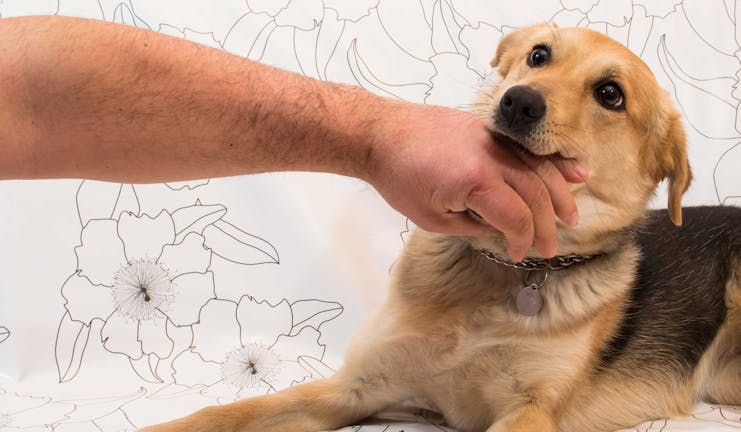 Introduction
You understand that when your dog nips during play, he doesn't mean any harm by it. However, recently you became aware of how non-dog lovers may perceive a 'love bite' and how it could get the dog into trouble with the authorities. The latter is too awful to think about, so perhaps it is time to stop being brave and let the dog know he shouldn't nip. 
Things came to a head when a friend came round with her teenage daughter. They laughed as you rough-housed the dog, and the friend's daughter then wanted a go. You were secretly delighted, as the girl is wary of dogs and you thought it would do her self-confidence good. However, this backfired badly. 
In a predictable way, the dog quickly became over excited and nipped at her arm. Unfortunately, the girl screamed and claimed the dog tried to bite. Her mother became irate and it took a deal of convincing on your part, that the dog meant no harm and was only playing. 
Still, another time and another place, and things might have ended differently with a phone call to the police, so perhaps it is time to teach the dog to be gentle and not nip. 
Top
Defining Tasks
Training a dog not to play bite is about replicating what happens naturally within a litter as the pups learn what's acceptable behavior and what isn't. What should happen when a young pup is playing with his litter mates and bites too hard, the others will squeal and stop the game. This shows the pup in a way he understands that his bite was too hard. Next time, in order to avoid ending a fun game, the pup will nip more lightly. 
Re-educating an adult dog means you must be prepared to play act a bit, and yelp when the dog's teeth make contact with your skin, no matter how minor the incident. In addition, it helps to learn strategies for calm play and how to distract the dog out of trouble. All of this takes time, so if you have small children in the home or are worried about the dog's behavior then always seek the help of a certified dog behaviorist. 
Top
Getting Started
Teaching a dog not to bite means communicating with the dog in a way he understands. This means reacting in an appropriate way (such as yelping and letting your hand go limp) , and by rewarding good behaviors. 
To aid the process you will need:
Tugger toys or toys for the dog to hold without direct contact with your skin
Treats 
A willingness to yelp and squeal
Top
The Do's and Don'ts Method
Don't: Be brave
When a dog nips, even lightly, don't be brave and pretend it doesn't hurt. Your dog needs to know that a nip, no matter how gentle, is not appropriate. Therefore you must squeak or squeal in such a way that he thinks "Goodness, these humans are easily hurt," and takes care to be more gentle next time.
Do: Seek professional help
Mouthing, nipping, and biting are all complex behaviors which can have different motivation behind them. While the majority of dogs bite during play because they didn't learn not to as a puppy, a small percentage of dogs may bite due to aggression or fear. If you suspect the problem to be anything other than straightforward, always seek the advice of your vet, who can refer you to a certified animal behaviorist.
Do: Give chew toys
Give your dog's natural need to chew a sufficient outlet. Remember, he needs the satisfaction of mauling things in his mouth, so when he has plenty of chews he's a lot less likely to chose your hand instead.
Do: Start young
Ideally, start teaching your new puppy bite inhibition. A young puppy has a plastic mind that is geared towards learning. Now is the ideal time to react as his litter mates would, so that he knows biting hurts.
Don't: Jerk your hand away
If the dog nips in play, resist the desire to jerk your hand away. A rapidly moving object engages the dog's instinct to chase, and he's more likely to think you are playing than hurt.
The Bite Inhibition Method
Understand the idea
Adult dogs that nip during play usually do so out of excitement and because they haven't learned that nipping is painful for people. When a dog recognizes human skin is delicate and avoids biting as a result, this is called bite inhibition. This behavior is often learned as a pup when litter mates squeal when a boisterous pup bites too hard. However, it can still be taught to adult dogs who missed out on the lesson, it just takes longer for them to learn.
Speak 'Dog'
When you dog gives you a playful bite, you need to let him to understand that it hurts, in other words you need to 'speak dog'. This is done by making a loud squeak or squeal when the dog's teeth make contact with your skin. This is equivalent to a litter mate crying when the game gets too rough, and is how dog's learn. However, some dogs can become overexcited when they hear squealing, in which case a good firm "No!" is acceptable.
React to nips
When the dog nips, no matter how lightly, react and let your hand go limp. While it is tempting to either smack the dog or wag a finger at him, both of these can arouse further excitement and runs the risk of turning things into a game. The absence of participation, in your hand going limp, is a much clearer message to the dog that nipping ends play.
Stop the game
Again, an overexcited dog who loses control in the heat of the moment, may keep jumping at you after your hand has gone limp. You need the dog to understand that nipping instantly ends the fun, so that he has the motivation of keeping on with the game to encourage him not to nip. Take advantage of this by downing toys, once he nips, folding your arms and, if necessary, turning your back until he has calmed down. In extreme cases you may even need to leave the room, and only come back once he is calm.
Reward gentleness
If you yelp after a bite and the dog sits and looks bashful or attempts to lick your hand, then praise him for being good. Remember, praise for a job well done is a powerful motivator for future good behavior.
The Reducing the Risk Method
Understand the idea
By their very nature, dogs are prone to investigate things with their mouth. Therefore, for a dog mouthing and nipping are normal exploratory behavior, but it just so happens if they aren't gentle then there's a real risk of injury to the person. However, you can reduce the risk of play biting by how your interact with the dog and redirect his natural urge to mouth onto more appropriate objects such as a toy.
Regular time-outs
If your dog play bites because he gets over-excited, then anticipate this. Instead of playing until he reaches fever pitch, take a break every 30 seconds or so, and make him sit and wait, before resuming the game. The idea is to allow him to calm sufficiently to safely re-engage with the game.
Use non-contact toys
Instead of rough-housing the dog with your hands and arms, whereby the dog may confuse your limbs with toys, be sure to use a tug-toy or another toy that the dog latches onto rather than your hand. Praise him when he picks up this toy, so that he understands that rough play and biting with the toy is acceptable.
Use distraction techniques
If the dog is about to latch onto your arm, distract him with a squeaky toy. Then toss the toy and redirect his play behavior onto that. Again, be sure to praise his interest in the toy, so that he focuses on it next time.
Teach self-control
Learning bite inhibition requires the dog to acquire a degree of self-control. You can help him learn this with basic obedience training, such as 'sit' and 'stay' whereby you require the dog to wait before getting his meal or his collar put on for a walk.
By Pippa Elliott
Published: 01/25/2018, edited: 01/08/2021
---