How to Train Your Dog to Not Pull on His Lead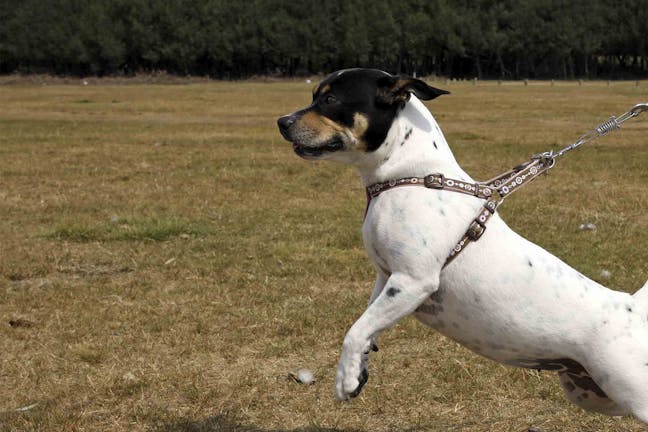 Introduction
Ever felt that your dog was walking you, instead of you walking your dog?
Nobody likes to be dragged along by an unruly pooch on what is supposed to be a pleasurable walk, and it is dangerous too. A dog that constantly pulls on the lead can cause damage to their neck and windpipe from the constant pressure, or jerking movements, or can cause their owner to accidentally let go of the lead, freeing them to run, possibly into traffic or another hazard. Also, a dog that constantly pulls on the lead, especially if it is a large dog, can overpower and pull their owner over, or into a hazard. Training your dog not to pull on a leash is important for their safety and yours, not to mention making your walks together far more pleasant!  
Top
Defining Tasks
Why do dogs pull? Dogs are naturally inclined to investigate and explore with their eyes, ears, and most of all, their nose. Following scents, like other dogs, prey, or people can cause your dog to constantly be pulling on the lead, as he seeks more freedom to check out what he smells.
Training your dog not to pull on the leash can be difficult because his natural reaction to restraint is to pull. This is an instinctual survival method--if your dog is caught on something in the wild they tend to fight it to get away. Teaching your dog not to pull on his lead will mean providing an alternate outlet for his natural tendencies, and an alternate reward for his non-pulling behaviors.  Dogs also like to trot, which is a more natural gait for them, so giving your dog some nose time and trotting time can be a reward for him while you are training him not to pull on the lead. 
Teaching your dog not to pull on their lead can include teaching the 'heel' command; the dog walks quietly on the owner's left side, even with the owner's leg, or may just involve your dog learning to walk with slack on the lead, stopping when you do. Either behavior will prevent your dog from pulling the lead and hurting himself... or you.
Top
Getting Started
A harness with a front attachment can be useful for training your dog to walk with slack. Choke chains need to be used appropriately; make sure you understand their use before using for training. A head halter may be useful, but never with a leash longer than 3-6 feet. If your dog runs with a head halter on and comes to the end of their lead, the head will jerk around and can cause whiplash if the lead is too long. You can use sniffing time, trotting time, and treats as rewards.  Start training in a quiet neighborhood with little traffic and distractions or preferably in an enclosed area such as a large fenced yard. Keep sessions short at first, 5-10 minutes so, as not to frustrate and stress out your dog. Gradually increased session length.
Top
Start on left
Have your dog sit next to your left leg while on a leash.
Command and move forward
Step off your left leg and say "heel".
Change direction
If your dog proceeds in front of you, turn around and walk the opposite way.
Reinforce heel
When your dog turns and catches up to your left leg, say "heel" and provide a treat. If he goes in front of you again, repeat previous step.
Repeat
Repeat, gradually increasing the length of time your dog needs to walk next to your left leg, before giving a treat. Gradually extend walking on heel, and replace food treats with praise and affection. Avoid punishment; make learning and leash time a pleasant experience.
The Remove the Goal Method
Create a goal
Put someone or something in front of your dog that he will want to reach. A favorite toy, a favorite person, or another dog works great. This is creating a "goal".
Proceed
Walk towards the goal with your dog on a leash.
Stop when pulling
The minute your dog pulls the leash taut, say "no" or "stop" calmly, and halt your dog's progress. You can either stop where you are, or better yet, go backwards a few yards away from the goal, to provide a penalty for pulling on the lead.
Proceed with slack
Proceed again, as your dog walks forward without putting pressure on the leash, verbally reward him with "good", and proceed. If he pulls, repeat previous step.
Reinforce and establish
When you reach your goal on a loose leash, give your dog the reward. Play with the toy or other dog, or get affection from the person. Repeat every day for several days until your dog learns to associate slack on the lead with reaching their goal.
The Reinforce Slack Method
Exercise
Exercise first with off-leash play time in a yard so your dog is tired out.
Reinforce walking near
Start in a controlled area, like a fenced in yard. A front attachment body harness is recommended, with a long lead, 10-20 feet in length. Start walking your dog on the long lead. When he comes near you and walks with you, give him a treat. This encourages your dog to walk with you.
Increase distractions
Move to a shorter leash and take your dog out into your neighborhood.
Reinforce slack
Provide nose time and let your dog investigate with his nose, but only on your schedule. If your dog hesitates to sniff when you have not stopped first to give him that time, walk away and say "let's go". When he catches up with you, reward him or pull leash gently toward you to cue him, and reward him when he comes to you putting slack on the lead. When he has walked on a loose leash near you for several minutes, stop to let him sniff on your schedule, not his, as a reward for good behavior, never let him initiate this.
Reward with activity
Let your dog move faster, as a reward for walking on a loose leash. Jog with your dog, let him trot next to you. This is providing a reward of allowing him to move at a slightly faster pace, which is more natural for him. Or, if you cannot run with him, play with him on a longer lead periodically, to give him a chance to move out. This could be tossing a toy several feet while allowing your dog to go get it on a long leash and return to you, or playing tug of war with a toy periodically through the walk as a treat.
By Laurie Haggart
Published: 11/14/2017, edited: 01/08/2021
---