How to Train Your Dog to Not Run into the House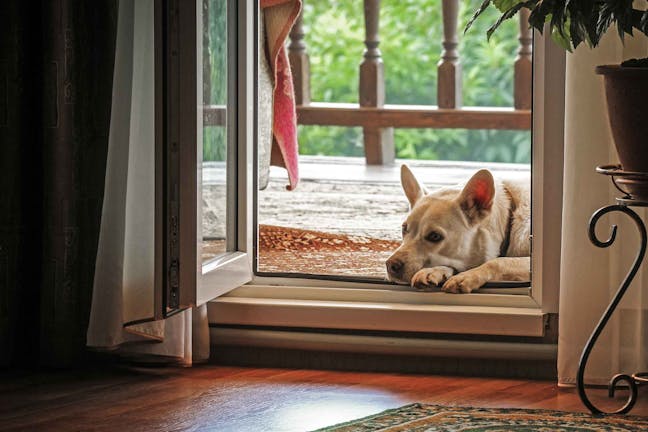 Introduction
You spend half an hour each day shouting at your kids not run through the house, because you don't want everything you've worked hard for in life to be broken. But your dog also seems to share the same disregard for the rules! It's been one too many times that you've heard a precious vase or table ornament break as he leaps into and around the house. It simply has to stop, your bank balance needs a break and your sanity needs time to recover.
When you enter the house full of shopping, children and coats, you don't want to trip over your dog in the doorway as he charges into the home and around the downstairs. He might be invincible, but one wrong fall over him could see you out of work for weeks!
Top
Defining Tasks
Luckily, training your dog not to run into the house is relatively straightforward. It consists mainly of obedience commands to assert your control and enforce the rules. You will also need to use a number of simple measures to deter him from running in the first place. You may also need to change his current exercise routine and consider investing in some distractions.
If the culprit is a puppy he should respond to training relatively quickly. If he is older and has years of disregarding the rules under his belt, then breaking the habit may take a number of weeks. But be patient and persistent, this training is essential if you want to avoid injury to your dog, yourself, and to the rest of your family. Think how relaxing those evenings will be when you have one less member of the family to shout at!
Top
Getting Started
Before you start tackling your marathon running canine friend, you will need to get together a few things. Treats or his favorite food will be essential for incentivizing and rewarding him during obedience training. You may also want to invest in food puzzles and toys to redirect his attention elsewhere.
For one of the methods, baby gates may be required to limit his indoor running ability. An extra long leash will also be required too.
Once you've collected these bits, just set aside 15 minutes each day for the next few weeks, bring a positive mental attitude and you're ready to get to work!
Top
The Leash & Treats Method
Secure him inside
Secure him to a short leash when you are inside. You are going to train him to walk calmly by your side when he is in the house, so he knows when he crosses that threshold he needs to walk calmly. If he is big and strong you may also want to consider using a body harness, it will increase your control and reduce the strain on his neck.
Slowly walk him into and around the house
As long as his is walking next to you and relatively calm, reward him with a treat and praise him. This constant appraisal will show him that simply being relaxed indoors will bring benefits.
React promptly
As soon as he starts running, pull him in the opposite direction. You need to firmly pull him to show them you are the pack leader and you are in control. Repeat this whenever he starts running, even if it means you are walking back and forth the same few steps repeatedly. Doing this persistently will reinforce to him that if he runs, he doesn't get to go where he wants.
Practice makes perfect
Repeat both aspects of the leash walking for as long as you can each day. The key to this training is consistency, so the more time you can spend with him on the leash, the quicker he will respond and break the running habit. If you have other people in the house it may help to bring them on board so you can share the time spent training.
Lose the leash
After a week or two, lose the leash and slowly reduce the frequency of treats. Only when you are confident that he is responding to the training should you lose the leash. Praise him for his calm behavior until you are sure his indoor running days are truly over.
Long leash
Attach a long leash to him when he is in the house. You are going to reinforce to him that tearing into and around the house will only leave him standing still and bored. This method is quick, easy, and frequently does the trick.
Get ready
Stand by the doorway he frequently runs through and wait patiently. You need to keep a close eye on him as it's important you act quickly and consistently whenever he runs through the house.
Close the door
As soon as he passes through the door, close the door so it catches the end of the leash. Be careful not to catch his tail when doing this! You don't want to hurt him, you just want to temporarily immobilize him.
Wait 30 seconds
Leave him standing there for 30 seconds before you open the door again. This time out period will be used every time he runs through a door way and you catch him. So it is important you have everyone in the family on board to be consistent with this training for the first couple of weeks.
Increase the sentence
If he runs again when you open the door, add another 30 seconds onto that, and so on and so on. He will slowly realize that whenever he runs he ends up unable to go anywhere. Increasing the duration spent stuck will only reinforce that point further. Keep this training up as much as you can for several weeks until he gives up running inside altogether.
The Distract & Deter Method
Exercise
Give him another walk in the day, or up the tempo on the walk. Many dogs don't get enough exercise, ending up overly energetic and running around the house as a result. If you can't walk him more each day, simply regularly throwing a tennis ball for him to fetch when you are on a walk will ensure plenty of sprinting, which is guaranteed to tire him out. A tired dog doesn't run around the house!
Invest in some food puzzles
Another way to reduce his running into and the house is to direct his attention elsewhere. Food puzzles are relatively cheap and can keep him occupied during his most energetic hours, ensuring a run-free zone indoors.
Consider putting up baby gates
They may be a pain to start with, but you'll quickly get used to them and most importantly, they will limit his ability to run inside. If you have slippery floors they are particularly effective as he won't have the distance to pick up speed so he simply won't bother.
Short and frequent walks
If he is a puppy, give him regular exercise, several times a day. It is often puppies who are most prone to tearing around the house, that's why they need plenty of short walks through out the day. Long walks will be bad for his growing bones and joints, but constant short walks will leave him tuckered out at home.
Be patient
Be patient and try each measure for at least several days. Dogs often need a few days to break a habit, so don't be disheartened if he doesn't stop sprinting inside straight away. Give each method 5 days before you give up and move onto the next step. All the steps above can be used in conjunction with each other if you want to increase your chances of swift success.
By James Barra
Published: 11/13/2017, edited: 01/08/2021
---