How to Train Your Dog to Pee in the Bathtub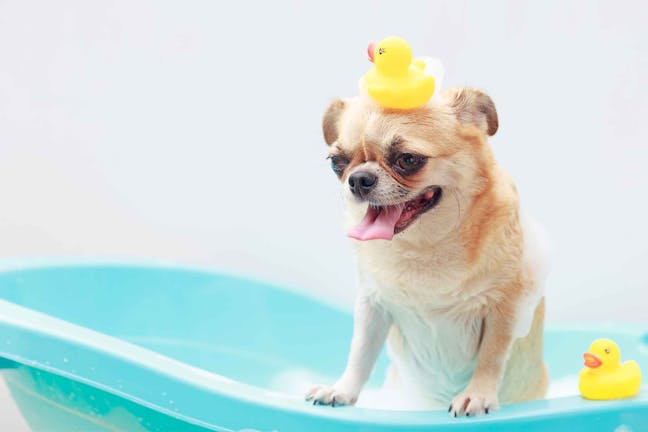 Introduction
Are you still getting up in the middle of the night to take your pup outside to pee? Isn't this getting a little old? What about when you have to be at work all day long, is your pup peeing on the floor and leaving you a big wet mess to clean up? What if you could train your dog to pee in the bathtub when there is no one around to take him outside.
Okay, I can already hear you saying "Eww that's gross!" But then again, how gross is it having to clean up the mess on your floor every time he pees on it? While most dogs are taught to go to the bathroom outside, which can be a hard habit to break, you can teach them to pee in the tub. It won't be easy, but in time your pup will be happy to have a place to pee inside where he won't get in trouble for doing so. 
Top
Defining Tasks
This command goes completely against your dog's training to pee outside. After all, haven't you already spent countless hours teaching him that the only place he is supposed to pee, or for that matter poop, is outside? Of course, you could always use a crate to prevent your pup peeing on the floor, but your dog doesn't deserve to spend hour upon hour locked up.
There is no real command here, it is in all reality more about teaching your pup a new behavior. One that will keep him out of trouble and allow him to relieve himself when needed, rather than trying to hold it in for longer than he should be doing. Take your time and be patient, it will happen. 
Top
Getting Started
When it comes to training your pup to pee in the bathtub, or for that matter a shower stall, the biggest thing you will need is plenty of patience and time in order to make this training stick. You will need a few supplies to get things off to a good start. Which ones you need will depend on the method of training you decide to use. Among these are:
Treats: As rewards for peeing where you tell him to.

Bathtub or shower: A place for your pup to go to the bathroom indoors when he needs to.

A section of fake grass: One training method uses this as a way to train your pup.

Time: Training your pup to pee in the tub is going to take time.

Patience: As always, you need plenty of patience during any type of training. 

Top
Clean the tub
Start by cleaning out the tub and rinsing it out thoroughly to remove all traces of chemicals. Your pup will not like the smell of cleaning chemicals, which can make training him that much harder.
Introduce your pup to the tub
Getting your pup used to being around the tub and in it is a vital step in the training process. Spend plenty of time letting him get used to the tub, climbing in and out of it, being in it, and so forth. Be sure you have some kind of non-slip mat or surface in the bottom of the tub so he doesn't slip and fall.
Keep the training sessions short
The most important part of this training is to keep all training sessions short; aim for 10-minute sessions to keep him interested in what is going on. Do this twice a day and keep him where you can see him the rest of the time.
Try the tub
The next time your pup lets you know he needs to pee, take him to the tub, have him hop in and let him stand there until he pees. You must be patient, but if after ten minutes he still hasn't peed, go ahead and take him outside. If he does pee, be sure to praise him and give him a treat.
Keep working with him
Keep doing this every time he indicates the need to go outside, never scold him if he can't go. But be sure to reward him generously when he does. Dig in and be prepared to keep training him for a few weeks. In time, he will take care of business in the tub at night or when no one is home.
The Artificial Turf Method
Cut a chunk of fake grass
Start out by cutting a strip of fake green grass that is the length and width of the bottom of your bathtub or shower stall. Leave enough room for the tub drain to be exposed.
Begin introductions
Lay the fake grass on the floor where your pup can get used to it. He might start out by sniffing it, laying on it, and playing with it. This is okay, be sure to give your pup treats each time he goes near the turf on purpose.
Take the turf outside
Each time you take your dog outside to go to the bathroom, take the turf out with him and place it on the ground. This will help your pup to associate the fake grass with going to the bathroom.
Let him pee on the turf
Now it's time to start teaching your pup to start peeing on the fake grass. Each time he does, be sure to praise him and give him a treat or two. Repeat this until he looks for the turf to pee on.
Moving inside
Wash the turf and let him pee on it once, then put it in the tub (yes this is a bit gross) where your pup can see it and smell it. Take him in the bathroom, and show him where it is.
Time to pee
Each time he needs to pee, take him into the bathroom where he can find his old friend, the piece of fake grass. Repeat this process until your pup goes to the bathroom and uses his piece of turf when he needs to pee. Be sure to give him lots of praise and a treat or two when he finally gets it right. Now you should be able to sleep at night or go to work without worrying about wet spots on your floors.
The Every Two Hours Method
Mark your puppy's need to pee
If you are working with a puppy, take note of how often he needs to go outside and pee. In most cases, it is approximately every two hours or so.
Mark the spot
Collect a small sample of your dog's urine and place it in the tub. This is how your pup marks his territory outside and it will work to mark the tub or shower stall just as he does outside.
Watch your pup
Keep a very close eye on your pup. As soon as he indicates that he might need to go pee, take him to the bathroom and place him in the tub.
Keep him there
Now you need to relax and give your pup plenty of time to take care of business. But, at the same time, keep these sessions to around ten minutes. If after ten minutes he hasn't peed, go ahead and take him outside.
Keep trying
This trick is going to take a while for your pup to master. Bbe patient and keep trying it over and over again. The more you praise him for getting it right, the faster he is likely to master this new task and the sooner you can start sleeping through the night or go to work without worrying.
By PB Getz
Published: 11/03/2017, edited: 01/08/2021
---