How to Train Your Dog to Pee on Concrete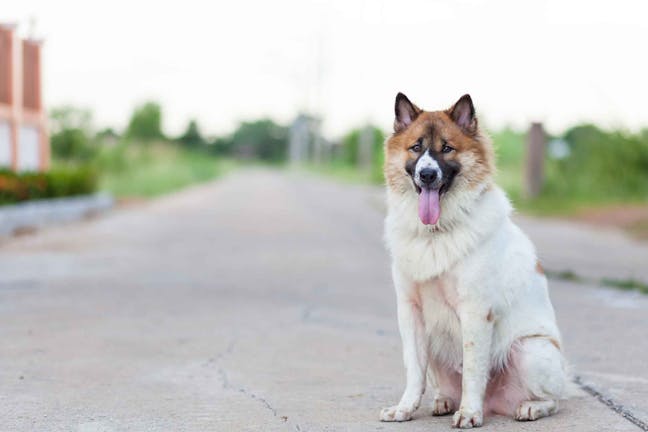 Introduction
So you have a lovely, big dog who pees a lot, and a not so big yard, with brown urine-damaged grass patches. Not only is your yard unsightly, but it is not pleasant to use the lawn for games or relaxing, when you know a dog has peed all over it!  Not only that, but when your neighbors see your big dog coming down the sidewalk and he lifts his leg on their lawn, creating urine damage to your neighbors' lawns, you are going to have some very unhappy neighbors. There goes your invitation to the next block party!
What to do?  Teach your dog to pee on concrete. You can create a concrete potty area in your yard, and teach your dog to pee on concrete while out on walks.  That will save your lawn and your neighbor's lawn.  No more ugly brown patches!
Top
Defining Tasks
Teaching your dog to pee on concrete in a designated potty area in your yard, and while out on walks, can be accomplished by teaching your dog to pee on command and giving that command when on a concrete surface, or by teaching your dog to pee only when on concrete surfaces. Sometimes a combination of both methods can be the most useful. You will need to spend time supervising your dog so that you capture a time when your dog needs to pee, in order to associate a verbal command, or ensure that a concrete surface is available for your dog to establish peeing on concrete, and reinforcing this behavior.
Top
Getting Started
Treats will give your dog a reward for appropriate bathroom behaviors, making the training experience fun for your dog. Avoid punishing mistakes, learning to pee on concrete can be confusing for your dog at first. Have patience--don't make the experience unpleasant for your dog. You can create a cement potty area in your yard by pouring cement or by using concrete blocks. Be sure to prepare the area first, and have it accessible to a hose, so that you can wash the area off regularly.
Top
The Pee on Command Method
Prepare
Choose a command such as, "go pee". Make sure your dog has access to lots of water so he has urine to pass. A dry dog is pretty hard to train to pee on command!
Go to concrete
Take your dog to go pee, on a leash, to a concrete area like a sidewalk or road, or a designated potty area prepared with cement surface.
Provide command
Provide the 'go pee' command and wait for your dog to pee. This may take quite a while. Ignore your dog while you wait. When he does pee, repeat the verbal command to reinforce the association, especially if a significant time period has lapsed since the original command. When he has finished, say "yes", and give him a treat. If he does not pee, take him back inside.
Establish command
Repeat the process daily for several days. The time between giving the initial command and your dog peeing should decrease. When the behavior is well-established you can try taking your dog off leash. Call your off leash dog to a cement area, or to his cement bathroom area and give the 'go pee' command.
Use on walks
Once your dog is peeing on command you can use the command when on walks. Give the command on the sidewalk or in an alleyway, not in the park or a neighbor's lawn.
The Designate and Direct Method
Create cement bathroom
Create a designated cement bathroom area for your dog in your yard. You can use cement blocks or poured cement. You can use a barrier of some sort, such as garden fence, plant pots, or portable fencing to create a barrier, that helps designate the spot, to help your dog distinguish it. If your dog already tends to use an area of your yard and it is convenient, make that area your designated bathroom area, this will contribute to training success.
Take dog to cement
When you let your dog out to pee, do not let him run around on your lawn, instead take your dog to his designated cement area on a leash, or carry him.
Direct as required
Wait in the area, either on leash to keep the dog in the cement bathroom area or if off leash, if the dog leaves the area before going pee, redirect him by calling him back or making a loud noise such as clapping to redirect him back to his bathroom area.
Reward for using cement
When your dog pees in his area, reward him with attention and a treat, take him to the grassy area to play or have free time. Supervise at first if your dog looks like he is going to relieve himself again in the grass. Immediately go take him back to his cement bathroom area.
Establish cement bathroom
Gradually give your dog more space and off-leash training in his cement bathroom area, continue to supervise and redirect him as necessary. If your dog has an "accident" and pees on the grass, take your dog inside, playtime is over. Do not punish him any other way. He will come to learn that play on the grass is a reward for using his bathroom and not peeing on the grass and that peeing on the grass means no playtime. Rinse cement off regularly so the area does not become soiled.
The Create Associations Method
Provide cement bathroom
Create a designated bathroom area with cement blocks or using an area of a cement patio. This will be used to teach your dog to pee on cement only.
Reward using cement bathroom
Contain your dog in his cement area in the yard with fencing or on leash until he goes pee. Do not give access to grassy areas. When your dog pees on the cement, reward him and give access to your lawn. If the dog pees on the lawn, take him inside immediately.
Take it to the streets
Start taking your dog out on a leash in the neighborhood. Give a command to pee if you have taught your dog to pee on command on cement surfaces, or keep your dog on cement until your dog goes pee on the cement. Reward for peeing on cement.
Reinforce using cement
Give your dog access to grass after peeing on cement. If your dog pees on the grass, end the walk.
Create association
Eventually your dog will learn to associate peeing with cement surfaces and reward and avoid peeing on grass or lawn, as this ends walks or outside time. You will need to ensure that your dog has access to cement surfaces in order to relieve himself regularly. It is unfair to restrict his urinating behavior and then not provide him with the opportunity to relieve himself.
By Laurie Haggart
Published: 11/09/2017, edited: 01/08/2021
---