How to Train Your Dog to Pee on Gravel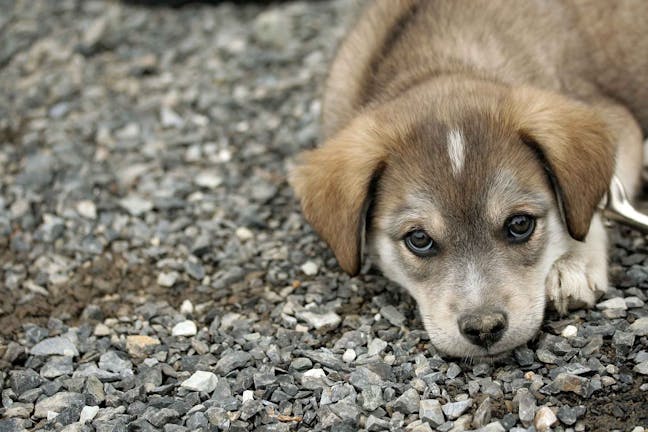 Introduction
The Jones family live in a small townhouse, with an equally small backyard. Their 2 and 4-year old children love to run barefoot on the little patch of grass in their yard. Unfortunately, that is also where their Cocker Spaniel, Muffin, does her business, and the lawn has become brown and patchy, due to being burned by dog urine. The Jones's do not want their children running barefoot and playing on dog-pee-damaged lawn! 
The Jones's have an idea--to teach Muffin to use a gravel patch for a bathroom they will create in their backyard. The advantage of using gravel is that it allows dog urine to seep through, and prevents having to constantly hose down the bathroom area to clean it, which is necessary for concrete doggy bathrooms. A little bit of work creating the doggy bathroom and training for Muffin is going to be required for the plan to be a success.
Top
Defining Tasks
Creating a gravel doggy bathroom and teaching your dog to pee on the gravel patch is a great idea to prevent unsightly dog urine burns on your lawn. Teaching your dog to pee on gravel can be accomplished by teaching your dog to pee on command, and then applying that command to the gravel potty area, or by teaching your dog to associate bathroom behaviors with a particular area, your gravel potty area. Training your dog to pee on gravel will require supervision and time on your part, to ensure that your dog learns to pee on the gravel area and stop peeing on other surfaces, like grass.  
Top
Getting Started
Create a gravel area for your dog to use as a potty.  Lay down sand or other material that will drain well, and cover it with clean gravel. You should use gravel that is free of dirt, sand and other debris, that would become messy when peed on. When your dog pees on the gravel, urine should drain through the gravel and the sand below into the ground. This will eliminate the need to hose down the area as frequently. It will still be advisable to rinse the gravel bathroom area periodically. You may want to also put a permanent or temporary fence up to help direct your dog to this area and contain them while they are having their bathroom break. For a temporary fence, you can use snow fence or garden fencing.
Top
The Pee on Command Method
Prepare
Choose a command for your dog to pee. Make sure your dog has access to lots of water so he has urine to pass. It's pretty tough to train a dry dog to pee on command!
Go to gravel
Take your dog to go pee, on a leash, to the designated gravel potty area.
Provide command
Provide the 'go pee' command and wait for your dog to pee. This may take quite a while. Ignore your dog while you wait. When he does pee, repeat the verbal command to reinforce the association, especially if a significant time period has lapsed since the original command. When he has finished, say "yes", and give him a treat. If he does not pee, take him back inside.
Repeat to establish
Repeat the process daily for several days. The time between giving the initial command and your dog peeing should decrease. When the behavior is well-established you can try taking your dog off leash. Call your off-leash dog to the gravel area, give the 'go pee' command.
Remove command
Once your dog starts associating the command and the gravel area as his designated potty spot, you can give your dog access to that area and your dog will begin to choose that space to pee on his own. Supervise and provide the 'go pee' command on the gravel area if your dog looks like he is investigating the grassy area to pee in.
The Direct and Reinforce Method
Create gravel bathroom
Create a designated bathroom area for your dog in your yard, with gravel. If your dog already tends to use an area of your yard, and it is convenient, make that area your designated bathroom area, this will contribute to training success.
Take dog to gravel
When you let your dog out to pee, do not let him run around on your lawn. Instead, take your dog to his designated gravel area on a leash, or carry him.
Direct back to gravel
Wait with your dog on leash to keep him in the bathroom area. Or, if off-leash and the dog leaves the area before going pee, redirect him by calling him back or making a loud noise such as clapping to get his attention and redirect him back to his bathroom area.
Reward for using gravel
When your dog pees in his area, reward him with attention and a treat. Then take him to the grass o play or have some free time. If your dog looks like he is going to relieve himself again in the grass, immediately take him back to the gravel potty area.
Practice
Gradually give your dog more space and off-leash training in his gravel bathroom area. Continue to supervise and redirect him as necessary. If your dog has an pees on the grass instead of the gravel, take him inside to end playtime. Do not punish him, he will come to learn that playtime on the grass is a reward for peeing in the gravel area instead of the grass.
The Contain on Gravel Method
Create gravel area with fence
Create a designated gravel bathroom area Put a temporary containment fence around the gravel area using snow fence or garden fence.
Contain dog on gravel
Give your dog lots of fluids 1-2 hours prior to introducing the bathroom area.Let your dog out in the fenced gravel potty area.
Supervise
Supervise and wait until your dog pees on the gravel.
Reward and release
When your dog pees on the gravel, give him a treat and lots of praise. Let him out of the potty area.
Establish and remove containment
Repeat until your dog has come to associate the gravel area with going pee and getting rewarded. You can then remove the fence and continue supervisor and direct your dog, if necessary, to use the gravel potty for peeing.
By Laurie Haggart
Published: 11/09/2017, edited: 01/08/2021
---