How to Train Your Small Dog to Play 'Find the Treat'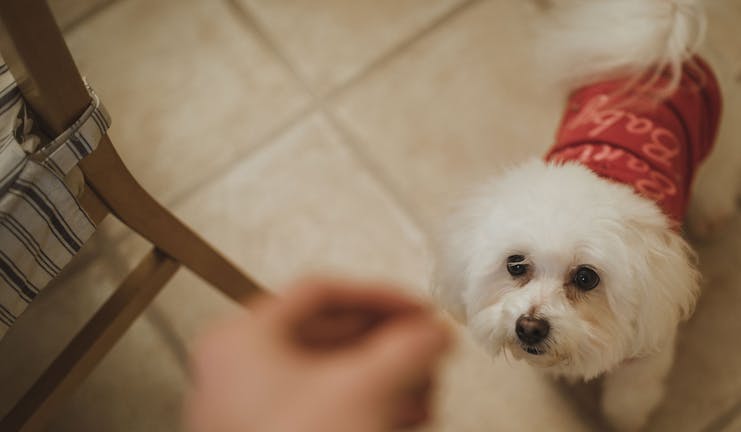 Introduction
Even your small dog has the nose of a treasure hunter. Keep him engaged and exercising by playing games with him whenever you can. Playing games with your small dog builds the bond between you two as well as keeps your little pup motivated to work and play for rewards. Playing brain games with your small dog will also keep him thinking. Playing a 'find the treat' game is fun and enticing with the reward being the search as well as the treat your small dog will find. Playing the 'find the treat' with your small dog is a great way to start the day and a great way to get any energy out before bedtime. You can play together in small areas and increase the search area once your little guy gets the game, understands the rules, and can't wait for the win. 
Top
Defining Tasks
'Find the treat' is a treasure search game to play with your small dog. This game will stimulate his brain and well as his muscles. Keeping your small dog well exercised is important to maintain a healthy weight and keep your little guy guessing. Your small dog has the same incredible sense of smell that large dogs have. Have him use that big nose to search in a fun game to find the treat. You can play 'find the treat' with older dogs or with puppies. The trick to mastering this fun game will be keeping your dog enticed with an incredible reward at the end and offering something worth searching for.
Top
Getting Started
Training your little guy to play 'find the treat' will require some high-value treats worth searching for. You may want to have your small dog on a leash and harness and consider scheduling some distraction-free time to play this game with your dog. Remember: this is supposed to be fun for you both so if it becomes a chore or not rewarding, put an end to it and do something else for a bit.
Top
Show treats
Sit with your little dog and show him a high-value treat. Do not let him have it, just let him sniff it and want it.
Toss the treat
With your small dog watching, toss the treat across the room. Let him see where it lands and allow him to go get it. If he stands there and stares at you, encourage him to go get it. Even if this means you have to walk him over to it. Chances are if it's a high-value treat your little guy wants, he will watch you toss it and go search for it.
Second treat
Show your little dog a second treat once he has earned the first one. Do not let him have this second treat but rather hide it and then show him your empty hands. Be sure to hide it in an easy to find place like underneath your leg.
Find the treat
Give your small dog the command to 'find the treat'. Show some excitement and guide him to where the treat might be hidden. If he finds it right away, increase the challenge a bit with the next step. If he needs some help finding it, help him along a bit.
Practice
Continue to practice hide the treat in various places using the command 'find the treat' to get your little guy to search and find. Make his search more difficult the better he gets at this trick.
The Where's the Treat? Method
Hold a treat
Hold a treat in your hand. Let your small dog sniff it and try to get it out of your hand. Do not let him have it at this point.
Where is the treat?
With the treat hidden in your hand ask your dog with enthusiasm, "Where's the treat?".
Find it
Once you have asked your little guy where the treat is and he sniffs your hand, recognizing that the treat is in your hand, open your hand and give him the treat. He has found it, and he deserves a reward.
Hide it
Once your dog can find the treat in your hand a few times, hide it in an obvious place, such as in your lap, and ask your little dog, "Where's the treat?".
Found it
If your small dog has no troubles finding the treat in your lap, repeat this step again, making it more difficult for him to find. If he needs a little help finding the treat in your lap, guide him to it, asking questions like "where is the treat/".
A tougher hide
Once your little guy can find the treat several times in your hand and in your lap, move your hiding spots to something not as obvious. Make your dog look for the treat, and ask him after you have hidden it, "Where is the treat?".
Keep playing
Keep practicing 'find the treat' by hiding it in different places and asking the same question over and over until your little guy finds it. His reward for this game is always the treat that he finds.
New command
Begin to train your small dog the command 'find it'. To do this you are going to encourage him to use his strong natural sense of smell to find treats you have hidden.
Hide treats
Hide several treats in fairly obvious locations within a small area. You can do this in your backyard or even your living room. Make sure for the first few rounds they are pretty easy to find and your dog can get to them without much of a search.
Sniff
Show your dog a treat of the same sort you have already hidden and let him sniff.
Find the treat
Holding the treat over your dog's nose, say the command "find the treat" and toss the treat close to one you have hidden.
Search
Your small dog should go on a treat search. He should quickly find the one that you tossed but his nose should also pick up others you have hidden nearby.
Find it
Once you have noticed your small dog eating the treat you tossed, give enthusiastic praise and ask him to find the other treats. Turn this into a command such as 'find it' or 'find the treat.' Walk around near the treats you know you hid and encourage him to 'find the treat'.
Practice
Once your dog has done this a few times after searching for a treat he watches you toss, hide treats and ask him to find them without tossing one to draw attention to the ones you've already hidden. You should be able to stand near the hidden treats and just say "find the treat", expecting your small dog to go on a search and hunt for the treats you hid.
By Stephanie Plummer
Published: 01/18/2018, edited: 01/08/2021
---