How to Train Your Dog to Play Quietly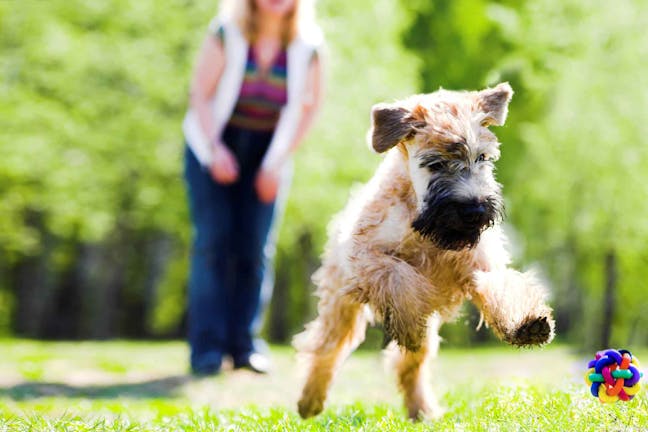 Introduction
We all love our four-legged best friends, however, with busy lives, where we need time to be able to relax and wind down after a hard day of work, it's good to train them to be on their best behavior. An example of this is teaching your pooch to play quietly. This will help stop all of those post-work headaches and allow you to enjoy some much-deserved relaxation time. Or maybe you have an important assignment or meeting that you need to do for work the next day and can't concentrate because your pupper keeps on barking--this is another situation where teaching your pup to enjoy his toys but quietly is important. After all, you don't want to discourage play, as play is important for his well being and means that he'll be more stimulated and hassle you less. However, getting him to turn down the volume can be a huge improvement.

Top
Defining Tasks
Not only can your pet playing noisily be inconvenient for you when you want a break from constant noise or have to concentrate hard on something, it can have a real negative impact on your bond with each other. For example, if your pet is so noisy that it causes a neighbor to complain, you could be put in a situation where you landlord wants your four-legged best friend to go. Make sure this doesn't happen by teaching him to play quietly from the start. This trick will be easier to teach to younger dogs, as they'll be less set in their ways, however, it should still be possible to also teach older dogs and rescue dogs. It just may take a bit more persistence and determination. This trick will rely on conditioning and repetition and so can be fairly difficult to teach depending on your pooch, though most pups should have picked it up after a few months, with regular practice.

Top
Getting Started
Grab a bag of your dog's favorite treats or make your own especially delicious treats, such as boiled chicken, sausage or cheese, all cut into dog-sized bites to ensure they're palatable and safe to give. In order to get your pup used to the idea of playing quietly, you'll both want to go about your normal business, and so this trick should be learned in an environment where your pup usually plays. Feel free to also grab your clicker, if you're clicker training your pet. Remember how to use the clicker correctly, using it to immediately indicate a good behavior. A clicker isn't necessary, however, and a bag of treats will do if that's the way you'd like to train your pup.
Top
Play normally
Play as you usually would with your pup.
Bark and treat
As soon as he barks, quickly give him a treat or click and treat if you're using that clicker.
Repeat
Keep repeating step above, watching for the thing that makes him bark right away.
'What's that?' command
Now you know what's making him bark, put a fun command to it, in an encouraging tone of voice, such as "what's that?".
'Easy' does it
Now that your pooch knows to bark at your cue of "what's that" instead of your stimulus, you're a step closer to quieter play. Now it's time to get him to be quiet by saying "easy".
Saying "easy"
When you give him the command and he's quiet, give him a treat.
Keep conditioning
Keep doing this until he understands that "easy" means quiet, just as "what's that" means bark.
Remember to play in between
Keep playing with your pooch in between these commands, as you don't want him to stop playing altogether, you just want him to do it quietly and to only bark when you tell him, not of his own accord.
Alternate
Alternate between 'what's that' and 'easy', so that he knows his entire noise making is now under your control. Always reward with treats and praise when he gets it right, until after a couple of months he's conditioned to do it without.
The Remove the Toys Method
Designate a play time
Only make toys accessible at certain times of the day when you can supervise your pup--dogs are creatures of routine.
If he's noisy
Tell him 'no' in an assertive, but not threatening voice and take his toys away.
Keep repeating this step
You'll need to repeat this countless times so that he knows it's the moment he barks that he gets his toys taken away.
Be vigilant
You'll need to make sure that the toys are taken away at the exact moment he barks, as your pup needs to understand this is the reason why they're being taken away, so keep an ear out.
Reward quiet play
Once your pup realizes that it's his bark that's ruining his play time and he plays quietly, make sure you give him a treat at the end of the play session, so that he knows he's been a good boy.
Be careful
Dogs can become possessive over toys. If your dog shows any aggression towards you when you take the toys away from him, he could have a behavioral problem and therefore should be taken to see an expert.
The Crate Training Method
Wait for him to make a noise
When he starts to bark while playing, let him know that it's not ok by putting him in his crate.
Ignore him until he's quiet
Make sure he stays in his crate until he's quiet, only let him out when he's being good.
Give him another chance
Let him play again, if he's bad and starts barking and making a lot of noise, make sure it's straight back in the crate.
Repeat until he gets it
Keep repeating this method, until he understands that when he makes a noise it'll be time to go in the crate.
Reward quiet behavior
Each time he plays quietly and therefore doesn't have to go in the crate, give him a tasty treat and tell him he's a good boy.
By Catherine Lee-Smith
Published: 11/22/2017, edited: 01/08/2021
---