How to Train Your Dog to Play Tag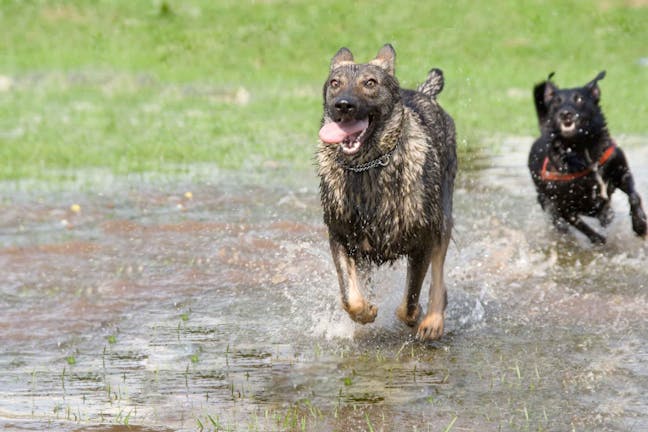 Introduction
Playing games is one of the best ways to interact with your dog. Games like fetch, tug-of-war, jumping rope, and tag are a great way for your dog to get the exercise he needs, which in turn helps keep his heart healthy and keep him calm the rest of the day. Like most tricks, this one will take a little while for your pup to get the hang of it. You can teach this trick to any dog who has learned the basic commands such as sit, stay, come, and so forth. However, with pups under one year of age, you should not involve jumping in any training as this can damage developing bones.
Once you have taught your dog to play tag, you can get the entire family involved. The more people your pup has to play with, the happier he is likely to be. What a great way to tire out an overactive pup so you can enjoy a relaxing evening without him going nuts around the house. 
Top
Defining Tasks
This game is a little different from the one you used to play when you were kids. In this game one kid is "it" and has to tag one of the other kids playing, it didn't matter who. In this version of tag, you will be training your pup to find the person whose name is called out. Not only is this a great game for your pup to play, it will also help to reinforce the recall on command training.
While this game is generally intended to be one for outside time, you can play a similar game inside with everyone hanging out in different parts of the house. In some ways, this is similar to playing hide and seek in the house but without anyone needing to hide. Just remember, the more time you spend playing energetic games, the calmer and relaxed he will become. 
Top
Getting Started
This game is an extension of basic 'sit', 'come', and 'stay' training, so in reality, the only things you might need are an assistant, a bunch of your dog's favorite treats, and a quiet, spacious place to work on the training. The one thing you will need to come up with is a command to use, you might consider "tag" or "find", adding the other person's name after the command word. For example,  "Tag Johnny" or "Find Susie", be sure to address your pup by name first so he knows you are talking to him.  The rest of the training involves patience and time, be patient while your pup is learning and set aside time for training as often as possible. The rest of it is simply to get out there and have fun together. 
Top
Go outside
Go outside with one assistant, some treats, and, of course, your furry friend. Try to pick a time of day when it is quiet to reduce distractions.
Separate out
Give your assistant a handful of treats and have him step back about 15 to 20 feet.
Start with sit
Make your dog sit, and make sure he knows where your assistant is standing.
Tell your dog to go tag
Call your dog's name and tell him to go "tag" your assistant. Have your assistant call out his name. If your pup goes directly to him, make sure he gets a treat and lots of praise.
Tag back time
Now it's your turn. Have your assistant call your pup by name and tell him to go "tag" you. Call him back, when he comes directly to you, give him a treat and lots of praise.
Repeat
Repeat this process until he will "tag" each of you. Then try adding extra people into the game.
Grab treats
Grab a handful of your pup's favorite treats and go outside. Have your pup sit and stay.
Turn around
Turn your back on your pup so that you can't see him, but he can see you.
Take off
Take off running from your pup at full tilt.
Stop and turn
When you are a few feet away from him, stop, turn, and face your pup.
Call 'come'
Call out his name and give the command "come".
Moving on
After a couple of weeks training him like this, you can try telling him to come at the same moment you start running away. You can then add in others so that he will chase whoever call out his name.
Gather round
Gather a several people your pup is familiar with and hand them each a handful of puppy treats.
Spread out
Spread everyone out in a circle with your pup in the middle.
One person
Have one person call out your pup's name and show him the treat, while saying "come!".
Repeat this
Repeat this process several times using the same person until you feel your pup has a good idea of what you want him to do.
Change players
Now try this with another person in the circle, but this time have one person tell your pup to "go to Jim".
Carry on
Carry on with this process until your pup is happily running back and forth between all of the players. Be sure everyone gives him plenty of treats at first and then slowly cuts down on them until he will do it without them.
By PB Getz
Published: 10/23/2017, edited: 01/08/2021
---