How to Train Your Dog to Play the Piano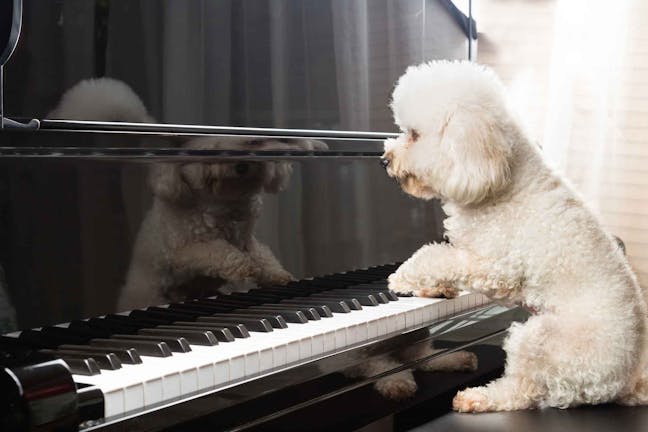 Introduction
Want your mutt to be a Mozart? 
Can you teach your dog to play the piano? Sure, why not? Most dogs can learn to press piano or keyboard keys to make noise, and will happily do so for a reward! You can use this fun trick to entertain your friends and family. Just don't expect too much in the way of actual musical talent. Your dog probably isn't much of a virtuoso! Still, you and your pup can have lots of fun with this trick. Just remember it is supposed to be fun,  if he doesn't get it right away, don't punish him, it's not like he is going to lose his place at Juilliard!
Top
Defining Tasks
You can train your dog to press keys on a keyboard to make sound. You will need to make sure your dog is comfortable performing this trick and is not frightened or nervous of the sounds, which may take some acclimatizing and positive reinforcement. You can use a toy piano that is close to the ground so your dog can reach it, put a keyboard on the ground, or teach your dog to jump up on a piano stool to play a regular piano. Using a regular piano will involve teaching your dog to reach the keyboard, as well as play it. You can teach a young dog to play piano, but very young puppies may not have much of an attention span, and you may be best to wait until your young dog can focus on learning this trick so that it is fun for your dog and not frustrating. You don't want him to be like a kid that's forced to practice the piano!  Remember this is a fun trick, and training should be fun and not involve negative consequences or punishment.
Top
Getting Started
To teach your dog to play the piano, you will need, a keyboard, treats, and a clicker, if using a clicker to help capture and shape behavior.  If using the clicker method, previous experience will make this method quicker for your dog.  If your dog is not familiar with a clicker, some training doing simple tricks with the clicker, to establish the method can be helpful so your dog knows that when the clicker is out he needs to figure out what he needs to do to get that click and earn a reward.  Teaching your dog the paws up trick on a piece of furniture or a short stool prior to using it to help teach a dog to use a piano stool and piano will make training to play the piano smoother.
Top
Set up
Put a keyboard or toy piano on the floor, have clicker and treats ready.
Shape touch piano
When your dog approaches the keyboard, click and treat. When your dog sniffs the keyboard, click and treat.
Increase touch interaction
When your dog noses, paws, or touches the keyboard, click and treat.
Reinforce depress key
Wait for dog to put pressure on keys, click and treat. If this does not happen spontaneously, put treats on the keys to encourage. Practice until well established.
Add keys
Withhold the treat when your dog presses only one key. When your dog repeats or pushes another key to get his treat, click and treat. Gradually increase the number of depressions required to get a click, and treat until your dog is pressing several keys at a time to get his reward.
The Lure and Reward Method
Lure to keyboard
Put treats on the piano keyboard. Let your dog retrieve them.
Make piano noise
Sit at the keyboard, play a note with a treat in your hand and your dog next to you, provide the treat.
Lure for pressure
Put your hand on a key, with a treat closed in your fist. When your dog puts his paw or nose on your hand or the keyboard, provide a treat.
Add verbal command
Add a verbal cue like "Play the piano" encourage pawing the keyboard to depress keys.
Practice
When your dog depresses keys, repeat the command and reward. Repeat the command and encourage your dog to play different keys, move your hand to different locations on the keyboard with a treat to lure him to depress those keys. Provide command to play the piano, reinforce with rewards.
Paws up on stool
Teach the 'paws up' command on the piano stool, use treats to reward.
Jump on stool
Teach your dog to jump up on the piano stool, use treats to reward.
Paws up on closed keyboard
Teach your dog to put paws up on the piano, with the keyboard cover down, or electronic keyboard turned off, so the noise does not startle your dog. Reward.
Introduce sound
Remove keyboard cover, play some sound with your dog sitting next to you. Reward your dog for sitting and being interested in the keyboard, so that your dog is used to the sound.
Paws up on keyboard
Ask your dog for 'paws up' on the keyboard, reward.
Add 'play piano' command
Associate a verbal command like 'play the piano' then give 'paws up' command.
Practice
Gradually remove the 'paws up' command, and just say "play the piano". Continue to reinforce and treat.
By Laurie Haggart
Published: 11/02/2017, edited: 01/08/2021
---