How to Train Your Dog to Play With Water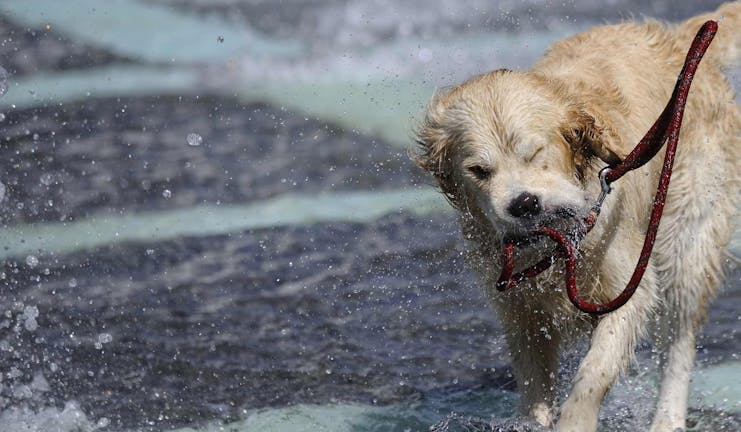 Introduction
You love taking him out for walks. He charges through fields, leaping through grass and giving chase to any birds he meets on the way. He's full of energy, he's playful, and he's usually pretty brave. However, get to the edge of a pond and your dog goes rigid. Something about the water terrifies him, which is a great shame. Where you live there are numerous lakes and ponds that are perfect for doggie dipping. Not to mention you live near the coast, so you frequently take him to walk along the beach.
Training him to play with water will show him a world of fun. You want to see him plunging into the water in search of the ball you've just thrown for him. There's also the fact that swimming is fantastic exercise for dogs. It helps keep muscles lean and strong, hopefully staving off illnesses and problems later on in life.
Top
Defining Tasks
Training a dog to play with water can be straightforward, but if they are scared of the blue, then it can also be pretty challenging. Your main task is to slowly build up his confidence. To do that, you may have to show him how it's done (that's right, don't think you can avoid getting wet). You'll also need to find the right incentive. Food will send most dogs weak at the knees. So, if you can incorporate some tasty treats into training you'll soon find he's diving in head first.
If he's a puppy, he should be eager to please and energetic. This means you could see results in just a few days. If he's older and more cautious than he was in his youth, then you may need a while longer. You may need a couple of weeks to get him playing around. Succeed and you'll have a fantastic way to tire him out, so he spends his evenings napping peacefully.
Top
Getting Started
Before you set to work you'll need a few bits. Break his favorite food into small pieces, or stock up on some treats. You'll also need a couple of toys that can get wet. A tennis ball is often a good choice.
You'll need to set aside 15 minutes every other day for training. Of course, you will also need access to water. You can start with a bath and then work your way up to pools, ponds, lakes and finally, the sea. 
The only other things you'll need are a bathing suit, patience, and an optimistic attitude. Once you have all that, work can begin!
Top
Play time
Spend a few minutes every other day getting him excited by a toy. Play tug of war, fetch and really get him worked up by the sight of it. You're going to use this to tempt him into the water.
Bath time
Take him up to the bath. Don't put him in it, you don't want to scare him. Instead, kneel next to it and take out his favorite toy. You want to encourage him to grab a hold of the toy. As you do this, you can splash him a little to get him used to the water.
Encouragement
Talk in animated voice, point and get worked up. If he sees you are relaxed and happy, this will put him at ease. So, keep encouraging him until he gradually plays in the water more and more. Just play outside the bath for the first couple of times.
Submerge
Once he seems relatively relaxed around the bath and interested in playing with his toy, you can put him in the actual bath. Do this carefully and gently. If he looks too scared then wait a few more days. Once he is in, continue to play with him as before. The more animated you are, the more playful he will be.
Reward
Make sure you give him a reward once he is in the water. Then give him regular rewards after that. The food will make him associate the water with good things. Repeat this several times a week, then repeat the process at a local pond or lake.
The Lead By Example Method
Bathing suit
Put on your bathing suit and head for either the bath or a local pond. Dogs look to their owners for guidance, so if he sees you in there, he'll be much more likely to join. Take him with you and make sure you have some treats handy.
In you get
Get into the water. As you go, make sure you stay upbeat and talking to him. Really show him how much fun you are having. This will all help relax him and make him more inclined to join you.
Treat temptation
Once you are in you can hold up a treat to lure him in. Call his name and encourage him to come and get it. To start with, give him the treat as soon as he comes close to the water. You want to encourage any promising signs early on.
Deeper
After a couple of sessions you need to lure him in deeper. By this point he should be relatively relaxed and you'll be able to lure him in with a treat from farther away. Once he jumps in, make sure you are there to support him and help him if needs be.
Cut out the treats
Continue to practice regularly. Have fun, mess around with toys and always keep him full on treats. Before you know it he'll love being in the water and you'll no longer need the food incentive. At this point you can slowly phase out the treats.
Fetch
Every day, take him outside and play fetch for a few minutes. Use the same toy, such as a tennis ball. Get him really worked up and always give him a treat when he brings the ball back. You're going to use this game to get him playing in the water.
First step
Now head to a pool or shallow pond. Throw the ball on the first step or in the shallow part of the pond. He'll probably run after it and then come to a stop by the water. Encourage him to go and get it. Point and talk in a high-pitched voice. Eventually he'll head in, just be patient.
Reward
As soon as he brings the ball back give him a big treat. The better the treat the more likely he'll be to go in there again. Really show him how happy you are with him.
Deeper
Over the next few days throw the ball deeper and deeper. The trick is to build up his confidence gradually. He will soon realize on his own that he is safe in there and actually having a great time. So, keep up the praise and rewards.
Mix it up
Once he's confident in that pool or pond, it's time to make sure he's relaxed in other places too. Take him to other ponds, lakes, or even the sea and then start playing the game. He may need encouragement to start with, but he'll soon be fully confident playing in the water.
By James Barra
Published: 01/04/2018, edited: 01/08/2021
---