How to Train Your Older Dog to Poop in One Place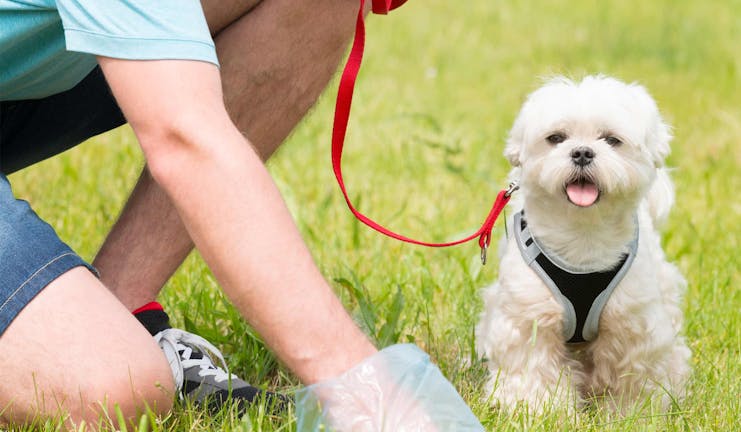 Introduction
Maybe you have rescued or adopted an older dog, and you need to train him to use one spot in your yard to poop and only that one spot. Or maybe after years of living in a different home, you have moved into a new home and have decided you want all the dog poop in your yard to be in one place. Picking up poop in one small area and saving the rest of your yard for poop-free running and playing is a great goal to have. You might be retraining a dog you've been picking up after for years, or you may be training a rescue dog who is getting used to his new home anyway. Either way, If you have an older dog, you're going to have to train him to recognize the area where you would like him to poop every time he needs to go. Training older dogs is not difficult but will require some commitment from you both and lots of repetition and love.
Top
Defining Tasks
Training your older dog to poop in one place will require you to first decide where you would like his special spot to be and introduce him to that spot and only that spot during potty time. This might also mean making your older dog hold it for a little while so when he has to go, he goes rather quickly instead of searching for the perfect spot across your yard. Consider the first several times taking your older dog to his spot on a leash to better control where he goes throughout your yard. As he gets used to the special spot, he can eventually go without the leash. You will need to do things like keep the area clean, especially if this is a smaller area than your dog may be used to, but consider keeping one pile around for a physical reminder and sense for your dog to remember where his special spot is.
Top
Getting Started
To start training your older dog to poop in one spot, you will need a leash and an area reserved in your yard for your dog's poop. And lots of treats. Be prepared the first several times to walk with your dog to his special place, reminding him of the new rules and where to go. Every time you go out with your older dog to teach him or remind him of his special pooping spot, take some extra treats with you so you can reward him for remembering on his own or just for pooping in the right place once he's successful.
Top
The Repetitive Scent Method
Clean yard
Clean all areas of your yard and give your grass a good soaking it with a hose before you take your dog out to introduce him to his new designated pooping spot.
Special place
Choose a special spot for your dog to poop all the time. Be sure this spot is one you are happy with time and time again and avoid changing the spot and causing confusion for your older dog.
Walk to It
Take your dog on a walk to his special spot. You can choose to do this on a leash or off leash. If your older dog is eager and energetic and wants to walk away from you, consider putting him on a leash. If your older dog stays with you, walk around his designated spot and talk about going potty. If he knows key phrases such as "go potty", begin to use those here.
Practice and redirect
Stay outside with your dog and encourage him to go potty in that spot. If your dog begins to walk away from you to explore other areas, redirect him and call him back. Continue to use keywords to get him to connect those commands with the action of using the potty in his designated area.
Pooping
When your older dog does poop in his designated spot, give him a treat immediately and celebrate with excitement.
Scent
Keep his first pile of poop in this designated area and keep the rest of the yard clean. When your dog needs to go potty or after meals or upon waking , walk with him to this special area and let him sniff around until he finds his previous scent and has the urge to poop again.
Keep it clean
Other than the potential of keeping one pile of poop there to mark the scent of the space, be sure to keep this area clean. Your older dog is not going to want to step in poop in his special area before going. If the area is not kept fairly clean he will choose to go somewhere else.
Practice
Keep practicing taking your dog to the special spot over and over until he gets, with repetition, this is his spot to go potty. Once he is going on a consistent basis on his own you can keep the area clean and remove the one pile of poop you have been keeping in place to mark the spot.
Rewards
Be sure to reward your older dog every single time he uses his designated pooping spot. This will remind him if he needs to go there and there only. Do not reward if he needs to be redirected.
Choose
Choose the perfect pooping spot for your dog. You may want to pick a special spot with some physical markings such as a tree for your dog to easily remember this area. Also, this spot should also be different from the comfortable shady places where your dog likes to nap in the afternoon. Be sure to consider how you use your yard and its space and pick a spot you don't use often.
After meals
Wait about 10 minutes after your older dog has eaten a meal. He is more likely to need to go potty during this time. If he heads to the door or shows you he needs to go outside before the 10 minutes is up, certainly head out before then, but don't head out too soon because he might think he's outside to play or sniff around
Leash
Attach a leash to your older dog and walk him directly to his special pooping spot.
Control
Be sure to utilize the leash to control where your dog goes. Keep the leash tight enough that he can't leave your designated spot to sneak off somewhere else to poop.
Key phrases
Stand very still with a tight leash while your dog explores his boundaries. While you are waiting for your dog, use some key phrases he might be used to such as "you need to go potty" or "let's go potty."
Poop
Once your older dog poops in this spot, make a big deal out of it. Be his cheerleader and congratulate him with lots of enthusiasm, excitement and verbal praise. Walk away from this designated area and give him a treat. This will remind him that he's done a good job by staying in his special spot.
Repeat
Repeat this several times with your older dog, taking him out on the leash to the same spot over and over again and rewarding him for pooping and one spot every time he is successful.
Practice
Eventually, your dog should head in that direction when he needs to, even though he's leashed. Continue to escort him until you can trust he's going to go to his designated pooping spot on his own.
Redirect
Keep a close eye on your older dog as he is training to poop in his designated area, especially as he begins to go to his spot unescorted. If you watch him leave this area to go poop in another area, get his attention by clapping your hands or say his name to redirect him back to the spot where you would like him to go. This might mean going back to practice more before he's able to go on his own.
Boundary
Create a temporary boundary with a doorway so your dog can easily get in and out of this area but there is a visual separation from the rest of the space – the space you do not want your dog to poop in.
Potty time
Wait until a time when your dog usually poops to introduce the area. This could be about ten minutes after a meal or upon waking for the day. Take him across the area you'd like to keep free of poop and into the fenced off area.
Poop
Leave your dog alone for a bit but do not let him out of the fenced off area. If he's left alone during a time he has to poop, he should begin to sniff and poop. This will work especially well if this area is a natural area for him to poop, such as the yard where he's always pooped, but one special spot.
Treat
Once he poops, give him a treat.
Clean
Keep the area every time he poops so he'll keep coming back. If you leave poop in the fenced off area, he'll likely go elsewhere.
Repeat
Keep practicing using this spot for pooping. At some point, you should be able to let your dog out on his own to go. Once he's going into the area on his own to poop often, you can remove the temporary fence. He may need your reminders to use that area by walking with him once the fence is down, but he should be conditioned to use that spot each time.
By Stephanie Plummer
Published: 01/10/2018, edited: 01/08/2021
---