How to Train Your Dog to Poop on Concrete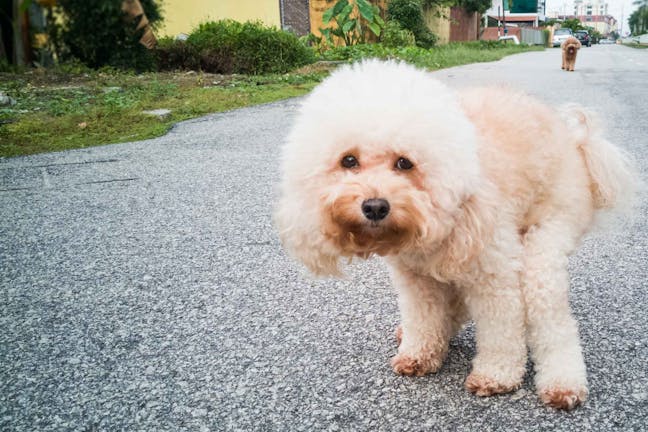 Introduction
You come downstairs on a Saturday morning and step into the yard. You take two strides, hit the grass and then realize you've planted your foot in a pile of unpleasant dog stool. While not being the best start to the day, you could live with it if it wasn't such a regular occurrence. I mean it's downright funny when it happens to your partner, but for the sake of your more precious footwear, it has to stop.
If you could only train him to poop in one particular spot, like the concrete at the side of the yard then you'd avoid getting yourself into these sticky situations. It's also quick and easy to scoop it off concrete as opposed to the grass. So today, the toilet routine changes!
Top
Defining Tasks
How difficult it will be to train your dog to poop on concrete will depend on a number of factors. Firstly, how old is he? If he's a puppy then breaking his current toilet habit could take just a week or two. If he's older and been free to poop wherever for many years, then it may take several weeks to reinforce a new habit. The training itself though is relatively straightforward. It consists mainly of ensuring he's always on the concrete when he needs to go, so significant time and patience are needed. 
Get this training right and your yard will no longer be a risky assault course to make your way through. Clearing up your dog's mess will be a simple scoop off the concrete job. This training may also make it easier to train him to do a range of other things too, from 'wait' to 'bed'.
Top
Getting Started
The first thing you're going to need is poo bags, and lots of them! You'll also need treats or his favorite food to reward him for using his new toilet. For one of the methods, some portable grass or astroturf will be needed.
The other main thing you'll need is time. This training isn't a 5-minute job, you need to make sure you can dedicate 10 minutes, twice a day to your new training regime.
Once you've got all of that, you just need an optimistic attitude and you're ready to get to work!
Top
The Grass Transition Method
Concrete and grass
Place a substantial amount of portable grass or astroturf on the section of concrete you'd like him to go to the toilet on. If he's used to only going on grass, then he'll need a slow transition to his new toilet spot.
Take him to his new spot
At the times you know he's likely to need a number two, take him to the new location. This is likely to be after meals. You may want to walk him on a leash for the first few times to ensure he has to go there.
Encouragement
Each time he does go about his business on the concrete/grass spot, give him a treat and lots of verbal praise. It's important he associates that new spot with tasty treats.
Slowly remove the grass
After a few successful days, start to remove the grass. This needs to be done gradually. Ensure it's at least a week or two before the grass is totally gone.
Stop the treats
Once he's comfortable going on the concrete, you can stop giving him treats and praise each time he goes. At this point it will be habit and no reward will be required.
The Persistence is Key Method
Monitor his toilet behavior
Spend a couple of days identifying when he goes for a poop. Is it early in the morning or just before bed? Is it 15-20 minutes after a meal?
Be concrete ready
Now you know when he's likely to go, walk him to the concrete each time you think a stool is fast approaching. If he's always there when he needs to go, then he'll have no choice but to go and a habit will quickly form.
Reward
To start with you need to reinforce each stool with treats or praise. The better the reward the more eager he'll be to repeat the behavior.
Encourage if he's struggling
If he's not feeling inclined to poop in his new spot, place some feces from the day before there. If it smells like he's used it as a toilet before, he'll be more likely to use it.
Cut down on treats
Continue with the above steps for at least a couple of weeks. When he's finally into the swing of it, you can stop giving him treats and enjoy your poop-free grass!
The Positive Reinforcement Method
Set up
It's important you make the concrete toilet appealing. You can wipe old feces there or put some interesting smells on it. All of this will make him more inclined to go to the toilet there and mark his territory.
Leash him each time he needs to go
When you think he needs to go, head over to the concrete with him on a leash.
Divert from the grass
If he tries to go on the grass, steer him back towards the concrete. It's important you keep it light hearted and playful. If he's scared he won't want to go to the toilet at all.
Don't put pressure on him
If you stare at him and push him to go then you may be disappointed. Dogs don't like to perform with eager audiences and the pressure may have the opposite effect you want. Instead give him time and as much privacy as you can.
Consistency and rewards
Take him to the concrete each time he needs to go. If he gets to go on grass just once, then it could be a major step backwards. You must be consistent until it is fully ingrained into his behavior. When he does go, give him a tasty treat and show him you're happy to reinforce the habit.
By James Barra
Published: 10/18/2017, edited: 01/08/2021
---