How to Potty Train a Chihuahua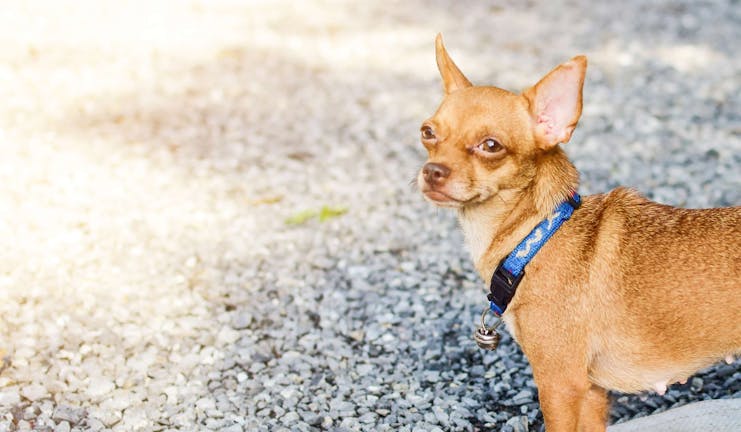 Introduction
For anyone who has ever owned a Chihuahua, it can be very frustrating to know that they are notoriously difficult to housetrain. This breed has a knack for finding the worst places to use the bathroom in your home and it can be tempting to leave them outside indefinitely. However, Chihuahuas are very much lap dogs and thrive indoors with their family. So what is the solution for a dog who refuses to take his business outdoors? In winter especially, Chihuahuas can hesitate to go out and relieve themselves due to the cold weather. They are sensitive and particular and require a persistent and patient owner to overcome their stubborn attitudes and teach them the appropriate ways to do things.

Chihuahuas can learn just as well as any other dog, but may require some extra practice and a stern - but not angry - voice when getting involved in obedience training. This includes potty training. If you're not yet resigned to having your Chihuahua go wherever he pleases, then it may be time to set a schedule for training.
Top
Defining Tasks
Depending on where you live, whether in a house in the suburbs or an apartment in the city, every dog needs an appropriate bathroom routine. Puppies can start potty training once they are eight weeks old and the earlier a routine is established, the better. Chihuahuas will need to especially be monitored, as they are small and vulnerable when outdoors, but can still learn and adjust to a schedule like any other breed of dog.

A positive reinforcement approach works best on Chihuahuas, as they don't respond well to negative reinforcement. Rubbing their nose into the carpet or shouting will likely not solve your bathroom woes, but a reward in the form of a treat or a toy for good bathroom habits will likely yield much better results. This technique does not only apply to potty training, but for obedience training in general. For an older Chihuahua who may already have established habits, you'll want to double the reward and make it that much more interesting and enticing. With the right reinforcement, even the most stubborn of this small breed can learn to do things your way.
Top
Getting Started
Depending on the weather in your area, you may want to invest in a sweater or other warm covering for your Chihuahua. The warmer they are when they're outside, the less likely it will be that they'll default to using the bathroom inside.

Take your Chihuahua to the vet if you haven't already to rule out any incontinence or health problems that could be contributing to his bathroom habits. If he receives a clean bill of health, then you can continue to work on training. Determine what motivates your dog the most, whether it's toys or treats, and gather enough of those to offer rewards whenever possible to do so. Good rewards will encourage better behavior.
Top
Find the right size of crate
A crate must be large enough for your dog to stand up and turn around in comfortably. A comfortable and properly-sized crate will be most effective in training your Chihuahua to use the bathroom at appropriate times.
Make the crate suitable
A crate should have adequate bedding and something to keep your dog occupied such as a chew or another toy.
Use the crate when you are unavailable
The crate should be where your Chihuahua sleeps or rests when you cannot be around to monitor him. Dogs do not typically like to use the bathroom where they sleep, so using a crate will make it much less likely that your Chihuahua will use the bathroom indoors.
Let your dog out often
Your dog should be let outside to use the bathroom frequently. When you first begin crate training, it should be at least every hour. You can increase the time spent between bathroom breaks as you go.
Reward for bathroom breaks outside
Every time you let your Chihuahua out to use the bathroom, reward him for a successful bathroom break, regardless of how much time he spends relieving himself. The reward must come immediately afterwards to encourage using the bathroom outside.
Set an area for the puppy pad
To have your dog successfully use a puppy pad instead of your carpet or floor, the area where the puppy pad is should be consistent. Moving it around may confuse your Chihuahua.
Adjust your dog to the pad
Place treats near the pad to encourage your Chihuahua to sniff around and investigate the pad. Reward her for standing on it.
Reward bathroom breaks
If you notice your dog about to use the bathroom, take her to the pad and reward for relieving herself on it. Make rewards tasty or exciting. Bathroom time should be rewarded if done in the appropriate place.
Change the pad often
Puppy pads can get saturated quickly and smell unpleasant. Changing the pad out at least once or twice a day is important to make sure your Chihuahua's paws and your home stay clean.
Move the pad outside if necessary
If you'd like to transition to your Chihuahua using the bathroom outside, move the pad away from its area bit by bit every day until you're eventually placing the pad outside. Make sure it's accessible, no matter where it is, and once it's outside, take your dog out frequently. As usual, reward your Chihuahua for using the pad, no matter where it is.
Write down a schedule
Sit down with the rest of your housemates, if you share a home, and determine your schedule on a daily basis and when you are able to let your Chihuahua outside to use the bathroom.
Start early, end late
Puppies especially need to use the bathroom very early in the morning and late at night in between their night time sleep. Some elder dogs may also have to use the bathroom at these times. Make it a habit to let your dog outside to use the bathroom when you wake up and before bedtime.
Supervise outside time
With rewards in hand, be prepared to go outside with your dog every time you let him out. Any time he relieves himself outdoors, reward him generously.
Go overnight, if necessary
Puppies may need a few bathroom breaks each night, as they find it harder to sleep through the night undisturbed. Adult dogs tend to not have this issue as much, so it will take some evaluation to determine whether your dog can sleep through the night or not.
Be consistent
If there must be a change in the schedule at the last minute, try to find someone who can come and let your Chihuahua out for you. If all else fails, confine your dog to one area of the house where an accident can be easy to clean later such as the kitchen or a laundry room. Otherwise, try to maintain your schedule on a daily basis to be sure your dog is on the same page.
By TJ Trevino
Published: 01/23/2018, edited: 01/08/2021
---