How to Train Your Dog to Protect Your Yard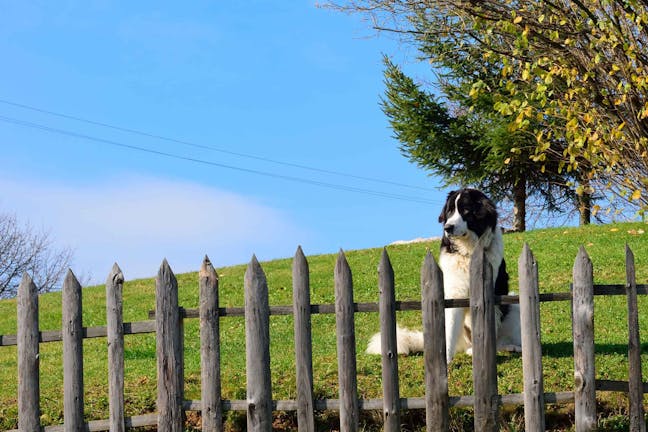 Introduction
Most of us assume, and in some cases rightly so, that our four-legged furry friend will naturally want to protect our home and property. However, there are those dogs who believe that having a stranger come into the yard is more a reason to become excited and happy rather than to defend it. It may take some training to have your dog understand and defend the territory of your yard.
Worth noting here is that you are training your dog to protect your yard and scare away strangers, not to be aggressive and attack them. If your dog attacks and bites someone, you could find yourself being held liable in a civil court. What you are doing is training your pup to act in an aggressive manner by barking. Not only should this scare the intruder away, but it will alert you to their presence. 
Top
Defining Tasks
The task in and of itself is pretty simple: you want your dog to protect your yard and home by barking in an aggressive manner without actually attacking the intruder. Sounds easy enough, doesn't it? After all, your dog barks at strangers anyway, but the trick is to teach him when to bark and when not to. Before you can train your dog to protect your yard, he must first know the basic commands, 'sit', 'stay', 'come' and 'down'. Any age dog can be taught to protect, but the early you start the training, the easier it will go and the faster your pup will learn.
Caution must be exercised during the training to instill a sense of restraint in your pup so that he will defend your property without physically attacking an intruder. The training sessions should take place daily over a period of weeks using different people your pup doesn't know to act as strangers. Be patient and work hard, your pup will soon learn to make the most of his natural instinct to protect. 
Top
Getting Started
You can start training your dog to protect your yard at a young age, but you should wait until he has mastered the basic commands. You may also want to talk to your vet to make sure your pup is physically capable of performing the task. Typically, this means waiting until he is a young adult and his bones and muscles have fully formed. For training purposes, there are a few things you might find come in handy.
Treats: To reward your pup for completing each step.

Leash: A way to restrain your pup during training.

Clicker: A useful training tool.

Friends: You need several friends to help in the training process, be sure they are people your dog does NOT know.

Yard: For obvious reasons!

Patience: Yep, you're going to need a lot of this.

Time: I could take several weeks

The most important thing to remember is that training your dog to protect your yard is going to take time, more with some breeds than with others. Be patient, reward your pup when he gets it right, and never punish him for getting it wrong. This will only confuse and dishearten him, it will not lead to a successful outcome. 
Top
Go for a walk
Hook your pup on his leash and go out in the yard to walk around the perimeter. You should do this at the beginning and end of every training session to help implant the boundaries firmly in his mind.
Socializing time
Time to take your pup out for a nice, long walk, letting him get used to being around people and other dogs. You need to let him meet and interact with as many people as possible. Just make sure to keep your dog out of negative situations. This will help reduce his fear of people and the chances of him biting someone.
Speak, no speak
Have a friend come to the door and ring the bell. Your dog should bark. Watch him closely and reward him for this behavior with a treat and plenty of praise. Now use a command such as 'hush' or 'quiet' to get him to stop barking. When he does, give him more praise and a treat. Repeat this training until your pup will bark at the door and stop barking within a few barks upon command.
Flee intruder, flee
Now that your dog barks at intruders, the next step is to show him that all of his barking worked. Have the "stranger" come to the door and ring the bell. This time when your dog barks, your friend should flee. Open the door with your pup on his leash so that he can see the effect of his barking. Give him a treat.
Defend the yard
Now that your pup will bark to defend your home, its time to go outside with your pup on a leash. Have the same "stranger" come up the fence and rattle it or make some kind of noise. When you pup barks at the stranger and he flees, give him tons of praise and plenty of treats. Repeat using several "strangers" to reinforce the training and in no time your pup will defend your property from all strangers.
Run the boundaries
Start by putting your dog on his leash and walking him around the boundaries of your yard every time he needs to go outside. Do this over a period of several days, this will teach him where his boundaries are and should help instill in him the desire to protect.
A fenced-in yard
Leave your pup alone out in the yard, but keep a close eye on him. Give him time to relax and get used to being out in the yard.
Make some noise
Have a friend that your pup doesn't know come up the fence and start making noise. If your dog smells someone he knows, this part of the training will not work.
Run, run, run away
When your dog goes up to the fence and starts barking, have the friend make a noise like they have been scared by your dog and then loudly run away. Give your pup the 'quiet' command and when he does, give him treats and praise.
Repeat, repeat, repeat
Keep doing this on a daily basis with different people, if possible, to reinforce the training. Before long, your dog will always alert you in the presence of a stranger, keeping you and your family a little bit safer. Be patient, this is going to take a little time and hard work, but the payoff is worth it.
The Sound the Alarm Method
Boundaries first
Take your dog for walks around the perimeter of your yard on his leash several times a day. Each time he attempts to step over the boundary or lunges towards the fence, gently tug on his leash and say "boundary". This will help teach him where his boundaries are.
Speak
Teach your dog to speak by getting him excited to the point where he simply can't help himself and starts barking. Add your 'speak' command to the mix and reward him for speaking. This will help him learn what is expected. Next, using a command word like "hush" or "quiet", train your dog to stop barking on command and give him a treat and praise when he does. Repeat until he will bark and stop on command.
Grab a friend
Have a friend your dog doesn't know come up to your property. When he gets close, give your dog the 'speak' command. Keep repeating this until your dog understands what is expected of him.
That's enough
Once your dog will bark at the approach of a stranger, you need to be able to tell him to 'hush' and have him obey. This part is going to take time, but each time he stops, be sure to praise him and give him a treat.
Keep going
You will need to repeat this training over a period of several weeks, preferably using different people for the training sessions until your pup understands what is expected of him and will do his best to keep strangers out of your yard.
By PB Getz
Published: 11/17/2017, edited: 01/08/2021
---