How to Train Your Dog to Ride in a Purse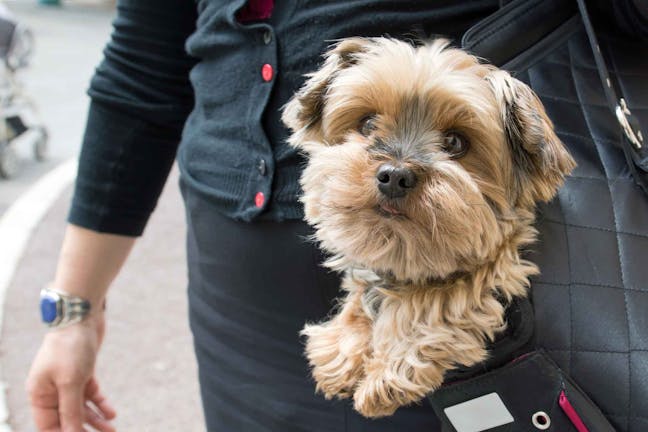 Introduction
Pippy, a yorkshire terrier mix had an owner, Sarah, who worked long hours and lived in a downtown apartment. After work, she liked to go visit friends or her parents in the suburbs, but this required taking the train, as Sarah did not have a car. This meant leaving Pippy home after Sarah had just been at work all day. Sarah felt terrible leaving Pippy home all day, coming home for only a few minutes to take Pippy out, and then leaving her again for the evening. The solution for Sarah and Pippy was a dog-carrying purse that Pippy could ride along in and join her owner on the public transit system to go visit friends and family, or even just to go do a little shopping.  Now Pippy gets to spend time with her owner, and Sarah has the freedom to do what she wants, and not feel guilty leaving her little dog at home!
Top
Defining Tasks
A purse or carrier that allows a small dog to accompany their owners in public can be a great solution so that you do not need to leave your little dog at home by themselves. Your dog gets to spend more time with you, and join you as you conduct your day to day business.  Whether it is shopping, running errands, traveling or visiting, a little dog can learn to sit quietly and comfortably in a specialized purse, designed to carry a dog. Not all dogs, however, are comfortable with getting in a small confined carrier bag, and some training so that your dog becomes comfortable with riding in a dog purse may be required. Teaching your dog to trust you and be calm in different situations, and ensuring they are well socialized, is part of training your dog to ride in a purse. You will also need to get your dog used to being in the purse, jumping in and out of the carrier purse, being confined there, and being picked up and carried around while remaining quiet and calm.
Top
Getting Started
Before teaching your dog to ride in a purse, make sure you have the right type of carrier purse for your size of dog. A purse for your dog to ride in can be purchased commercially from a pet store; it should have ventilation to allow airflow, comfortable padding, and will indicate the correct size for your dog's size and weight on the label. You do not want your dog to be too squished, or be moving about too much so they do not feel secure either. Crate training your dog prior to teaching your dog to ride in a purse is a good first step that allows your dog to associate an enclosed space with safety and comfort. Have treats available to reward and create a positive association with the purse. Using a clicker to reinforce riding in the purse and shaping the behavior can be useful as well. Be sure to be patient and never force your dog into the purse. This may mean taking some time to acclimatize your dog and letting them take the initiative to ride in the purse.
Top
The Acclimatize & Reward Method
Introduce a blanket
Give your dog a small soft blanket to sleep on so that she becomes accustomed to the smell and feel of the blanket. Pet your dog and cuddle with her wrapped in the blanket
Associate purse and blanket
Put the blanket in the carrier, with the carrier wide open, and put on your lap while sitting on a large chair or couch your dog is used to being on.
Have dog in purse on lap
Have the dog climb onto your lap with the purse and blanket. Encourage your dog to step into the open bag and pet and treat your dog while she is in the purse on your lap.
Practice getting in and lifting
Put the purse and blanket on the floor, wide open, encourage your dog to step into the bag, lift up to your lap, and reward with affection, treats and praise. If your dog steps out of the bag, let her leave, but ignore her, do not reward her unless she gets in the bag.
Start closing bag
Once your dog is getting in and out of the bag comfortably, start zipping the bag closed part way for a few minutes at a time. Gradually increase the length of time your dog is in the bag, and zipping the bag up all the way. Give your dog a toy or chew toy to use while zipped in the bag.
Carry around house
Pick up the bag, with your dog zipped in, and carry around the house.
Go outside
Take your dog out in your neighborhood in the closed purse, at a quiet time when there are few noises and distractions. Continue to praise and reward. Keep outdoor trips short at first.
Increase trips
Gradually go on longer trips, to different places, with different sights and sounds until your dog is used to riding in the purse in all sorts of environments.
The Capture & Reinforce Method
Present purse
Hold a treat in your hand and a clicker in the other hand, if your dog has previously been clicker trained they will know something is up and figuring out what you want will get them that treat! Put the purse carrier open on the floor in front of you.
Create positive association
When your dog investigates the purse, click and treat.
Reinforce step in
When your dog steps on the purse with one paw, click and treat.
Reinforce all paws in
When your dog puts 2 paws, then 3, then 4 on the purse, click and treat.
Reinforce stay in
When your dog is stepping in the purse with all 4 feet, ask her to sit, click and treat when she complies.
Reinforce bag closed
Zip the bag part way up with your dog in the purse, click and treat. Zip the purse all the way closed, click and open purse to give your dog a treat.
Start carrying
Give your dog a chew toy and zip up the purse. Carry your dog in the purse around the house, then your yard, then your neighborhood.
Take short trips
Start taking your dog on short trips away from the house, provide a chew toy.
Increase trips
Make trips longer and to various places. Occasional treats and a chew toy will keep your dog happy and reinforce behavior.
Set lure in carrier
Put an open dog purse on the floor, and put a high value treat, like a hot dog or cheese, in the carrier.
Reward in carrier
Let your dog go get the treat from the purse. When your dog steps in to get the treat, praise and give another treat. Repeat so the dog learns that there are great treats in the carrier.
Reward carry in carrier
Continue to treat your dog as you close and lift the carrier with your dog in it. Carry your dog with their head out of the carrier around the house, but so they can not jump out, and provide treats.
Lure in and out
Leave the carrier open around the house, put favorite toys, blankets and chew toys in the carrier so your dog has to frequently go in and out of the carrier to get desired objects.
Start closing purse
Gradually start closing the carrier and carrying your dog around your home for short periods.
Increase duration zipped
Extend the time the dog is zipped in the carrier, and start going outdoors on longer and longer trips. Periodically reward with treats, provide a chew toy while your dog is in the carrier.
Remove rewards
When your dog is comfortable being in the carrier and travelling, you can stop using lures and rewards as frequently.
By Laurie Haggart
Published: 10/27/2017, edited: 01/08/2021
---